Podcast: Play in new window | Download
Subscribe: Apple Podcasts | Android | Google Podcasts | Stitcher | RSS
Rebecca Hupp
Rebecca Hupp, the director of the Boise Airport, received her degree in Aviation Management from the Florida Institute of Technology before going on to work in several different airports. She was recruited for the Boise Airport in 2012, and loves it.
A Career in Aviation Management
Rebecca Hupp originally wanted a career that would allow her to travel often, but soon decided she was more interested in the business side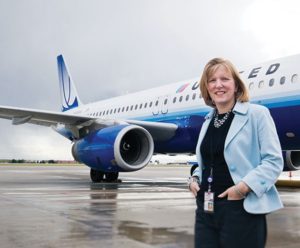 of the aviation industry than the travel side. She studied Aviation Management in Florida, then began her career. "I've worked in several different airports, and each move has been a little additional responsibility, new adventure and opportunity," says Hupp. She's been working for the Boise Airport since 2012 and loves it. "Boise's such a wonderful community, how could you not love it?" she says.
Challenges for the Boise Airport
 The Boise Airport has phenomenal connectivity and a fragmented market, which are both positive things. However, they do face some challenges.
One challenge is trying to recruit an airline for east coast travel, as many Boise residents have to go west to Portland or Seattle in order to fly east. Airlines lack the resources to fly smaller numbers of people to Atlanta or New York. When the price of fuel skyrocketed in 2006-2008, airlines struggled and lost significant amounts of money, and are only recently beginning to return to profitability. "It has traditionally been a volatile industry," says Hupp. With fuel being so expensive, it wasn't economical to fly smaller planes with smaller numbers of passengers.
Airlines also face a pilot shortage. "If you ask the pilot unions, they will tell you that there's not a shortage of pilots, that the pay is not attractive enough to recruit pilots," Hupp says. Not as many people go into piloting as a career path, partly because changes in regulations require pilots to have 1500 hours of flight time before they can fly for commercially scheduled carriers, partly because flight training is extremely expensive, and partly because the pay for pilots is unattractive. Another factor is the rise of air service in developing countries which brings pilots from the United States to work in foreign countries where there are opportunities, fewer regulations, perhaps lower time restrictions, and often better pay.
Despite occasional challenges, Hupp and her team make sure the airport continues to meet the needs of the community.
Making Positive Changes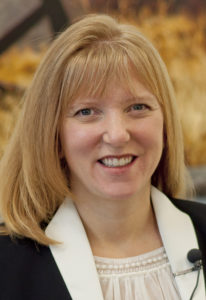 Hupp and the Boise Airport are doing their part to make Boise the most livable city in the world. "I think in general, people really love the Boise Airport," says Hupp. "It's one of those jewels of our community, and I'm thankful to be able to go to work in such a great place every day."
The Boise Airport is clean, convenient, and has great facilities. Hupp and her team are increasing the facilities and convenience. They added a new parking garage in 2014 to accommodate the increase in passengers, and are now doing an Airport Master Plan, which is a look at the facilities, infrastructure, and everything that could impact capacity and operation. One thing they've identified in their preliminary evaluations is perhaps expanding the concourse in the airport. "It's a little bit of a challenge because as we look at airlines and how they operate, they plan six months in advance," says Hupp. "To bring a new terminal concourse to fruition, we need to be working on it probably five years in advance." They don't want to have an airline that wants to come to Boise that they can't accommodate due to lack of facilities, nor to have a facility that no one wants or needs to use. "We're trying to very carefully thread that needle," Hupp says.
The Most Livable City in the Country
Hupp wants to make Boise the most livable city in the country, and also for their facilities to reflect the Boise community, so they've brought local vendors into the airport. The feedback to the changes to the beverage, food, and gift programs in the airport have been overwhelmingly positive. Now when people arrive in Boise, they know that they've arrived in Boise. To accomplish the task of bringing in local vendors, they went through a proposal process. They reached out to national vendors in different areas of expertise, and invited local vendors to partner with them, then looked through all of the proposals. "We picked the best, and we're thrilled to have our local partners out there," says Hupp. The passengers are also thrilled. "We hear positive comments, and the real proof is in the sales numbers, and those are up," says Hupp.
Keeping the Community Safe
The aviation industry is highly regulated. "In Boise, we're in a fortunate position where people are very diligent," says Hupp. "We have a great group and a great team out there that do what they're supposed to do, and we have the resources that we need to be able to continue to make it run smoothly."
Since the Boise Airport was under construction when 9/11 happened, they were one of the first airports to implement checked baggage screening beyond the ticket counter. Now they are upgrading the checked baggage system. It keeps Hupp up at night hoping the transition goes smoothly for the community. "Not only are we installing a completely new system, but we need to be operational every day," she says. It's gone well so far, and they are now able to operate on the new system, resulting in a dramatic improvement on the back end for operations and allowing them to check more bags in a certain period of time.
Hupp and her team will continue to innovate for the community. "Things are always changing, so we try to be responsive, we try to be innovative and look at new ways to do things and better ways to do things," she says. "The region is growing, so we will see growth here."
To learn more about the Boise Airport, visit the website.