Podcast: Play in new window | Download
Subscribe: Apple Podcasts | Android | Google Podcasts | Stitcher | RSS
"We really believe in the power of innovation to lift people out of poverty." – Kenton Lee
Kenton Lee is the founder of Because International, a local nonprofit organization. After college Lee wanted to travel the world and set out for one year living abroad in Ecuador and Kenya, where he noticed a need for shoes that set Because International into motion.
Kenton Lee speaking at Impact Club Boise
Innovation for Growing Shoes
 Lee was living and working at an orphanage in Kenya when he saw a little girl and was shocked at how small her shoes were. "Her shoes were way too small for her feet. They were so small she had to cut open the front to let her toes stick out," says Lee. "I looked around, and a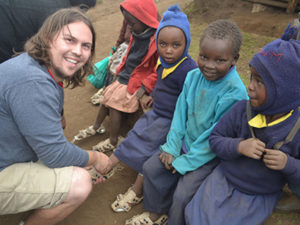 lot of the kids had on shoes that were just way too small." Those tiny shoes stuck with him and bothered him. The orphanage could simply not afford new shoes every time a child's feet grew, so Lee started thinking of how great it would be if shoes existed that could grow with a child. "That was the idea for what today we call The Shoe that Grows," he says.
After he returned home to Nampa, he kept trying to figure out how to solve this shoe problem. "It really became a passion to try to figure it out," says Lee. He grabbed some friends to help him out, but none of them had any shoe experience. He started contacting shoe companies to give the idea away for free, and finally found a small shoe designer from Portland who loved the idea and got on board. After about a year, they had a prototype that they gave to 100 kids to keep for a year and then send feedback. After receiving some great feedback, they jumped in with their first batch of 3,000 pairs of shoes that grow.
The Shoe that Grows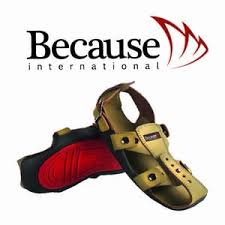 The shoe looks like a shoe-sandal hybrid and can adjust in three separate places. In the front, two posts can fit into different holes, similar to the back of a baseball cap. The sides have four different Velcro straps that the child can adjust, and the back has a buckle similar to a belt buckle. "It can grow five sizes and it can last for up to five years," says Lee. "Any time their foot grows, they can just adjust it a little bit so it fits and feels good." However, the real secret is in the bottom of the shoe. The sole is made of compressed rubber almost like a tire rubber that extends up along the sides, back, and front. "As their foot grows, the bottom of the shoe just naturally unfolds with the growing foot," says Lee.
The shoes are made of compressed rubber, synthetic leather, and high-quality, durable materials. They need to be durable and protect kids' feet. "We could have made a cheaper shoe and our price point could have been a little bit lower, but we really wanted this to be high quality," says Lee. "It could grow all day, but if it doesn't last, it's not much good for the kids."
Innovating to Beat Malaria with Bed Net Buddies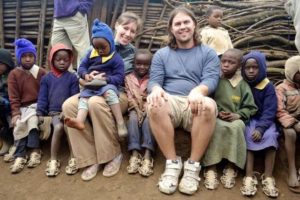 Bed Net Buddies is Because International's next product. In places where malaria is an issue, people often sleep under a mosquito net or bed net. While Lee was living in Kenya, the issue came up that while everybody had a bed net, not everybody was able to use one. The nets attach to the ceiling and dangle down to cover the beds, but not everybody has a ceiling. "So this great resource of an insecticide-treated bed net, which does a great job protecting anyone who sleeps under it, just wasn't functioning for a small set of people," says Lee. "So we essentially made a pop-up tent kind of a bed net."
The Bed Net Buddies have thin steel frames that can fold up easily for quick transportation, and they can be used inside or outside, no ceiling required. Lee and his team even added fun colors and designs to the Bed Net Buddies so they wouldn't feel so much like medicine. They just finished testing their prototypes, and are ready to start getting the Bed Net Buddies out to the people who need them.
Innovating to Help Families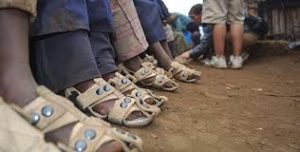 "Our belief at Because International all stems from this belief that everyone deserves a shot to succeed, and we want to help create a world where everyone has opportunities," says Lee. "We really feel like through innovation, that can be possible."
Because International focuses on innovation in two ways. One, it creates innovative products like The Shoe That Grows. "It's making products that are going to help put kids in a better position to succeed," he says.
The second way that Because International focuses on innovation is that they use the productions of their products to bring jobs to people so that families can succeed. They're trying to produce the shoes in the places where the shoes are needed most, and so far they've brought 20 full time jobs to people in Ethiopia and have toured factories in Haiti. "Our hope is in the next couple years we can have several world areas that are producing our shoes," Lee says.
Helping Other Innovators
"We try to make things better by making better things," says Lee. "We really believe in the power of innovation to lift people out of poverty." So Because International has come up with the idea of Professional, which would be a program where Because International will come alongside entrepreneurs around the world to coach them and fund them to turn their innovative ideas into reality.
"We would love to create the opportunity for anyone in the whole world who has a great idea for a product that they think could make a difference to be able to reach out to us, and we'd love to enter into a conversation with them," says Lee. "We just want to use innovation to help make things better."