Podcast: Play in new window | Download
Subscribe: Apple Podcasts | Android | Google Podcasts | Stitcher | RSS
Kieran Donahue
Kieran Donahue is the sheriff of Canyon County and the founder of the Man Up Crusade. His work as a detention deputy, detective in the narcotics divisions, and six years spent undercover to help turn around gang violence opened his eyes to the heartbreak of domestic violence, leading him to found the Man Up Crusade.
Kieran Donahue at IMPACT CLUB Boise
Helping the Community as Sheriff of Canyon County
When the former sheriff decided to retire, he recommended that Donahue run for the position. Donahue thought it was crazy. After struggling with it for months, he decided to run. "To me, it's just a plan by somebody bigger than me," says Donahue. "It's a stressful job, it's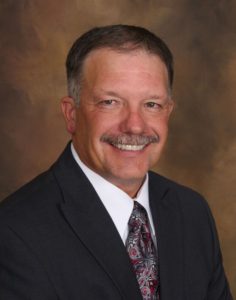 an overwhelming job. You're a constitutional officer because you're elected, you're not appointed."
Donahue set about using his new position to bring positive changes, such as financial recognition for the employees. "A lot of our folks were underpaid for the jobs they were doing," he says. They spent a number of years on the market salary analysis to become more equitable with colleagues in other jurisdictions. "Retention is huge for the taxpayer because I can put $100 thousand or $200 thousand into a person to see them stay with us for a couple of years, and then walk off to another agency for $3 or $4 more an hour," Donahue says. "My taxpayers just took a bath on that one, plus we lost that experience, that knowledge," he says. Further, it forces him to put an officer to work with less experience and less knowledge, which is a liability. Making sure his employees can make ends meet is good for the whole community.
Much of the good that Donahue has done with the position was built on the foundation of his predecessor. "I'm very proud of where we've come from and where we're going," he says.
The Biggest Challenge in Helping the Community
The jail crisis is the biggest problem facing Canyon County. "That jail was built when there was 90 thousand people living here," says Donahue. "We have nearly a quarter million people living here." That doesn't include people who move through the area committing crimes without living here. "There's no room for them all." Due partially to the lack of space, Donahue has about 1,000 people out of jail on alternative sentencing. About 600 of those haven't been through their pretrial yet, and about 250 of them should be in jail because they are serious offenders. "But there's no room for that 250," says Donahue. "So they're out walking the streets, potentially committing new criminality, new victimization, cost to the taxpayer, cost to the judicial system, cost to the hospitals. It's a cascading effect."
Public safety is the core principle of society. If the system is unable to hold criminals accountable and instead turns them back onto the streets, the schools don't matter because the schools aren't safe because the neighborhood isn't safe because the city isn't safe because there are criminals in the streets. "And that is, in a nutshell, what the county faces," says Donahue.
The county has tried and failed three times to get more funds for a bigger jail through bonds. The failures may be due to a lack of education about the problem. "It has to be very transparent to the taxpayer," says Donahue. To achieve that transparency, a long-term assessment was authorized. The assessment is 4 months long, but at only 3½ months in, the result is that Canyon County jail needs 1,050 beds to use right now. They have 477 beds.
Helping Through the Man Up Crusade
One of the issues nearest to Donahue's heart is that of domestic violence. During the years he spent going in and out of houses on search warrants and crime investigations, it didn't much matter which house he went into, there would be signs of domestic violence. "There was one nexus that always stuck true to me, and that was domestic violence," says Donahue. "I just felt so compelled that we've got to slow down the domestic violence. We have to come up with an awareness."
Back when he and his wife founded Man Up, which is an acronym for Making Awareness Now Using Purple, 1 in 4 women and 1 in 7 men were victims of domestic violence. Now it's 1 in 3 women. "This is an epidemic in our society," says Donahue. Every 9 seconds, a woman is beaten in America. Every day 3 women and 1 man will be murdered by their domestic partner. Across the nation, 50% of dispatch calls are for domestic violence. Children who grow up in homes with domestic violence are more likely to be victims or offenders later in life, because they see it as normal. "Where does this end?" asks Donahue. "We've got to do better than that."
Donahue and his wife created Man Up with the ideology of an American cowboy stepping up to do the right thing and raising public awareness of the issue. They started in Idaho and have moved into 13 states so far. The program travels with professional rodeos, PBR events, county fairs, and state fairs, where a day is designated as Purple Day. Purple is the color for domestic violence, much like pink is the color for breast cancer. The goal is to bring awareness and solidarity about the issue of domestic violence so that the cycle can hopefully be broken for the next generation.
"I can't tell you the nightmares that I have to this day. I can't tell you the nightmares that I saw and my fellow officers see and have seen, and that's what compelled me to do something," says Donahue.
The Response to Man Up
The Man Up Crusade is making a difference. Donahue's wife has fielded phone calls from as far away as New Jersey and Philadelphia of people saying they are offenders but they love their families and want to stop, and asking where to get help. "What that tells you is that we're making progress, if the offenders [are] calling us," says Donahue.
They also hear stories from survivors and victims. "When you're standing there face-to-face with that and they tell you these things, it deepens your resolve to end this," says Donahue. "It strengthens our resolve to get to those kids in the next generation and stop [it]."
The Man Up Crusade is now endorsed by the National Sheriffs' Association and over 3,000 sheriffs want to be involved at the national level. Donahue has also spoken to congressmen and senators about Man Up.
Crime Victim Services Award
In 2017, Canyon County won the Crime Victim Services Award from the National Sheriffs' Association, which recognizes sheriff's offices that go the extra mile for victims in their society, partially due to Donahue's endorsement of the Start By Believing campaign, and his mandatory training for all his staff to learn about Start By Believing as well.
"It's about helping our victims," says Donahue.