Podcast: Play in new window | Download
Subscribe: Apple Podcasts | Android | Google Podcasts | Stitcher | RSS
Dr. Vincent Kituku
Highly sought-after motivational speaker and corporate trainer Dr. Vincent Kituku stops by the Idaho Speakeasy to talk about his calling, becoming a motivational speaker, and his organization Caring Hearts and Hands of Hope. Dr. Kituku is also the author of several books, including Overcoming Buffaloes. When speaking with him, people can't help but be influenced by his authentic enthusiasm and gift for storytelling.
The topics we discuss include:
Dr. Kituku's path from Kenya to Idaho,

How

Toastmasters

changed his life,

Motivational speaking is not a career,

The rewards of hard work,

Becoming the motivational speaker for the

Boise State football team

,

Revisiting Kenya,

Helping others tell their story,

Plans for the future,

And much more!
Leading Is Storytelling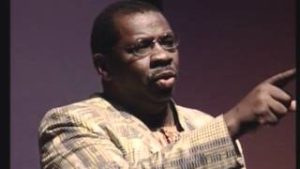 Every great leader is a good storyteller, but learning how to tell your story can be a challenge. "Number one is to know your story," Dr. Kituku says. "Then find out what makes it unique." You don't have to have climbed Mt. Everest to be unique. Find the uniqueness already inside you. Lastly, "Understand why you are telling it." What is your objective? Are you trying to entertain people? Are you trying to help people reach inside themselves and find something that can help them grow? Can your story be used by somebody as a foundation for their new life? Dr. Kituku uses his story to help children in Africa.
Children in Africa
Writing, speaking, and making connections has transformed from a way to bring food to his family into a way to help children in Africa go to school. It's an area of transformation where "you become something more than your career, more than yourself." Children who have lost their parents, or children from families who are too poor to send them to school, are now able to learn through his organization Caring Hearts and Hands of Hope. It's not just a career. "It has saved lives. It has transformed communities."
The organization began after Dr. Kituku revisited Kenya. The economic crash of 2007 opened up his speaking calendar, giving him the opportunity to go back to Kenya for the first time in twenty-four years. He found that you can never really go home. The place you grew up, the country you knew, the relationships you had, none of it can ever be the same.
When he was growing up in Kenya, everyone went to school. But now he found that children were unable to go to high school. He met two eighth-grade girls who could only stay in school until they were married off. Their futures were to clean houses or commercialize their bodies. Shocked, he decided to create the organization.
Many people involved in the organization have never been to Kenya, "but still they can be able to connect with a story of that child who has no hope."
In 2010, the organization was able to raise money for thirty-one students. The following year, they sent over one hundred students to school. This year, 294 needy children are going to school, thanks to Caring Hearts and Hands of Hope. They are also building their own boarding school for girls, and recently bought land to build a boys' high school, so that children in Africa today might have the same opportunities that Dr. Kituku had.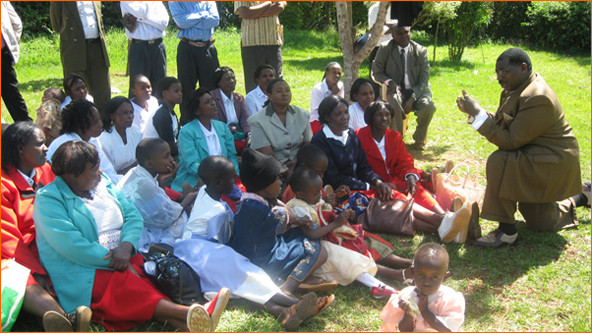 Dr. Kituku's Childhood in Kenya Scholarship
Dr. Vincent Kituku is a native of Kenya. During his undergraduate program in there, he casually mentioned to one of his professors that he'd like to continue his education, although the opportunities just weren't there. A short time later, however, he received a phone call with an opportunity for a scholarship to come study in America. He earned his PhD at the University of Wyoming and became an environmental scientist before coming to Idaho to work for Idaho Power in the environmental department, but he decided to continue learning. In September of 1992, he joined Toastmasters to add speaking to his list of skills.
Inspired by Toastmasters
Inspired by the connections he made with people in Toastmasters, he knew he wanted to change his career mere months after joining. Four years and seven months after joining Toastmasters, he became a full time professional motivational speaker. It's his calling. "It's amazing when you get to a point in your life you don't have to separate what you do for work and fun," says Dr. Kituku. Speaking has both the challenges of creating a business and keeping it going, and the rewards of hard work and seeing his work change lives.
One way he has changed lives has been through becoming the motivational speaker for the Boise State Football team in 1998. His number one message to the team is "to share with them the power of using what you have. And what you have can always provide you what you need. Identify it, and put it to work." He also emphasizes the ability to work as a team. "Nobody can do everything, but everybody can do something."
Caring Hearts and Hands of Hope
Teamwork and storytelling will continue to help Caring Hearts and Hands of Hope grow and assist more children. Just as in his book Overcoming Buffaloes he teaches how a buffalo can be taken down with teamwork by a group of people each throwing just one spear, so now can the buffalo of poor children in Africa be taken down by a team of people supporting the cause. "You can't change the circumstances you cannot control. But you can control how you are going to be part of that community," says Dr. Kituku.
To learn more about Dr. Kituku, visit him at his website. To learn more about Caring Hearts and Hands of Hope, find them on the web.