Podcast: Play in new window | Download
Subscribe: Apple Podcasts | Android | Google Podcasts | Stitcher | RSS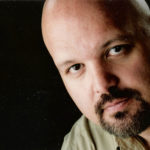 Dave Lakhani, the president of Bold Approach, helps businesses grow. Lakhani is a business acceleration strategist, speaker, and trainer who has authored a half dozen bestselling books. His ideas have been applied to some of the biggest companies in the United States, including IBM, Micron, the US Army, and more. He stops by the Idaho Speakeasy to talk about persuasion and entrepreneurship.
Dave Lakhani Books

Independence through Entrepreneurialism
When Lakhani was six years old, his mother moved him and his family to Greenleaf, Idaho, to start a church for the cult of the Branhamites. The church tried to beat the devil of ADHD out of Lakhani's younger brother, leading to conflict and confrontation between Lakhani and the church. At sixteen, he decided to leave the church, and was excommunicated from both the church and his family. With everything he owned in the back of his vehicle, Lakhani left Greenleaf. His first stop was at the Carnegie Library in Caldwell, where he began learning about persuasion, manipulation, decision-making, and the psychology of belief in an effort to understand his mother's decisions.
Lakhani read everything he could get his hands on about persuasion. In time he not only further understood his mother's choices, Lakhani also learned valuable skills for business and entrepreneurialism. 
Bet On Yourself
Lakhani read Zig Zigler's See You at the Top and learned that there was a formula for making money. "So I found entrepreneurship, and it was really a way for me to bet on myself," he says. He enjoys building businesses and the independence of being able to make his own way in the world.  
He's had his share of both successes and failures, but he finds that it's critical for entrepreneurs to have failures to harden them up a little bit, and teach them to get back up and get going again.

Advice to Companies and Entrepreneurs
One challenge that companies face is modernizing their thinking about how consumers consume. Marketing has changed dramatically with the advent of social media and the internet, and some companies are just now catching up with that.
Another challenge is in focus, both on the side of the consumer and on the side of business managers. People today are distracted. There are so many calls for our attention on a minute-by-minute basis, from phones, emails, and Facebook, with the intentionality built in to get people addicted. Learning how to get people's attention and then maintain that attention in a meaningful way long enough for them to make a decision is key.
Rewarding Yourself
Persuasion is helpful for entrepreneurs because they must persuade themselves to get up and keep going every day. "When people fail, it's often not because there wasn't a market or there weren't enough customers or anything else," says Lakhani. "It's simply because they got frustrated one day and they quit trying. It really does require that you get up every single time you get knocked down."
Life is not fair. Entrepreneurs could do everything right, and still unexpected problems arise. Success is when they get back up and do it again anyway.
Humans are wired for reward. We want to get something for the effort we put in. So entrepreneurs can help persuade themselves to keep going by rewarding themselves for completed tasks. "Just look at moving the bar forward just a little bit every day," says Lakhani. When you complete a task or solve a problem, "that's worth celebrating. Not for days, but celebrating for a moment and acknowledging that you did something well and you succeeded." You have to recognize those wins.
Fearsome Focus
Fearsome Focus is one of the most important things entrepreneurs can do, especially during the startup phase. Take an hour of time and spend forty-five minutes of it in deep focus on the activity you need to do. Remove distractions by turning off your phone, shutting your door, and making sure people know that they cannot interrupt you during this time. The other fifteen minutes of that hour are for things like getting coffee and going to the restroom.
Lakhani advises increasing focus and decreasing distractions by cutting your to-do list down to only a couple items long. "If you can put fifteen items on a list, they're not that important anyway," he contends. Then, in addition to your to-do list, make a "do not do" list. Put distractions on your do not do list, and then don't do them.
Passing Entrepreneurialism on to Children
Lakhani's daughter Austria Lakhani is just thirteen years old, but she already has her own business. She hunts yard sales and auctions for coins and collectibles, then sells them for a profit on eBay. She can make money, but it's also a learning experience. She's learning about pricing models and how to apply them, sales processes, and the entrepreneurial mindset. These things are not taught in school. Even people who earn business degrees often learn more about climbing the corporate ladder than about becoming an entrepreneur.
The things that Austria is learning will be applicable to many things in her future. "It's nice to have a dad who's an entrepreneur for multiple things," says Austria. "It helps me for the career ahead."
For Lakhani, getting his daughter into business early was intentional. "I care how she ends up, but I don't care where she ends up, as long as it's someplace where she's happy and productive and independent and can do whatever she wants to do," he says. "I wanted to present her with opportunities early (so she could) see what it feels like to be in control of your own destiny."
Researching for her business has also led to educational conversations between Lakhani and his daughter about how to determine truth from lies. "We had to have this whole conversation around 'How do you figure out what's right? How do you figure out what's wrong? Who is telling the truth?' This comes back to persuasion and influence and manipulation," says Lakhani. It's also led to conversations about advertising and consumerism.
Teaching children to become entrepreneurs from a young age opens the door to education and learning experiences not found in a traditional school setting. Showing them that working hard with their education is not just about getting prepared so they can get a good job someday; education can also be about learning skills to able create their own job. This empowers youth with options and further prepares them to go out into the world with more freedom and independence.
Dave Lakhani
Learn more about Dave Lakhani and Bold Approach at his website.