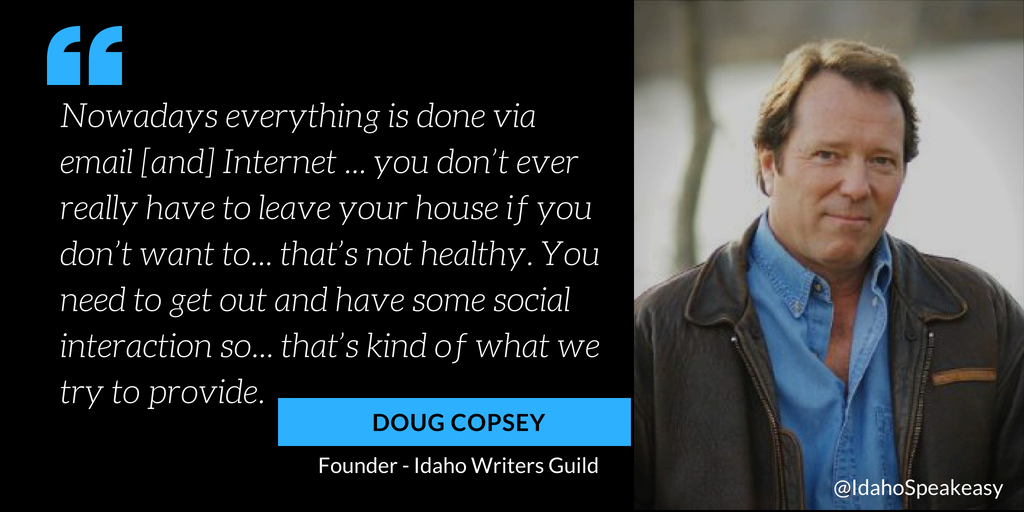 While still in high school, Doug Copsey began his long voice-over career by working as a disc-jockey for a local radio station. After earning a degree in theater, he joined the military where he was assigned to producing training films for the Armed Forces' American Radio and Television Services.
In addition to his film career, Copsey established a career in freelance writing: "I've written all my life so I've always loved writing stories and that sort of thing; and it just all came together as being a freelancer my whole life. Freelance writer/director, I guess if I have to call myself one thing, that's it." Copsey's expansive career has taken him coast-to-coast, writing screenplays in LA and co-creating television shows for national broadcasting out of New York. He is the founder of both the Idaho Shakespeare Festival and the Idaho Writers Guild.
The Idaho Writers Guild
Ten years ago, many local writers were losing interest in the Log Cabin Literary Center. The center –now just called The Cabin– had been offering programs such as summer writing camps for kids, but lacked programming for writers interested in publishing their work. There were "lots of writers who were serious about getting their work published and that sort of thing…just really nothing at The Cabin being offered for that. A group of roughly twenty people met to find a solution, but "nothing came [of it], but a bunch of notes."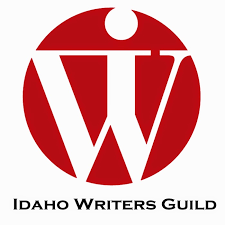 In response to this lack of support for serious writers, Copsey founded the Idaho Writers Guild with the mission of providing local writers an opportunity to find community and to improve their work. "Nowadays everything is done via email, Internet and everything so you don't ever really have to leave your house if you don't want to… that's not healthy. You need to get out and have some social interaction… that's kind of what we try to provide."
Membership
 The Idaho Writers Guild currently has around 150 members, but the number is always fluctuating. "We find that writers will come and join us and get what they want out of the organization then either take a break or go away entirely or just get too busy being successful."
By operating from an all-volunteer board rather than a paid staff, the guild is able to organize workshops and events from membership dues of $50/year. "The organization has really sort of sustained itself with the writers being interested in doing it. It's a small non-profit, just grassroots organization. We like it that way. We're not trying to grow to become thousands of members strong."
Modern Publication Challenges
The Idaho Writers Guild provides community for those who are attempting to publish their work. "The publication industry [for] the last ten years or so, or even a little longer, has really been going through a lot of changes. The whole idea of get an agent, get published by Random House…[has] really been overtaken by the digital world."
Publishing houses typically receive 80% of the profit from book sales, leaving 20% to the author; this is known as traditional publishing. In author-owned publishing, the author pays a la carte for services which the publishing house offers before any copies are sold. The author then keeps 80% of the profit, and the publishing house keeps the remaining 20%.
Digital printing is an alternative publishing process which allows writers to bypass the obstacle of getting a publishing deal. Although it "gives everyone an opportunity," it also means there are "a whole lot more books on the market these days" and "a lot of lesser-quality work out there."
Idaho Writers' Conference

 
The Idaho Writers Guild has hosted seven Idaho Writers' Conferences. At these two-day events, the guild arranges for roughly a dozen guest speakers to present. Presenters include authors, editors, and literary agents. Attendees can "sign up to do… one-on-one pitch [sessions]" with any number of agents from "nationally known literary agencies." They also have the networking opportunity of going to lunch with a presenter where they can "get a little more one-on-one, a little more personal time with that person."

The conference also offers "hour-long workshops all-day long, every day" and ten-page manuscript evaluations for attendees. "[The editors have] read all the manuscripts and they'll come in, and sit, and do the one-on-ones."
Get Involved
To read more about the Doug Copsey's involvement in the founding of the Idaho Shakespeare Festival, visit http://idahoshakespeare.org/they-came-they-sat-they-loved-30-years-of-shakespeare-in-idaho/.
For more on the Idaho Writers Guild, visit www.IdahoWritersGuild.com.
To listen to the full Idaho Speakeasy story, click here.