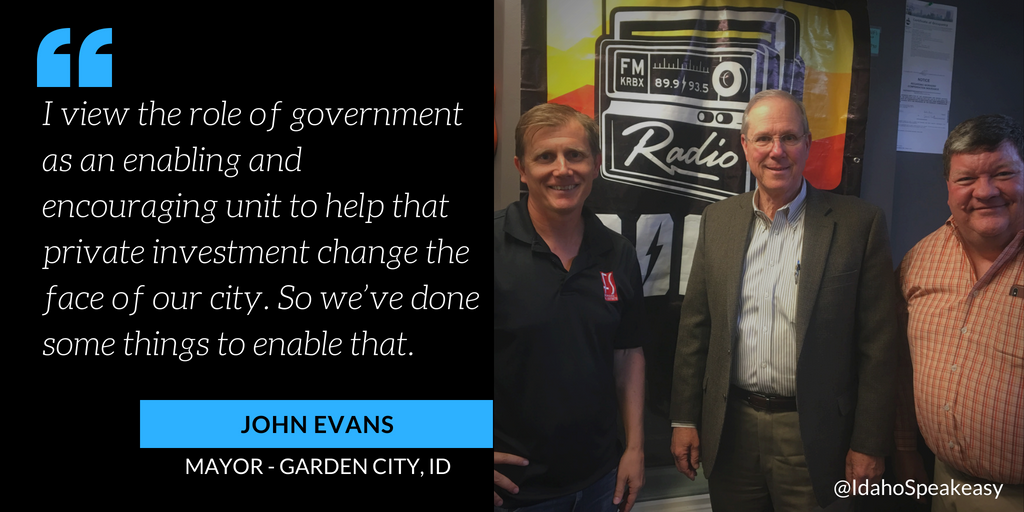 John Evans is the Mayor of Garden City, a rapidly growing community in Ada County, Idaho. Mayor Evans grew up in Kansas City, MO before moving to Idaho with his family in the interest of escaping the humid climate of the midwest. He spent the majority of his career as a heavy equipment operator in development, primarily building road infrastructure. With a lot of expertise in the development field, the city asked him to run for council to assist with their developmental needs. He became a part of city council for ten years and helped to plan zoning as well.
In 2005, he was asked to run for Mayor. Although he jumped in on the race a bit late and never had any personal intention of running, he was elected. "The system's been good to me," Mayor Evans shares with us. "It's kind of corny sounding, but really the system's been good to me. I never went to college really. I can race you with an excavator, but I can't do much else. But I do know how to make some of those things happen, understand what it takes to make it work. So I acquiesced and threw my hat in the ring and was elected." Garden City identifies with John, considering him a man of the people because of his hands-on background in development.
The Background of Garden City
About fifteen years ago, the community was experiencing many issues with infrastructure and rowdy nightlife. There were three casinos that sucked in many local residents. Though not beneficial for the overall lifestyle of the people living there, the revenue from the casino slot machines funded necessary infrastructure development at a quarter of a million dollars every year. However, as the infrastructure grew, so did the nightlife of Garden City. The abundant nightlife was not managed well and according to Evans was very "tough to deal with," bestowing a rough reputation upon Garden City.
With so many issues in such a small town, the city had discussions of dissolving and becoming a part of Boise. After all, Garden City only had about 2,000 total businesses with a population of 12,000. However, the city council discovered the appreciation that the residents had of their small, closely knit town after a survey was taken regarding the matter. They found that residents were "possessive of their city," enjoying perks like flexibility, dealing with fewer layers of government, and being able to reach out to the Mayor personally. According to Mayor Evans, "People like being a bigger fish in the pond they're in and their access to influence. And then of course, when you start seeing success, that breeds a more enhanced possessive attitude and a pride."
The Development of Garden City
Garden City has seen a lot of gradual developmental improvements over the last fifteen years, which has allowed it to evolve into a "trendy place to be." Now the community has an abundance of roads with lines and speed limit signs, initializing the transition from minimalist neighborhood to thriving town. Mayor Evans proudly explains, "Garden City has something that you can't duplicate a lot of places, and that's five and a half miles of river frontage." The riverfront was not originally seen as an amenity by the community because of flooding issues that stopped the river from truly being functional until 1953. Now it is used as a center of recreation and small business.
Real estate began to boom as a generational change swept over the riverside area. This time period of prosperity allowed for a snowball effect of economic growth throughout the community. Mayor Evans remarks that "the philosophy of any city is kind of molded by the leadership that the citizens put in place. I view the role of government as an enabling and encouraging unit to help that private investment change the face of our city. So we've done some things to enable that." For example, the investment by neighborhood housing has allowed for affordable "workforce housing" in certain areas to further develop economic growth.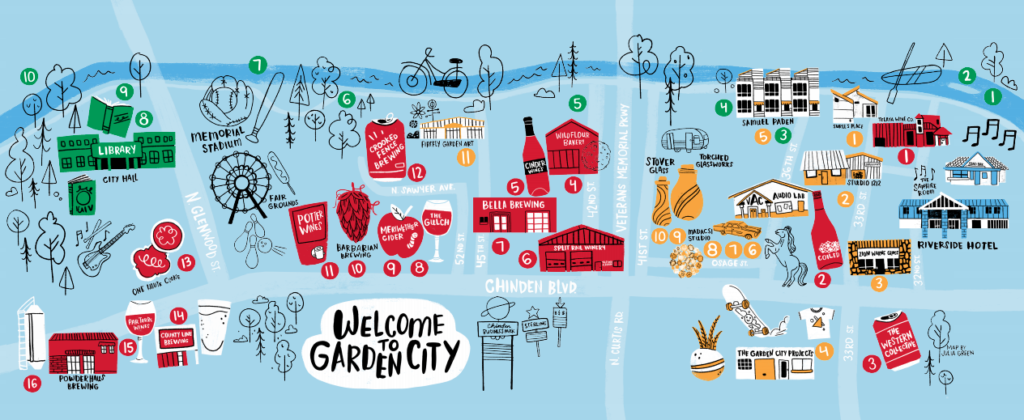 Live, Work, Create
Additionally, they have assembled zoning districts such as Live, Work, Create, which allows more than one use on a particular piece of property, as opposed to traditional zoning that separates commercial, residential, and industrial uses of property. The east side of town has historically preferred a mixed-use zoning structure that allows for integration of types of property, and the rest of Garden City has begun to follow that pattern with Live, Work, Create. This convenient amalgamation has allowed for niche businesses to find success on the riverfront.
Garden City has also become an impressive center for brew pubs and wineries, enhancing its appeal. The community has established a "First Friday" event that gathers people together to tour the area's seven wineries and five breweries, and an Artisan Pathway marked by scannable signage and a printable map.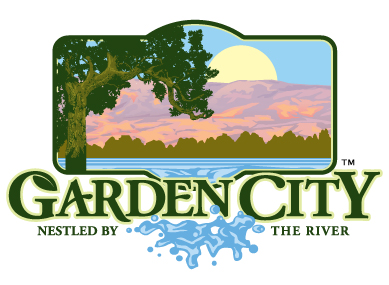 The Future of Garden City
Mayor Evans and his team maintain a deep focus on the overall development of the community. He aims to make the area west of the current city limits on the south side predominantly residential and would like to see the Expo Idaho site be converted to an extended set of uses. "Our future of the area is really in redevelopment," says Evans. "As long as we can redevelop – and we've got a lot of redevelopment that we can do – we're going to be in good shape." For more information on the details of how Garden City plans to transform over the long term, visit GardenCityIdaho.org. 
Listen to the full Idaho Speakeasy interview.