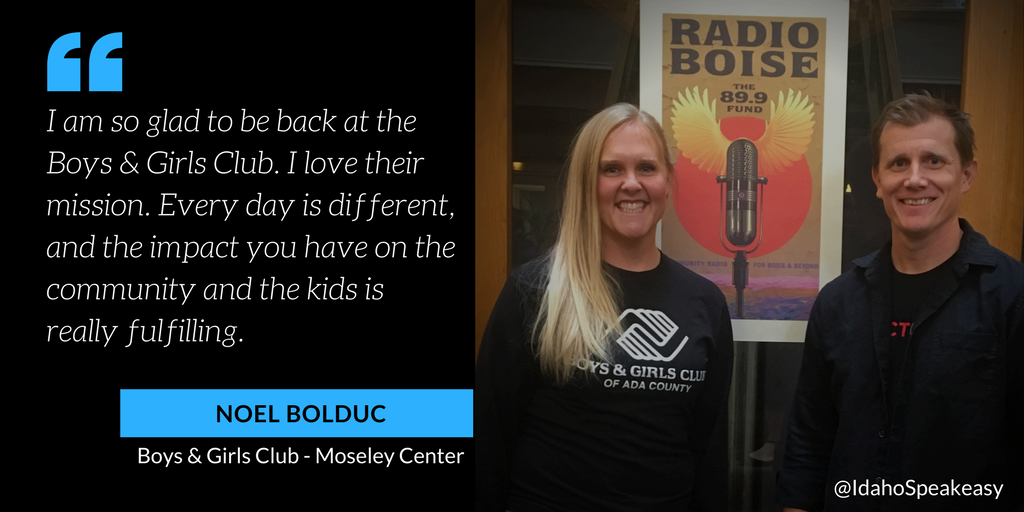 (Tweet this image)
Inspiring Boys and Girls
Noel Bolduc found her way back to the Boys & Girls Club as the Moseley Center Unit Director and says it was the "best decision ever". After studying in Missoula, Montana, this Boise native got the travel bug. She traveled to Argentina with friends, then moved to South Korea and fell in love with teaching English. She returned to Idaho to go back to school and earn a degree in teaching.
After graduating, Noel worked with the Boys and Girls Club as an Americorps volunteer, but stayed on after as sports coordinator. She left for a time to pursue a career in the corporate world, but says it "didn't have the intrinsic rewards that the Boys & Girls Club gave me". When the opportunity to return again as Unit Director arose, Noel was reluctant at first. After nudges from her former colleagues, she jumped in, and hasn't looked back since." I'm so glad to be back at the Boy's & Girls Club. I love their mission. Every day is different, and the impact you have on the community and the kids is really fulfilling." 
To Inspire and Empower

Noel explains the mission of the Boys and Girls Club is "to inspire and empower young people, especially those who need us most, to be caring, responsible, productive citizens." The program is built around what Noel calls "fun with a purpose." "We don't track any elements, but there is an educational aspect to the program." She adds, "It's a lot of controlled chaos, but it's a lot of fun."
Noel says that the Boys and Girls Club is geared for the "three main outcomes" of "academic success, healthy lifestyle, good character and citizenship." Though these goals apply to every child enrolled in the program, Noel explains that it can look very different for different age groups. "We typically take kids who are in the first grade all the way up through seniors in high school. However, seniors in high school aren't going to be hanging out with first graders."
The supplemental kindergarten program includes "ratios of staff-to-kids [that] are a lot smaller, so it gives [the kids] more time to adjust to the club culture, get to know our club rules and our club values so that they are able to excel."
The format for teen involvement is much different. "One thing I have found out is that if we want teens to be in our club, they are driven by athletics." Noel says, "If you want teens to come into your club, provide a soccer team, or a basketball team. They'll start trickling on in." Noel explains that teens also "have their own space and they do their own programs. We also have leadership programs that they participate in, too. We have a junior staff program where they assist staff: help them out, provide guidance and discipline with the younger kids, and facilitate activities."
Support and Success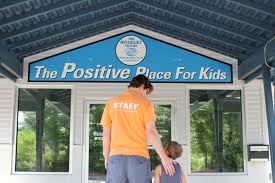 The Boys and Girls Club is shaped by the volunteers who run it. "We have five dedicated program areas," Noel says. "We have our games room, our education center, art room, gym, and tech center. So we have staff allotted to each one of those program areas and each week they plan out activities, make sure they have their supplies in order, and run what they have planned."
Noel explains, "we treat our volunteers like part-time employees. We ask that they come and volunteer at our club for a certain amount of hours per month, and then they kind of have a creative freedom about what areas they want to volunteer in, or help out with a sports team or whatnot. We try to place them where they think they will be the most successful."
Get Involved
Orientations are still being held at the Moseley Center every Wednesday at 5:30. Participation at the Meridian site has capped for the year. As long as there is still space available within the program, the only requirement is for parents to attend an orientation session and register their child.

During the school year, the Boys and Girls Club offers programs from 3:00pm to 8:00pm, as well as a "sunrise club" before school, and a supplemental kindergarten program.
There are two main summer programs offered by the Ada County Boys and Girls Club. One is a general membership, which costs a one-time, flat fee of $25. This membership lasts the entire summer, and includes programming from 11:00am to 6:00pm and includes lunch and dinner.
The other option for summer programming is an all-day program, which costs $300 for the entire summer, but includes three meals a day, as well as programming from 7:00am to 6:00pm.
For more information or to volunteer, visit the Boys and Girls Club website.
Listen to the full story:
Podcast: Play in new window | Download
Subscribe: Apple Podcasts | Android | Google Podcasts | Stitcher | RSS