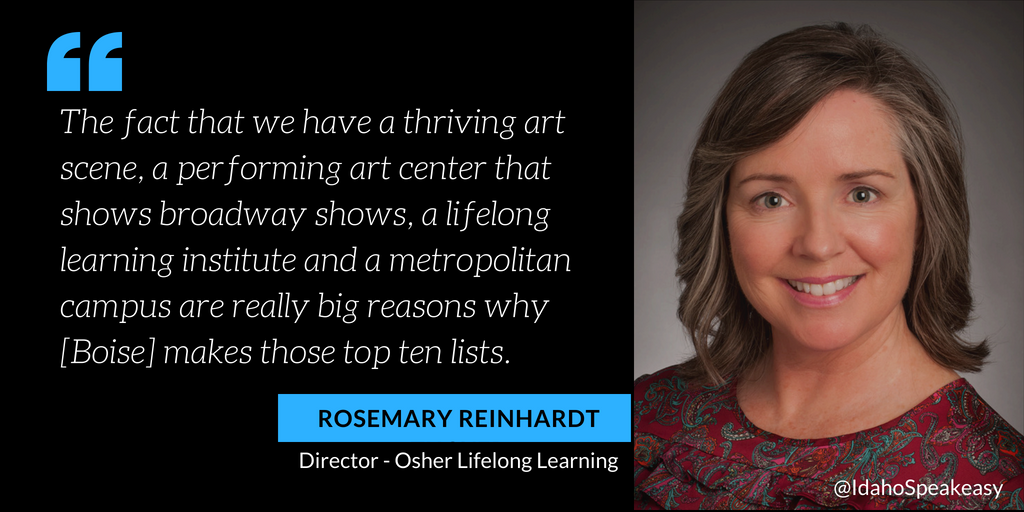 Raised in northern Idaho, Reinhardt began her career after earning a Masters in Arts Management. After working in fundraising at St. Alphonsus Hospital, Reinhardt became the director of marketing at the Idaho Shakespeare Festival (ISF). Although "it was really a great time to be there and [she] loved it," Reinhardt left ISF after a year to pursue a position at Boise State University.
Reinhardt attributes her successful career to her broad business experience: "I'm not an expert on aging. I'm not an academic. I've always been an administrator and so I'm kind of a generalist, which I found that particularly in Higher Ed (which I've worked in a lot), is a great place to be when you're in a world of experts, you know. So it has really served me well professionally."

The Osher Lifelong Learning Institute at Boise State University
Known as the Renaissance Institute prior to 2007, the lifelong learning program at Boise State University was established in response to the community's desire to participate in a program similar to those offered at their alma maters. "Particularly the lifelong learning program at Dartmouth University was one that inspired some of our community members about fifteen years ago to say, 'you know what, they have a lifelong learning center. We should start one here at Boise State.' And that's really how this happened."
The Osher Lifelong Learning Institute differs from other extended education programs in a few unique ways. For one, all of the courses are taught at a college level, but do not require textbooks or assessments via homework or exams. Although classes are occasionally offered in the evening due to an instructor's availability, the majority of courses are offered during the day. Osher Institutes are also novel in the varying lengths of the courses. Rather than committing to a traditional 16-week semester, the average course meets four times for a total of eight hours.
There are currently more than 1,600 members at Boise State's Osher Lifelong Learning Institute. At this Osher Institute as well as every other Osher Institute, 2/3 of the members are women and 1/3 are men. Although the reason for this trend is unknown, it is generally attributed to women having a longer life expectancy and being more likely to join new organizations than men.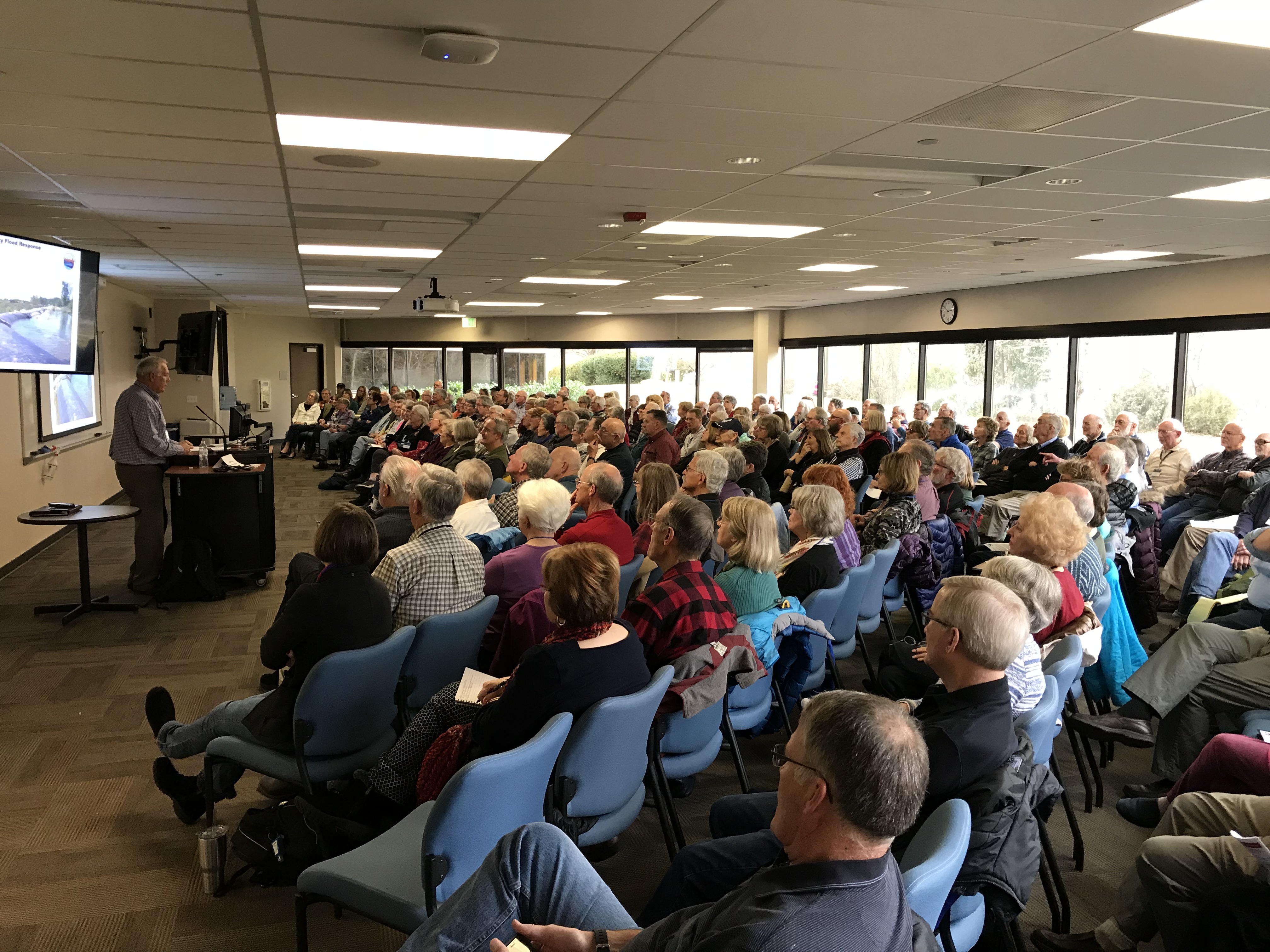 Membership
Membership is open to those in the community for a fee of $70 for one year or $35 for one semester. Classes are an additional fee, but members can attend any of the roughly 14 offered seminars for free. While seminars are taught on a single day for two hours, most courses meet four times for a total of eight hours. "We've had a lot of courses that have turned into special interest groups," says Reinhardt. Special interest groups are member-led, free, and open to all members.
The institute provides financial scholarships for those unable to afford the membership fee. "People can participate regardless of their ability to pay so if someone is on a fixed income and can't afford to be a member, we will waive their membership fee…it provides them all the benefits of membership and access to up to three classes for half-price."
Bernard Osher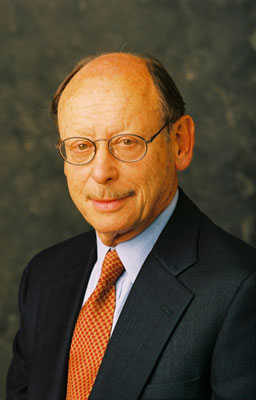 Well-known as a businessman and philanthropist, Bernard Osher's goal is "to give away all of his wealth before he passes." The children of Lithuanian Jews, Osher and his sister founded the World Savings Bank which was later acquired by Wachovia (now Wells Fargo). As a "lifelong lover of antiquities," Osher purchased the auction house of Butterfield & Butterfield which he later sold to Ebay. Reinhardt describes the ninety-year-old philanthropist as "never [having] had a problem creating wealth, but all along the way [doing] good."
At a friend's funeral in Maine in the late 90s, "[Osher] noticed that some of the people that he'd known when he was young were aging better than some of the other people who were there, and he began to talk to people and found out that the people who were aging better and seemed healthier and just a little more relevant and more engaged had this one thing in common, and it was that they were all taking classes in their retirement at the senior college at the University of Southern Maine."
After returning from the funeral, Osher contacted the University of Southern Maine and asked them to draft a proposal for additional funding for their lifelong learning program. Although the university only requested $50,000 for new equipment, Osher granted them $2 million, and the university's program "became the first Osher Lifelong Learning Institute." There are currently 121 Osher Lifelong Learning Institutes at American colleges and universities.
Read More
For more information regarding the programs at the Osher Lifelong Learning Institute at Boise State University, visit their website. Or listen to the full Idaho Speakeasy interview.