Podcast: Play in new window | Download
Subscribe: Apple Podcasts | Android | Google Podcasts | Stitcher | RSS
Angela Lindig, Providing Support and Opportunities
Angela Linding calls her work in property management and mortgage insurance her "former life; before children."
Lindig's involvement with Idaho Parents Unlimited began with the idea of a playground. She had two children with different needs, and no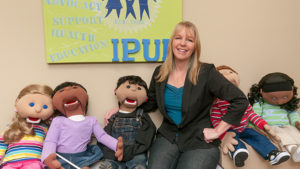 place she could take them both to play. Her first daughter was born with disabilities, but her second child was not. After speaking with families in similar situations, Lindig realized this was a common issue being dealt with. Families that had multiple children at different developmental levels had nowhere to play as a family.
Lindig, who at the time was already starting to be involved in grassroots activism, asked around hoping to find universally accessible playgrounds nearby. Instead, she found herself at the center of a movement to build one. This movement resulted in Idaho's first universally accessible playground, Adventure Island Playground in Settler's Park of Meridian Idaho. From there, she turned her activism into a career.
Idaho Parents Unlimited, Supporting families, Schools and Children
"It can be really overwhelming," Lindig says of parenting children with disabilities. "We get into working with so many different systems." She notes that several of the families are dealing with very complex health issues. Families are dealing with all of the equipment they need to care for their child with disabilities, along with the difficulty that comes with raising children. "It's not a part-time thing," she says. "It's not a sometimes, thing, it's an all-the-time thing."
"We provide… at our organization, a lot of empathy and a lot of understanding… because we're still doing it." Milestones are different for every person, but Lindig makes a point to celebrate every one, regardless of when it comes. "I'm thrilled for anything new, and we celebrate all of those things with the families that we work with, too. We give a lot of hope, high expectations of what's possible."
"We are always saying 'Call our office! We want to help you.'" Widespread programs aren't the only thing that Idaho Parents Unlimited does. Sometimes, it's as simple as making sure families have the gas to make it to medical appointments. "We don't just take phone calls, we go into… our small communities and meet parents where they're at."
Creating Opportunities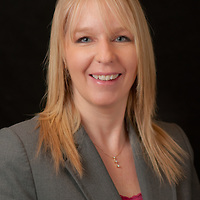 One of the many programs that Idaho Parents Unlimited has supported is an artist residency at Boise High School. Through this artist residency, students with disabilities enter an international scriptwriting competition called The Playwright Discovery Program put on by the Kennedy Center in Washington DC. For two years in a row, students from Boise high school won the competition. They were invited with their families to see part of their work performed at the Kennedy Center.
"We talk all the time about Transition to Adulthood and independent living and jobs post-secondary education," Lindig explains, "but without those opportunities how do [families] even explore that."
Idaho Parents Unlimited is now also working with a local vocational rehabilitation agency. The program is called A Work of Art. It's an employment skills-building program. Groups of students sign up with a teaching artist, and use art to develop employment-oriented skill sets. The groups of students collaborate with corporate clients in order to create commissioned works of art. "It just created huge opportunities for our business partners to see the possibilities in kids with disabilities and how hiring kids with disabilities can be beneficial for everyone," says Lindig.
 Working for Peanuts and Passion
For all of the work that they do, Idaho Parents Unlimited has a small, dedicated staff. "My staff, they are absolutely phenomenal, and highly knowledgeable, and I'm so fortunate," Lindig says. "They work for peanuts and passion."
A key part of Idaho Parents Unlimited is the depth of knowledge from the staff. "The level of knowledge that folks need to have to do this work, it takes years to know these systems and to really know how to coordinate this information for parents and how to help people appropriately."
Idaho Parents Unlimited is committed to helping children with disabilities and their families. With years of experience, they do their best to bring support and opportunity to communities throughout Idaho.
Get Involved
For more information on Idaho Parents Unlimited, visit their website.