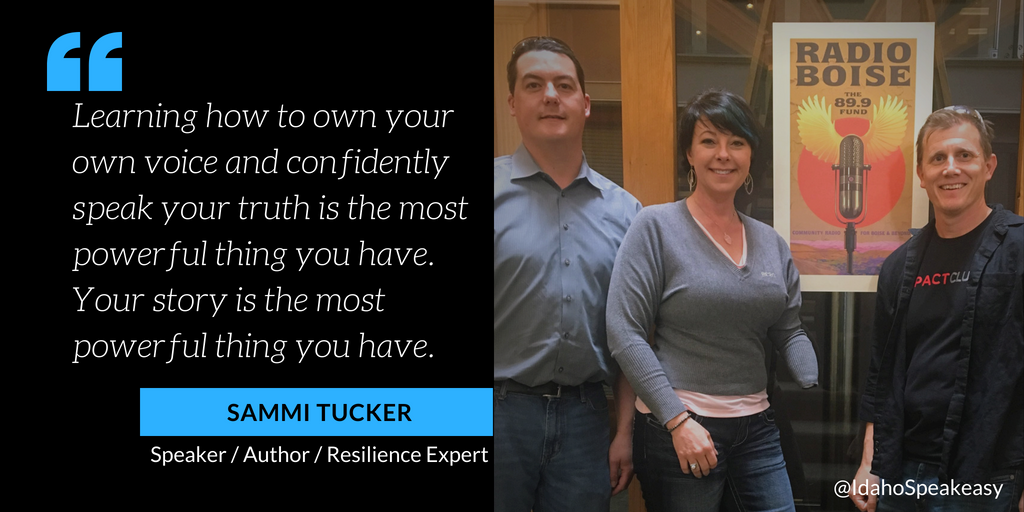 Sammi Tucker was beaten down time and time again throughout her life until the age of 41 when her arm was taken by the running engine of her motorcycle after hitting debris in the road, and her entire perspective was reborn like a phoenix in the ashes of unspeakable peril.
Tucker grew up in the middle of nowhere, "[riding her] horse to a one-room school on the prairie," and living her life under a rock essentially. She grew up surrounded by abuse, divorce, alcoholism, and the inability to express feelings in a domineering household.
Desperate for a change of setting, Sammi moved to Tucson, AZ where she experienced freedom and pain simultaneously like colliding tidal waves. She became a raging meth head within nine months and tried to commit suicide, then became pregnant after her attempt fell through. However, she turned her life around and joined the Air Force where she learned how to radio broadcast. She had an amazing career and a beautiful daughter, then left the Force to raise her children and obtain a career in public affairs.
Though she experienced success, Tucker felt dead on the inside, "drowning [her]self in antidepressants." She never felt as though she had close relationships because she didn't know how to love herself, given the way she was raised. This impacted her to feel as though she was incapable of loving others. She simply wanted to "check out of life."
Phoenix Rising
One day while Sammi was going through her third divorce, she was riding her motorcycle and she hit debris in the road. The motor didn't die when the bike went down and her sleeve was caught in the drive belt, sucking her into the back wheel and grinding off her arm. She looked at her arm and thought, "Oh my God, I've wanted the pain to end, and now it's ending." She felt intense remorse, thinking, "forty-one years of life, and that's what I did with it?"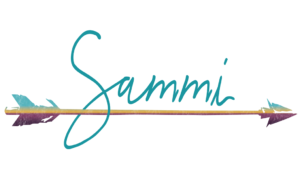 As disappointed in her life as she felt, suddenly "everything changed, and it was like a whole dimension opened up." Tucker says that she could feel God's presence, and He told her, "'You are mine.'" Those three words broke down the fortress of protection that she had built around herself because they allowed her to step into this new identity that she was the beloved of God.
Sammi miraculously survived this horrific experience. Every lie she had ever been told was shattered along with every lie she had ever told herself. In that moment of clarity, she looked at her arm and thought, "Okay, that's gonna get amputated, but oh my gosh! I don't know what this means, but it's gonna be awesome!"
Tucker recollects, "I found purpose for life in the ditch." That's when she decided, "I'm just gonna challenge every one of my beliefs because if God loves me and He knows everything I've done, and I had that wrong, then what else that I believe right now is just wrong?" She then set off on a glorious mission to find proof for every limiting belief that she had allowed to set her back. Once there was none, she decided it was time to write her own story.
Reconstructing Her Life
After her moment of truth, Tucker spent about 14 months figuring out what was and wasn't working in her life and how to rebuild. She reconnected with her family, lost her career, and immediately became an advocate for those with disabilities. Deciding that "it isn't bad unless you assign it a bad meaning," she became more creative in how she did things, greatly enhancing her problem-solving skills.
An opportunity arose to work for a prosthetist and work with amputees with whom Tucker believed she would easily relate and connect. This work did not go as planned because half the patients were amputees due to their diabetes and didn't have the mindset to change their lifestyle. This frustrated her because they were given the choice and she wasn't.
Doing the Impossible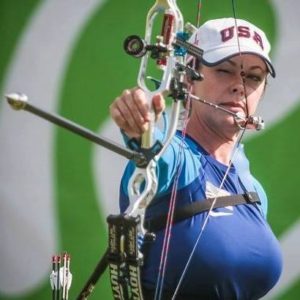 One day a patient came in and asked Sammi if she liked archery. She expressed interest but did not think she could do it with only one arm. In his wheelchair, the patient wheeled out a target and a bow through the lobby into the exam room and said, "Now you just bite right back on your molars…and just stretch your arm out…and just relax your jaw," which absolutely thrilled Tucker and inspired her to take lessons.
It turned out that this man was a gold medalist, a three-time Paralympian in archery. He became her mentor and within 17 months, led her to become the first woman to compete in her category.
Speaking Her Truth
Now Sammi spends her days training mindset to the U.S. Air Force and a group of children on a reservation, and teaching "The Dynamic Speaker," a course that instructs effective public speaking methods.
The impact that Tucker wants to impress on the world is that "learning how to own your own voice and confidently speak your truth is the most powerful thing you have," and so she believes that the more she tells her own story, the more people will feel a connection to their own pain. She hopes this will grant them permission to have faith in themselves to feel and to speak their truth.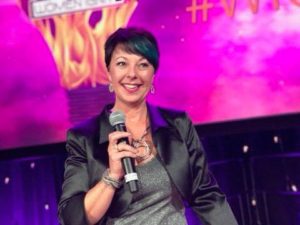 Throughout the connections she has made in her life, Tucker has noticed that most people underestimate their story and their voice. Although most content is recycled and no one has anything genuinely unprecedented to say, she argues that it is the story of the person and the way they tell it that adds value to the world.
"We're all divinely appointed to meet people that need to hear that message from us individually," Sammi proclaims, "and if [we're] not ready and prepared to do that when [we] meet that individual, then maybe they never hear that message, maybe they never learn that, and maybe they never make a change that they really need to." Her life experiences have shown her "it's our duty to make sure that we share our story," and she will continue to share hers until her last breath.
Find out More
To find out more about Sammi Tucker, visit her website: sammitucker.com
Hear her full interview:
Podcast: Play in new window | Download
Subscribe: Apple Podcasts | Android | Google Podcasts | Stitcher | RSS