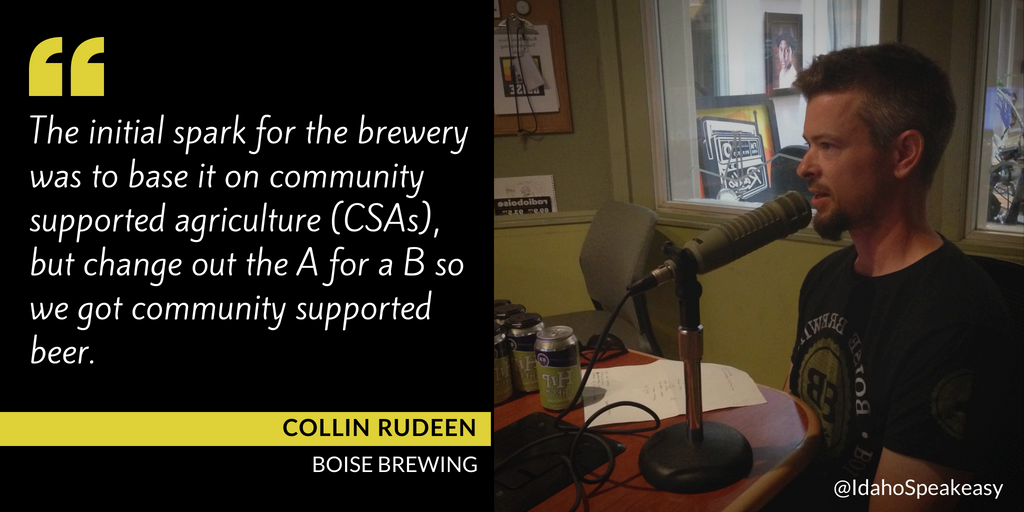 Starting Boise Brewing
Collin Rudeen worked as an industrial engineer in the renewable energy industry before quitting his job. With his new free time, he wanted to enjoy life and "just do some fun stuff."
He began spending a lot of his time brewing. His hobby became "out of control" as he realized the extent that he was brewing was "not sustainable as a hobby." Rudeen decided his hobby "[needed] to be a business or [he needed to] tone it down a little bit. [He] decided to go for it."
Rudeen began by putting his concept of a community-owned brewery on Kickstarter where he raised $30,000. His idea behind using Kickstarter was to "basically throw this idea out to the public in a monetary way and see if there was interest behind it." Although the money was nothing compared to the money necessary for opening a brewery, the 30k was enough proof-of-concept for him to further develop his business plan.
Community Ownership
Initially becoming an owner at Boise Brewing cost $1,000 for a 0.1% share in the company. "If you do the math on it, just the growler fills is a pretty decent return on your investment," says Rudeen. The cost of ownership has since increased after the second round of investment. "The whole point [of investing] is that you can come and appreciate your investment. It's not just some anonymous place."
Investing in Boise Brewing works like having stock in any other company except that "there are more liquid benefits than others to ownership." In addition to getting invited to private events and first dibs on special release beers, owners "get a growler fill every month for life, and they've all got a mug down their at the brewery with their name on it."
"It's not for the faint of heart, having 450 owners that you have to be true to and honest to," says Rudeen, "so we have ongoing legal costs to make sure we're doing everything by the book." Although the setup means lots of accountability and organization, it has the added benefits of "more connections in the community and more people that have [their] interest at heart too." Rudeen adds, "If you think about, if you are going to have a beer somewhere in town are you going to go somewhere random or to the place that you own?"
The Brewery Location
When Rudeen signed the lease to develop the brewery in what is now known as the LIV district, the location at the intersection of Fifth and Broad was viewed as being on the outskirts of downtown Boise. "We kind of lucked out as far as the location goes and everybody coming in after we had signed our twenty-year-long lease," says Rudeen.
Now that area has been largely developed, roughly 160 apartment units are now just steps from the brewery. "We hope to be an extension of their living room basically," Rudeen adds.
Beers on Tap
Boise Brewing offers 4 core beers: Hip Check IPA, Broad Street Blond, Syringa Pale Ale, and a seasonal. The names of the regular beers were chosen as a nod to Rudeen's wife who played roller derby (Hip Check), the location of the brewery (Broad Street), and Idaho's state flower (Syringa). "We try to stay true in our beers and everything else that we do," says Rudeen.
The brewery also produces Black Cliffs Stout, a beer which has won multiple awards at the Great American Beer Fest and been award gold at the World Beer Cup. "We can say it's the best American stout in the world," says Rudeen.
Since Boise Brewing produces only a handful of lagers during the year, it's not cost effective for them to purchase yeast capable of brewing ten consecutive batches. By picking up extra yeast free-of-charge from another local brewery like Sockeye Brewing, Rudeen can "go pick some [yeast] up, brew up a lager, and it doesn't cost [him] the extra $1,000."
Future Plans
Currently, Boise Brewing "[doesn't] have any particular plans to do another round." Owners are still debating their vision for the brewery. The main split is between being content at their current location and not becoming more aggressive over market-share versus becoming more aggressive, opening another production facility, and working to get into more states beyond a limited range within Wyoming and Washington. Rudeen adds that "as a local brewery in Idaho, we're going to sell way more beer here than we are in, say, Washington even though there's a higher population."
Boise Brewing wants to give back to the community by producing a limited-release beer with the vision that "a dollar of every pint sale from that keg is going to go to a local charity," says Rudeen. "That's not anything wild and crazy, but it's something that's real and giving back to the community, and [we] can do something good at the same time as bring more people into the tap room."
Get Involved
Visit the Boise Brewing website and Facebook page for more information about special beers on tap or becoming an investor in the brewery.
Listen to the Idaho Speakeasy podcast: idahospeakeasy.com/collin-rudeen