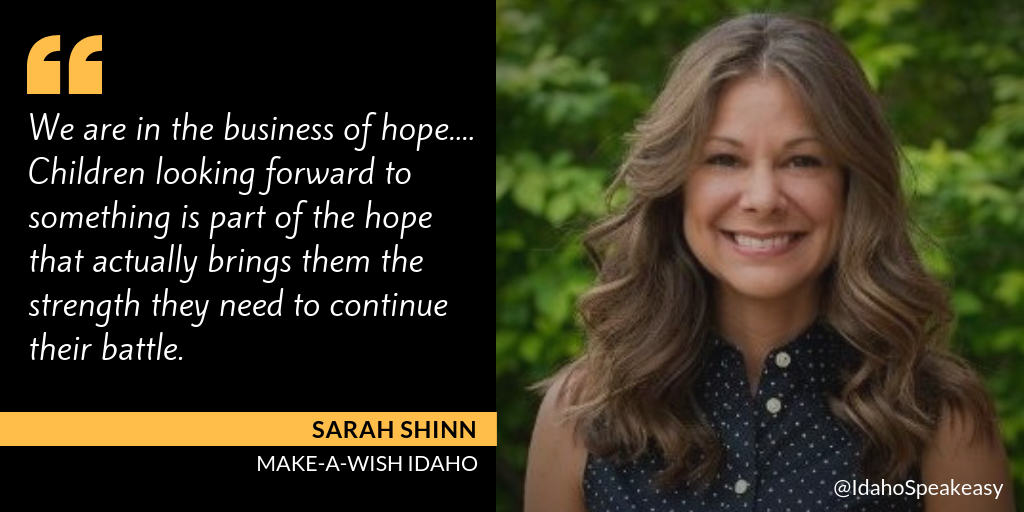 Sarah Shinn, President & CEO of Make-A-Wish Idaho, spends her days figuring out how to make dreams come true. From swimming with the dolphins to organizing a food drive for the homeless, Sarah Shinn has worked tirelessly to make a huge variety of wishes a reality. While Make-A-Wish is typically associated with children who are battling a terminal illness, Sarah says that the foundation's work has a far broader scope and strives to bring hope to all children suffering from a critical illness.
The implications of Make-A-Wish are far greater than a single great experience. One of the most impactful results of the program is the anticipation and excitement about having a dream fulfilled—an experience that has been proven to help kids respond better to their treatments and follow through with treatment plans that they were previously reluctant to be compliant with. More than that, Make-A-Wish is a catalyst for community involvement that elevates everyone involved with its mission of hope. Sarah stresses that Make-A-Wish doesn't just help children but has a positive and long-lasting impact on their families and the greater community as well.
Make-A-Wish Idaho: Responding to the Mission
Previous to her role as CEO and director at Make-A-Wish Idaho, Sarah Shinn worked in higher education. Even though she felt that her role in that career was extremely fulfilling, Make-A-Wish felt like a calling that she couldn't turn away from. And it's no wonder—Make-A-Wish is one of the most singularly powerful and visceral charities in America that impacts communities, one child's wish at a time.
Never the Same Wish Twice
One of the great things about Make-A-Wish is that no two wishes are the same, just as no two children are the same. Unlike many organizations that strive to build operations in a way that maximize efficiency, Make-A-Wish has a laser focus on each individual child. Sarah says, "Even if it's a wish that, in execution, we might have done before, it's never the same because the child is different, their intention is different, their background and experience is different, the volunteers are different, their time in the world is different. It's never the same wish twice." This incredible attention to the unique story of each child and the sheer effort it takes to make every singular wish come to fruition is one of the benchmarks that makes this foundation extraordinary.
Leaning on the Community
While Make-A-Wish is a national foundation, each chapter operates locally and independently. Make-A-Wish Idaho services the entire state and is expected to independently raise the majority of money for Idaho recipients. She says that the foundation currently lacks the resources to grant every wish that comes in, and recipients are queued based on need. For 2019, the foundation has 150 wishes in the queue and the capacity to grant only 95 of those. Help is needed and while Sarah isn't shy about asking for it, more resources are necessary to meet the demand coming from Idaho children who are struggling with a critical illness.
The funding necessary to make each child's wish come true comes from individual sponsors and fundraising events that are held annually. A yearly gala, in partnership with Boise State University, is an essential touchstone for the foundation, but other popular events include the New Year's Day Polar Bear Plunge and Walk for Wishes every June.
These events provide a huge portion of the foundation's resources and act as a structural calendar for the organization that draws great crowds—but they still fall short of servicing the breadth of Idaho's needs.
Volunteers are Key
While their events and internal fundraising efforts are crucial, the real backbone of Make-A-Wish Idaho are volunteers. Sarah stresses the importance of local communities and individual volunteers. The foundation currently has over 100 volunteers but is always looking for more in order to grant the variety and volume of individual wishes. Sarah says that the Make-A-Wish team has great infrastructure in place to help grant wishes that come up regularly, like taking a trip to Disneyland. But she points out that not every wish is the same and they often have to rely on outside help. "When it's something new or different that we haven't done before or has a really huge scope, we have to turn to our community to help make that happen and we have so many examples of a community coming together to make a wish come true."
If you want to make a difference in a child's life, get involved with Make-A-Wish Idaho.
Contact Make-A-Wish Idaho or follow the foundation on social media.
Listen to the full Idaho Speakeasy interview: idahospeakeasy.com/sarah-shinn