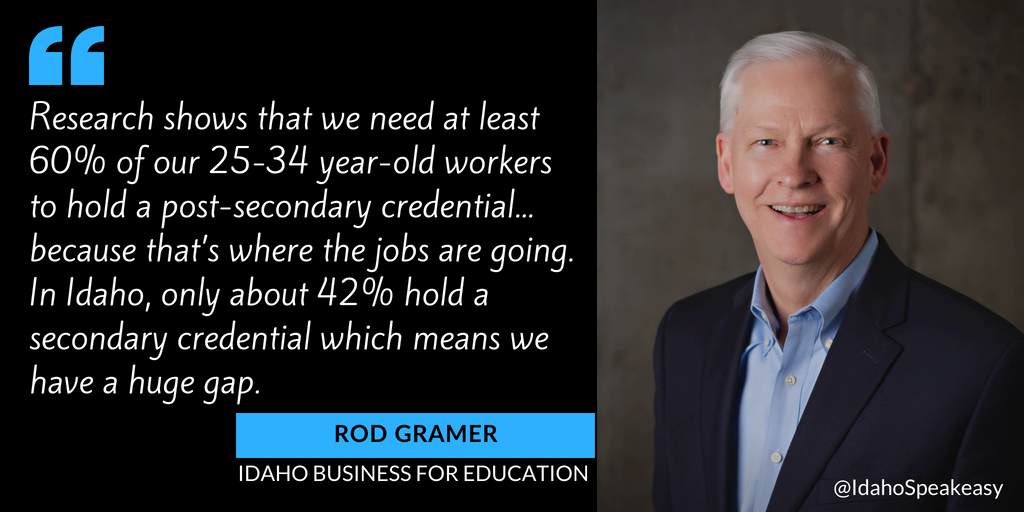 After spending 38 years working in the news industry as a reporter, newspaper editor, and television news executive, Rod Gramer nows works as the President and CEO of the non-profit organization Idaho Business for Education (IBE). IBE formed a few years ago after Gramer met with other business leaders to discuss strategies for improving education in Idaho. Their intention was to better equip students to enter the workforce. "We really need a more educated Idaho to fill the many, many jobs we're going to have over the next few years and so IBE's existence is to try to do that," says Gramer.
Recognizing that members of IBE are not professionals in this field, the non-profit regularly consults with educators and restricts its role to "[getting] the policies and investments [educators] need to be more successful." IBE believes that businesses have the power to have a positive impact on Idaho's educational system: "With business support, we [can] help implement legislation and investments in education, and that [can] lead to improvements."
Contemporary Educational Challenges
The American educational system was designed for an agrarian society in many ways, unlike contemporary American culture. Gramer describes hindrances to improving education in Idaho as "mainly self-created barriers" since we, as citizens, continue to accept and perpetuate the shortcomings through policies and funding.
In addition to the challenge of legislature and government involvement, Gramer predicts that the image of the teacher as the "sage on the stage" will fade and be replaced by the image of a teacher as a coach or facilitator. In order to ensure that educators are equipped for the increased use of technology in learning, the State Education Board –as well as the Teachers' Union—will need to collaborate and determine what effects this will have on the educational requirements for teachers.
A lack of individuals attaining post-secondary credentials is also hindering Idaho's progress in the job sector. Although technical jobs are now in high demand and well-paid –at times 2-3 times the rate which college graduates are paid after graduation–many parents perpetuate the old opinion that technical jobs are "blue-collar" or "dirty jobs."
Beliefs that technical jobs are "beneath them" hinders many young people from pursuing a technical job. "Research shows parents are the number one driver in what kids decide to do in post-secondary," says Gramer. Parents can improve Idaho's future by encouraging their children to pursue a credential beyond their high school diploma.
IBE also advocates that post-secondary education needs to be less rigidly fixed in urban areas. Since not everyone has the flexibility to commute or relocate, "we've got to take education to the people, and we've got to make it more affordable."
Improving Kindergarten Readiness
Idaho spends the second least per student in the country on education, and is "one of only six states that doesn't spend any money on getting kids ready for kindergarten." Half of the children starting kindergarten are not ready to read and do not know basic letters, shapes, or colors.
"The way education works is from kindergarten to 3rd grade, kids learn how to read, and from 4th grade on they're expected to read to learn; so if kids can't read proficiently by 3rd grade, those are the ones that are going to fail in school and then eventually fail in life," says Gramer.
Children who are behind in reading by the fourth grade are more likely to stay behind academically and, as adults, are more like to maintain lower paying jobs, be underemployed or unemployed, be incarcerated, and need government assistance. "Unfortunately, many states project their prison population by fourth grade reading scores or third grade reading scores," says Gramer.
Building a new prison costs approximately $500 million with incarceration running another $20,000 per year per individual; on the other hand, kindergarten costs roughly $5,000 per child. The clear return on investment supports funding the preventative route and investing in early education.
The Need for Post-Secondary Credentials
According to IBE President Rod Gramer, only 48% of Idaho high school graduates continue on for higher education and that half of those who go will drop-out by sophomore year. "We don't have enough people going on. We don't do a good enough job retaining them in higher ed," says Gramer, "[yet] the biggest travesty are young people that go get a bunch of debt, and then drop out."
"When you have 20% of the jobs going to high school grads, that's pretty crowded when you've got 50% or more [of the workforce] who only have a high school diploma." One way to increase the percentage of the workforce going for post-secondary education is to break the myth that going to a four-year college after graduating high school is the best choice for every student. The reality is that other options such as a two-year college, career technical training, and workplace-ready certificates will all have a positive impact on an individual's job prospects. Whether it ends with an expertise in plumbing or surgery, "It's all education."
Get Involved
For more information about joining IBE, visit their website at https://www.idahobe.org/.
To learn more about career technical education, visit the KTEC website at http://www.ktectraining.org/.
Listen to the full Idaho Speakeasy interview: http://idahospeakeasy.com/rod-gramer