Podcast: Play in new window | Download
Subscribe: Apple Podcasts | Android | Google Podcasts | Stitcher | RSS
Thriving Through Rapid Growth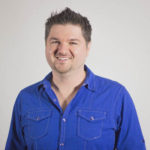 Entrepreneur Shaun Buck stops by the Speakeasy to discuss the success of his Boise-based newsletter business, The Newsletter Pro. The company has seen explosive growth, appearing on the Inc. 500 Fastest-Growing Companies list, and Buck was named 2014 Marketer of the Year by GKIC. He is also the coauthor of No B.S. Guide to Maximum Referrals and Customer Retention. When you hear Buck's stories and advice, you'll begin to see the secrets to his success. The topics we discuss include:
How a reluctant Californian fell in love with Idaho,

Lessons learned as a teenaged entrepreneur,

Finding determination in the face of a cruel stepparent,

Evolution of the newsletter business,

Creating systems and processes, and empowering employees to improve them,

The value of enlisting a business coach,

Evaluating your pricing model,

The wisdom of pursuing slow-moving customers,

And much more!