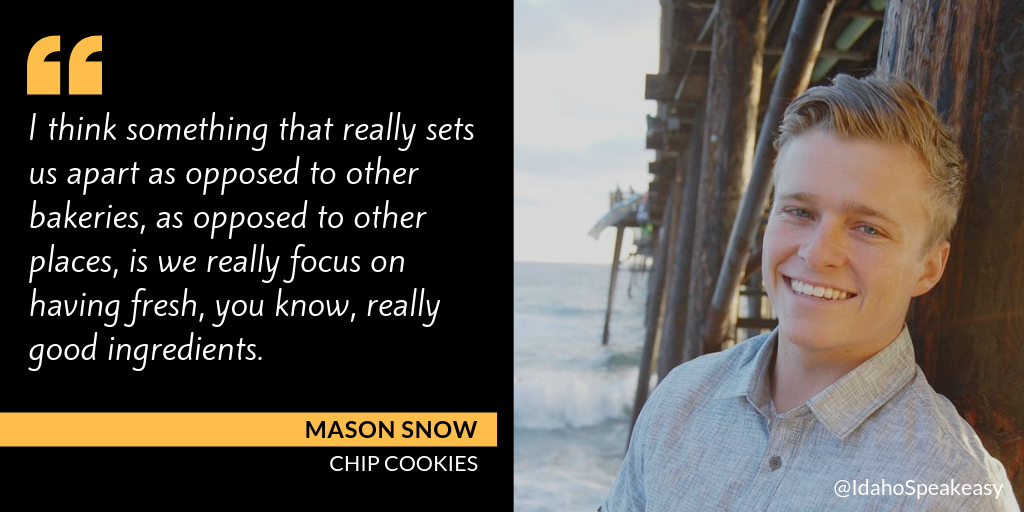 Mason Snow is the General Manager of Chip Cookies in downtown Boise. Chip Cookies is a late night bakery that delivers boxes of cookies all around the Boise and Provo areas from 8pm-2am. They sell large, warm, and fresh cookies that are perfect for a late night snack. According to Mason, the major difference between Chip Cookies and other bakeries is that they "aren't really cutting any corners at all" and "focus on having fresh…really good ingredients" that make their quality unbeatable and keep customers coming back for more.
Mason and his wife manage various popup locations across Utah and Idaho, delivering in Provo/Orem, Boise, Salt Lake City, Meridian, and Nampa. They also ship nationwide. Mason started out as a delivery driver for Chip Cookies right out of college, and his wife joined him as a baker. "I was obviously really interested in Chip because we were in the beginning stages of the business. Wanting to be an entrepreneur myself, I really liked the idea of a startup, and I liked being able to see the inner workings of a business, and I guess the dos and don'ts, what I might do, what I might not do, and just learning." According to Mason, Chip Cookies receives a very high volume of daily orders, which has been quite the operational adventure and has taught everyone on the Chip team an extraordinary amount about running a startup. "Operationally, it's…I think a path not really a lot of people have gone down before," says Mason. "So we had to figure out a lot of these things as we went, you know? I don't know if anybody really anticipated if it would get as popular as it would when it first got started."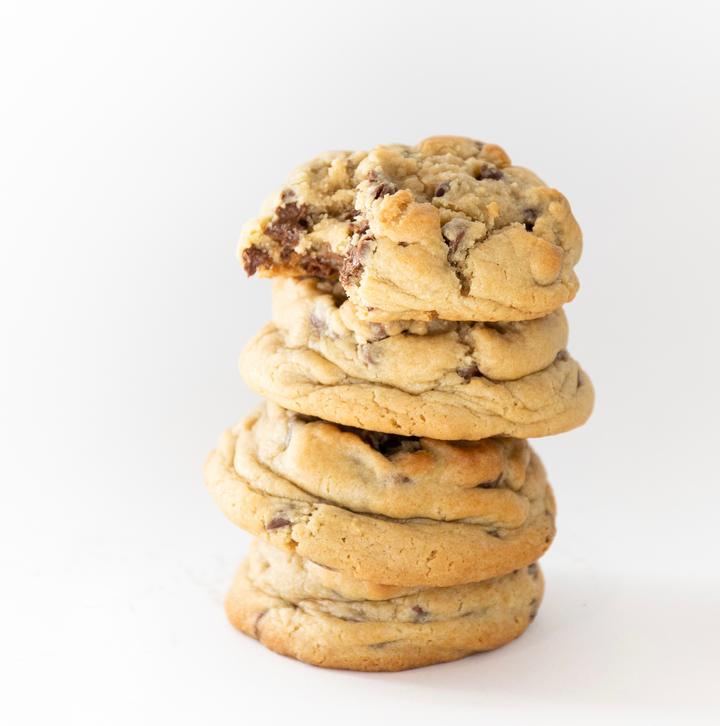 Keeping It Simple
Chip Cookies operates with a very simplified menu. They offer a rotating flavor called the "Chip of the Month," including flavors like oatmeal Reese's and chocolate malt, but other than that they've got a pretty simple menu that works. Mason, originally a Californian, compares the business style to that of In-N-Out Burger. "We just offer our chocolate chip cookie. We do that all year round. That's our staple. That's what everyone asks for. That's everyone's favorite." You get four cookies per box in addition to the "optional" order of milk (but who's really going to order cookies without milk?), and you can either choose to get all original cookies, all Chips of the Month, or a half-and-half combo.
The various popup locations across Utah and Idaho don't include a "full-blown storefront"; they are simply available for delivery and pickup orders from 8pm to midnight. "It's just to be able to expand our delivery radius in our area." Mason continues that it's "to be able to expand our reach to those that…want to have our cookies, that are trying to get them, but are just outside of the boundaries."
Finding the Perfect Recipe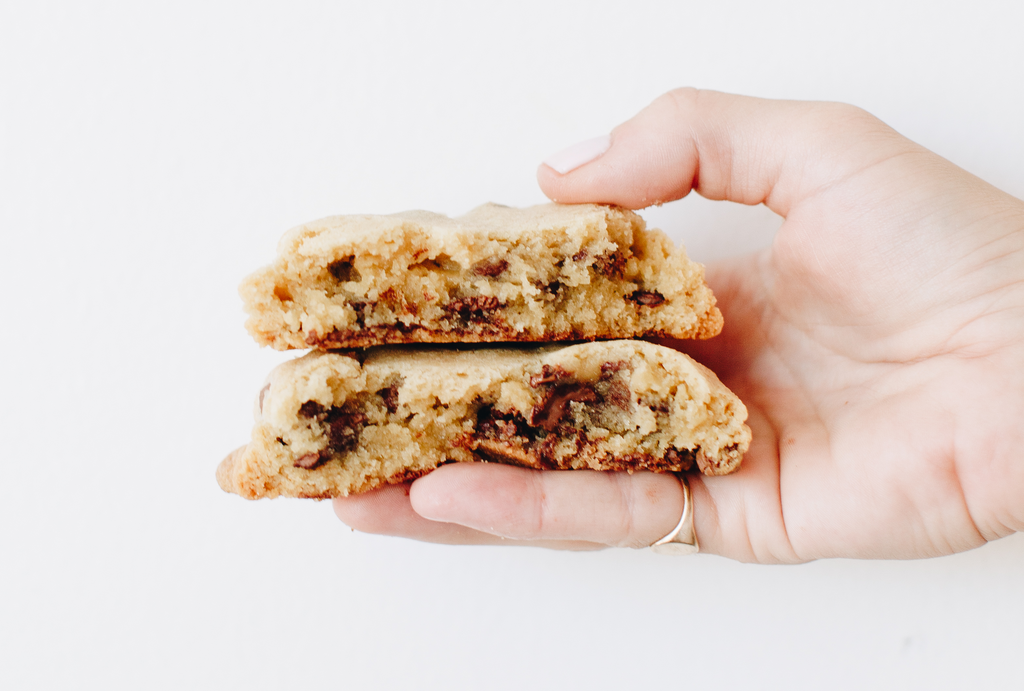 Since Chip Cookies first launched, the recipe has been so on point that it hasn't been adjusted at all. If it ain't broke, don't fix it, right? In order to uncover the perfect recipe that couldn't be beat, the owners toyed around with a few ideas and ended up deciding to invest in high quality ingredients. "A lot of chocolate chip cookies are similar," Mason admits, "but I think we just tried to pick the best parts…We're using…the highest quality sugar, the highest quality chocolate chips…but once we decided we had it nailed, we just haven't changed it since. It's just been the same."
On the Horizon
Obviously Boise and surrounding areas need their fix, which means Chip Cookies isn't going away anytime soon. "We don't have any plans on stopping….People want their cookies. They like their cookies, you know, and we don't want to stop them from that. So we're definitely going to do our best to continue expanding….We just want to try to expand our reach and offer it to as many people as we can." Their newest location is in Nampa. Satisfy your craving by heading over to www.chipcookies.co or get connected on social media to drool over their Snapchat and Instagram posts until the clock strikes 8pm, because you know what that means.
Listen to the full Idaho Speakeasy interview: idahospeakeasy.com/mason-snow