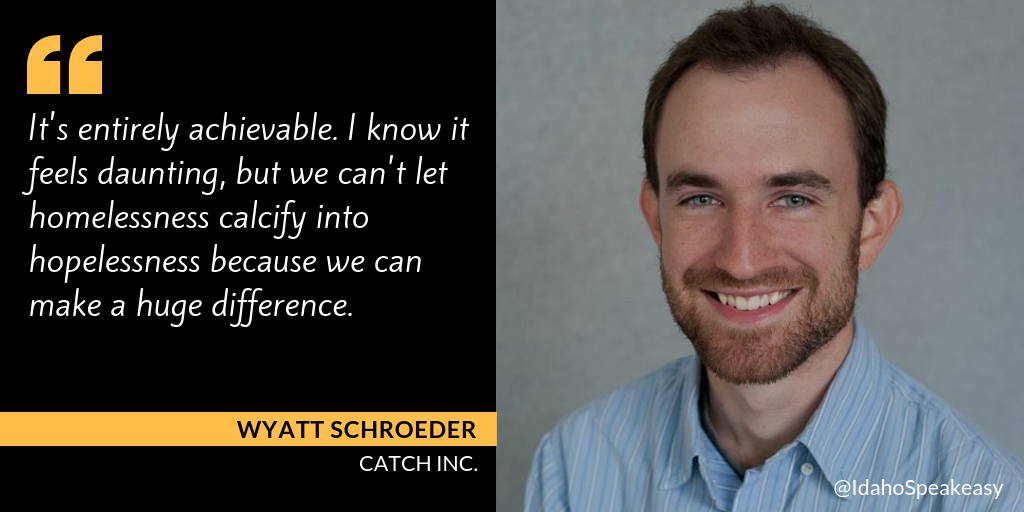 Wyatt Schroeder is the Executive Director of CATCH, or Charitable Assistance to Community's Homeless. CATCH is a charitable program funded by the generosity of local organizations, which assists homeless families with housing and case management, allowing them to focus on a pursuit of self sufficiency. "Every family. Every person. A home," Wyatt puts his company in a nutshell. "CATCH believes to its absolute core that not only does every single family need a home, but we think that they deserve a safe and stable home. So we used a philosophy called 'Housing First,' which basically says, 'If there's someone staying tonight in a shelter or on the street, we want to, as rapidly as possible, get them into permanent, safe, and stable housing with a lease in their name."
Wyatt grew up in Pennsylvania. He served as an Americorp volunteer with "Rebuilding Together." In 2012, he founded StoryBank Consulting to help social entrepreneurs, nonprofits, and collective impact initiatives design innovative strategies to achieve their goals and tell their stories.
How Does It Work?
CATCH operates in three stages. The first thing they do is work with their landlord partners to get families into safe and stable housing. They do so by paying application fees, security deposits, and assisting with built-up debt. Additionally, community donations go towards furniture and household goods to help the move-in process along even further.
Phase two involves setting families up with licensed social workers to form goals and helping them design a plan to stay on track. These families are offered education on anything that might be helpful to their growth, including savings plans, healthcare, job development, financial literacy, and educational achievement for the kids. "The biggest thing that we do is work on resilience, the life skills it takes to live through crises," says Wyatt.
Phase three, Graduation, ensures that families are set with the resources that they need to stay safe and stable long-term. "Over 80% of the families that CATCH serves are stably housed a year after our program," Wyatt claims.
Our Path Home
Give a man a fish, and you feed him for a day. Teach a man to fish, and you feed him for a lifetime. There is a notable difference between charity and problem solving. "Charity doesn't think in terms of investments, in terms of systems," says Wyatt. Charity, while important and helpful in many ways, is reactive to a problem and doesn't work to prevent it from recurring. Problem solving, on the other hand, is proactive and works with a clear intention of preventing issues from repeating themselves.
CATCH operates Our Path Home, a collaborative effort that brings together housing, service providers, and government to simplify the path out of homelessness. Before Our Path Home, anyone experiencing homelessness was forced to jump through unnecessary hoops by applying for a seemingly endless amount of waiting lists and hoping for the best. "We, as a community, were making it harder for families," says Wyatt. "We were adding trauma because we were only thinking in charity. And so, what Our Path Home and this collaboration that came together said [was], 'Why would they have to tell their story 13 times? Isn't one enough?'" Instead, Our Path Home provides one access point in Ada County for anyone who is experiencing homelessness. This single assessment allows people to get on one streamlined waiting list for the entire community. It also addresses needs based on emergency prioritization.
Addressing the Stigmas
It can be so easy to make assumptions about people based on their appearances or predicaments. You can drive past somebody on the street and without even making a conscious decision to judge them, you may impulsively think, "Wow, they must have made some really poor decisions." The truth is, some homeless people may live the way they do by choice, but so many are put there by circumstance and need the help of their community to get back on their feet. One of the largest sources of homeless people, for example, comes from women and children fleeing their homes to escape domestic violence.
Wyatt gets questions all the time about how he deals with people who are self-destructive, dealing with addiction, or struggling with anger management. He emphasizes the importance of discussing these issues and questioning our go-to assumptions. "People might self-medicate…to dull some of the pains that they're experiencing," admits Wyatt. "And that's unfortunate, but we have to recognize as a community, 'Hey that's part of what this means.'" Wyatt firmly believes that their best chance of recovery is through achieving a safe and stable home for these struggling individuals in order to then "paint a path of recovery."
Reaching Out
Wyatt and his team love to expand the discussion regarding homelessness and invite you to participate. "Wanting to make a difference is not enough," remarks Wyatt. "We've got to go about it the right way, and I think that's…where the real work happens, where the magic is, and where our clients need us to be." To learn more about CATCH and various opportunities to get involved, visit catchprogram.org or follow them on Instagram (@catchidaho) and Facebook.
Listen to the full Idaho Speakeasy interview: idahospeakeasy.com/wyatt-schroeder-2