From Healthcare to Holistic Fitness
After graduating from the College of Idaho, Allen Traylor began his career in healthcare by working at Healthwise, a local non-profit. From the start of his career, he understood that the healthcare system was "not designed to support an individual going through some major issues… so [he] had this audacious dream of changing that somehow."
Traylor was considering multiple graduate programs in public health, but his wife was hesitant to leave Boise. Traylor told her, "If I get into the number one grad school in the world we've got to go, but I'll withdraw applications to everywhere else." His gamble paid off, and he moved to Baltimore with his wife in 2008 to attend Johns-Hopkins University. They heard gunshots "all the time," but stayed long enough for Traylor to complete both a Master's in Public Health and a Master's in Business Administration.
After graduating, the couple relocated to Georgetown so that Traylor could write healthcare policy for Health and Human Services for the previous administration. It was during this time that Traylor was invited by a coworker to attend his first spin class. He accepted the offer. "I just loved it," recounts Traylor. "The experience was just amazing…the instructors were amazing." From then on, when Traylor traveled throughout the country for work, he'd seek out spin studios. "That was my relief; I had to get exercise during my travel times."
Launching UpCycle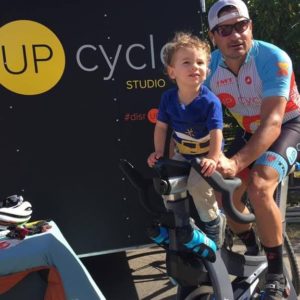 Returning to Idaho, he was surprised to discover that Boise didn't have a cycling studio. After realizing that his life was a little too simple, Traylor decided to complicate it by opening a cycling studio downtown. "We didn't invent anything from scratch. I'm not smart enough to do something like that, so we just copied models and copied what worked," says Traylor.
"We modeled it after other studios that we really liked that we had visited in the past," says Traylor. He made calls to studio owners and "talked to as many people as [he] could" in order to understand what needed to be done for his venture to be successful.
Community Involvement
"Boise is a community-based city. When we started UpCycle, it was amazing the number of resources that came to us from the community," says Traylor. "UpCycle wants to be known as part of the community, and so we created Karma rides where we'll do charity events and [for] that ride whatever we make on that ride will go to a particular charity."
In addition to supporting local non-profits, UpCycle is designed to give back to the Treasure Valley by providing a "safe space to get your exercise, have people checking in on your goals, and in other aspects of their life."
Cycling with Purpose
To become a member, an individual has to first share their intention. "You can't just sign up for no reason," says Traylor. Whether their goal and motivation for each workout is mental or physical, UpCycle wants to come alongside him or her and become a resource for the community. "We make these small-increment goals for people," says Traylor, "and it helps people stay focused and stay motivated and continue to come back and focus on themselves."
"At the end of class, they get an email from UpCycle; and it has the date, the stats, and you can track it over time so they can see what progress they're making," says Traylor. UpCycle is proud to support members holistically, rather than just physically: "You need that [holistic] fitness to keep a strong mind if you're going through some hard times in life, so it's great to be able to provide that at UpCycle."
On Entrepreneurship
While Traylor has been involved in software startups, UpCycle is his first retail and brick-and-mortar startup: "Entrepreneurship is an interesting thing. Looking back in my life, I've always started things. Before Craigslist I started a website called Boiseforsale.com, and I'd go down in the newspaper in the classifieds and I'd literally call everyone of them and say, 'Hey I'm going to come and take a picture of your [product for sale], …and I'm going to post your thing.' I did that, and it was kind of working; and then Craigslist came along, and it didn't work anymore."
"[Entrepreneurship] is fun for me. It's hard at times, but I've really enjoyed the run," says Traylor.
Challenges
Although UpCycle is located in the trendy and busy BoDo district, the 4,400 square foot space which UpCycle occupies is larger than usual for a fitness studio. "It's like buying shoes that are two sizes too big, and you have to grow into those shoes," describes Traylor. "[At] a typical spin class, your bikes are touching each other practically; [at] ours you have space; and so we've utilized the space to make it a better feel."
Another challenge has been the unanticipated lack of education regarding what indoor cycling studios are like: "When we asked people in Boise what they thought it was like, they're thinking the basement of a big box gym that is stinky and crowded and hard and not fun; But when you walk into that room and the laser lights are going and the lights are out and the music's pumping and the instructors are just super engaging, it's a totally different experience."
Future Directions
Traylor wants to "disrupt this mindset that you can only belong to one studio." One of his strategies has been to partner with other local gyms and sell passes for them at UpCycle so that you don't have to "pick between them."
Traylor recently formed an advisory board composed of high-use members who have a vested interest in the success of the studio. Their input will have an influence on practical matters such as scheduling as well as plans for the company's growth.
Because UpCycle has only been open for the last year and a half, Traylor considers it too early to consider opening additional locations, but says it could be a possibility in the future.

Learn More
For class schedules and information regarding upcoming Karma rides, visit the UpCycle website at https://www.upcycleboise.com/
Listen to the full Idaho Speakeasy interview: idahospeakeasy.com/allen-traylor