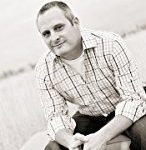 Simply put, Tobe Brockner helps small businesses look amazing online. Brockner is the founder of V-Squared Creative, a Boise-based content marketing firm that creates and implements digital strategies for small and midsize companies. He's also the author of two books for entrepreneurs, Mastermind Group Blueprint and Kid Capitalist.
Brockner's father and grandfather both owned small businesses, and he confirmed entrepreneurship was in his blood when, in high school, Brockner tried working a fast food job. "I couldn't do it," he says. "People telling me what to do, adhering to a strict schedule — it was not for me." He considered joining his father's finance business, and a friend asked if they would change the name to Brockner and Son. "I said, 'No, we'll call it Brockner and Father,'" he says. "I knew I had to run the show. That's always been a part of my DNA."
Brockner left his native Louisiana to study international business at Boise State University. After graduating, he interned at a financial advisory firm in Boise. He found that he didn't enjoy the financial side nearly as much as he did the marketing side. In 2003 he started his own marketing business.
Cash Is Oxygen
The first important lesson Brockner learned as a business owner is that "cash is oxygen." "That's not the sexy part of business, but it's the one thing that can absolutely make or break a company in the early stages," he says. "If you don't manage your cash or don't have enough coming in, those are things that can kill a business." Business school teaches you how to be a mid-level manager in a midsize company, not how to manage cash, Brockner says. He figured out on his own how to balance his books and make payroll each month.
New business owners often ask Brockner how soon they should invest in a website. Even though his business, V-Squared Creative, specializes in online marketing, he tells them not to worry about it until they have cash coming in. "Worry about sales first," he says. "Don't worry about buying office furniture or doing expensive branding if you haven't made a sale yet. Until you have income, none of that other stuff matters."
A Crash Course in Marketing
"When I was a kid, we'd go to Florida every year for vacation. My brothers and sisters would go to the beach, and I'd sit in the condo watching infomercials," Brockner says. "It was a passionate thing for me. Marketing was utterly fascinating."
Still curious years later, Brockner worked to deconstruct the sales process. He called into infomercials and recorded the conversations, tracking which up-sell or down-sell script they used each time he gave a different answer. He bought the products and kept track of the follow-up mailers. "I had a big whiteboard in my office, and I'd map out a flowchart of where they'd send me if I said no or yes. That's basically how I learned marketing."
He subscribed to Dan Kennedy's marketing newsletter and read it religiously. He studied older-era copywriters like John Caples and Robert Collier. He studied their sales letters spanning decades and taught himself how they worked.
Brockner also found tremendous value in arranging mastermind groups of like-minded entrepreneurs to meet and discuss business challenges. He shows other entrepreneurs how to benefit from these groups in his book Mastermind Group Blueprint: How to Start, Run, and Profit from Mastermind Groups.
Marketing for Smaller Brands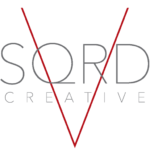 The mission of V-Squared Creative is to bring big-time marketing ideas to smaller companies that don't have the budget for a large advertising agency, Brockner says. "We're really here to help the mom-and-pop entrepreneurs, because that's who I identify with. The name V-Squared comes from 'value for value' — the idea being that anytime we sit across the table from a business owner and they decide to hire us, we want them to feel like they're getting more in value than what they're giving us."
Small businesses typically come to V-Squared for one of two reasons: they're either an "ugly" company that wants to look good, or they have an outdated brand that needs to be refreshed.
Brockner explains ugly businesses to be unsexy or unappealing but still necessary industries: factories, assisted living facilities, or funeral homes, for example. "I want to work with a plumber or a funeral home, because I know if I can make them look great, I can make anyone look great," he says.
"We work with companies that maybe had their logo designed in 1996 and it looks dated. We refresh their brand," he says. "Companies might be heavy in traditional advertising but want to get into digital, social, and content marketing, which I'm a huge proponent of."
Brockner often works with businesses that have hit a revenue plateau and can't seem to move to the next stage of growth. They might be heavy on traditional print, radio, or TV advertising, but Brockner still can increase their visibility through email and social media marketing.
Even traditional marketing materials like white papers provide extra value for businesses when they're produced by V-Squared. "What separates us from traditional ad agencies is that they came up through a traditional mindset," Brockner says. "We have a direct response background. We marry those two things: informational content with a solid call-to-action, direct response component to drive revenue."
To find out more about V-Squared Creative's marketing services, visit their website.

Listen to the Podcast with Tobe Brockner