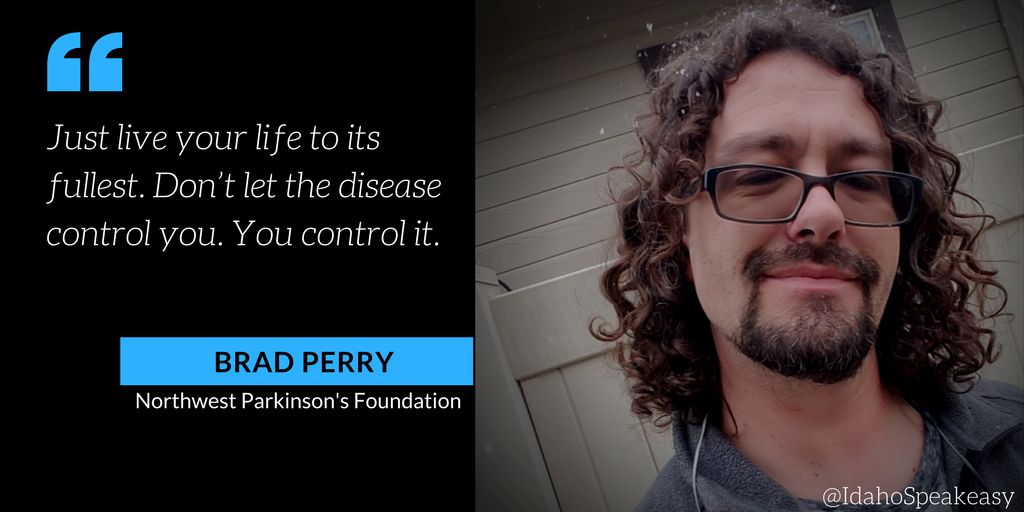 (Tweet this image)
Living Life to the Fullest with Parkinson's
Brad Perry was in Salt Lake on a manufacturing and machining job when his boss noticed that his hand was shaking. The shaking would stop when he got up and began moving. His boss urged him to get it checked out.
Brad visited doctor after doctor to try to figure out what was wrong. Finally, when he went to a movement disorder specialist at the University of Utah, he was formally diagnosed with Parkinson's disease. "One thing that people will notice with the typical Parkinson's tremor is it's a resting tremor," Perry says. 
It's Not Just the Shakes
Parkinson's disease is a slow-progressing disease that builds up over time. Brad had many of the other symptoms, but had explained them away as stress or anxiety until the physical symptoms showed up. "Then all of the pieces of the puzzle come together and they spell out the fun word of 'Parkinson's,'" says Brad. "In a nutshell, Parkinson's disease is the brain not producing enough dopamine, and dopamine is responsible for controlling your movements and your moods," he explains. "By the time the physical symptoms start, your brain's already lost between 60 to 80% of its dopamine creating capacity."
It's very common for Parkinson's patients to have depression or cognitive issues where they can't think of the right words or become forgetful. They can also develop lewy body dementia.
Creating a Network
Brad's uncle was also diagnosed with Parkinson's disease. After seeing his uncle and comparing what they were both going through, Brad decided he was not going to let his disease control him. He was going to get up, get moving and get support.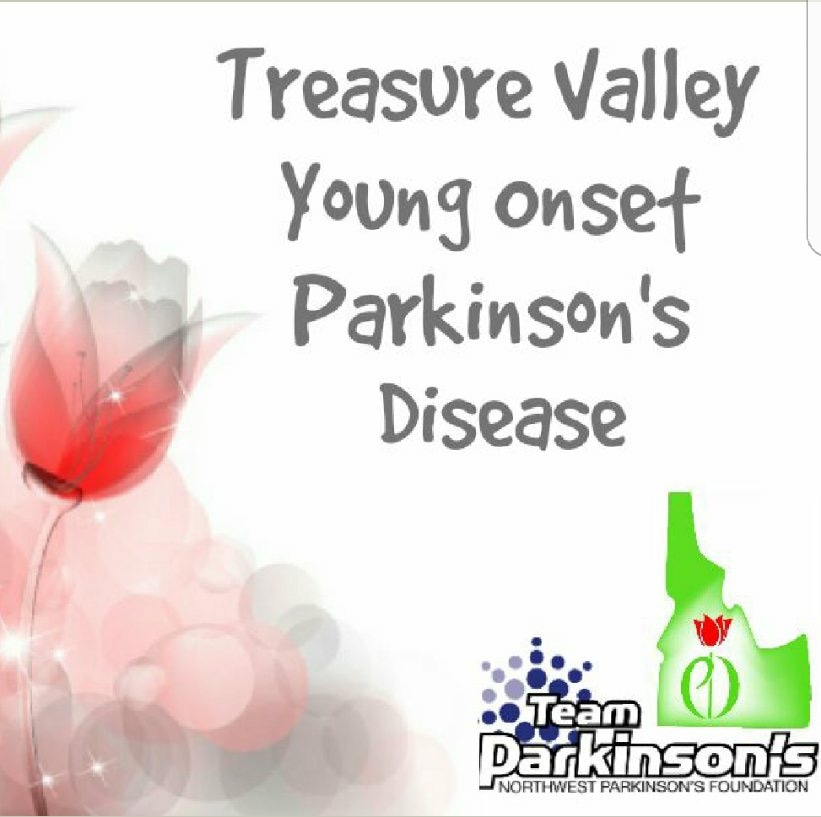 He met an advocate for Parkinson's who helped him, and through this contact he connected with different foundations and support groups. However, most of the support groups were held in group homes or hospitals because of the age of the typical Parkinson's patient. It was a bit depressing for Brad, only in his thirties, to attend. "I started up a new group to try to cater towards the young-onset Parkinson's, and also people with early-onset," he says. Eventually, he opened the group up to anyone who was still young at heart and didn't want to go to the hospital or group home for support. It turned more into a social group. "We're just all friends with a common brainfart," he says.
Finding Support
Brad also joined the Northwest Parkinson's Foundation, which is currently the only foundation that has Idaho under its umbrella. Based out of Seattle, they help Parkinson's patients in Washington, Oregon, Idaho, and Montana. "Their main goal is to help people with Parkinson's have a better quality of life," Brad says.
One of their main programs is Dance with Parkinson's, led by an instructor at Ballet Idaho. Listening to music is healing, and the movement and dancing helps the patients, as well. They also put on the Shake, Rattle, and Stroll Walk for Parkinson's, which raises both awareness and funds. "Exercise helps," he says. "You see the people starting off shuffling around, and by the time it's over, a lot of them are almost symptom-free just because of the exercise. It does wonders."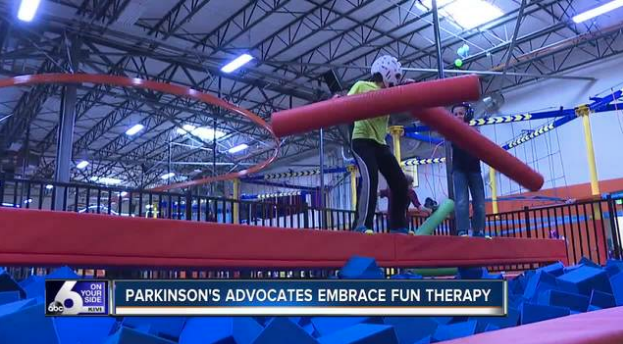 Brad is also starting a program with Urban Air Adventure Park in Meridian to set up an exercise program for people with Parkinson's. "It's going around and playing on some trampolines. They have like an American Ninja Warrior-type course, which is fun, and if you fall down you end up going into a 3-foot deep ball pit," says Brad. "It's amazing how much people want to help us."
Medication for Parkinson's
Some progress is being made towards treating Parkinson's and slowing its progression. One thing that is in the works is similar to an inhaler for people with asthma, except it has levodopa in it. When regular Parkinson's medication starts wearing off, the patients still have to wait a certain amount of time before taking their next dose. The bump of levodopa can tide them over.
Another innovation is similar to an insulin pump full of levodopa, which delivers a constant stream of it into the body. This negates the need for pills, and gets rid of the roller coaster effect of taking the medicine. Drugs that are commonly used to treat different forms of cancer have shown positive results towards Parkinson's as well. "They're making great progress towards different treatments, and hopefully towards a cure," Brad says. "That would just be absolutely wonderful."
Another promising treatment involves brain surgery and a head implant that does deep brain stimulation, or DBS. "It's like a pacemaker that they put in your brain," says Brad. "They install a little box with the batteries down near your collarbone, and the implant [has] two leads, one on each side of the head, and it shocks you." It's not intuitive to think that repeatedly shocking the brain would help with Parkinson's, but it can actually get rid of most, if not all, of the tremors.
It's Not the End
Brad's number one piece of advice for anyone who is experiencing Parkinson's symptoms is to visit their doctor. If your doctor thinks it may be a neurological issue like Parkinson's, then find a good neurologist. "Find somebody you get along with. Somebody you can talk to. Who will actually listen to you," says Brad.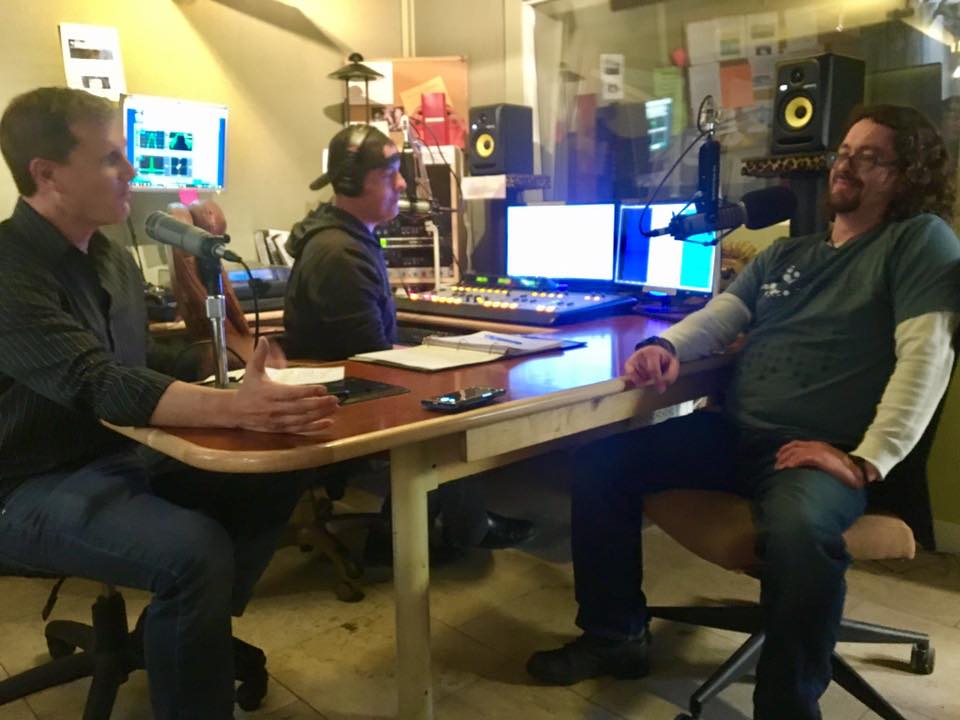 He also stresses the importance of exercise. "Use it or lose it. You need to stay moving. You need to do things like cardio that get you feeling good," Brad advises. "Not only is it beneficial to your health, it's beneficial to your brain."
Don't be afraid to reach out for help. "Find somebody who will listen to you, whether it be a friend, neighbor, a family member, or group leader in the area," he says. "Look them up. Give them a call."
Parkinson's is not the end of your life, neither figuratively nor literally. "Just live your life to its fullest. Don't let the disease control you. You control it," says Brad.
Get Support
There are many support groups and foundations available for Parkinson's patients. You can find a list of such support groups at the Northwest Parkinson's Foundation website.
Want to hear more from Brad? Check out his video from Impact Club: 
Listen to Brad's story on Idaho Speakeasy:
Podcast: Play in new window | Download
Subscribe: Apple Podcasts | Android | Google Podcasts | Stitcher | RSS