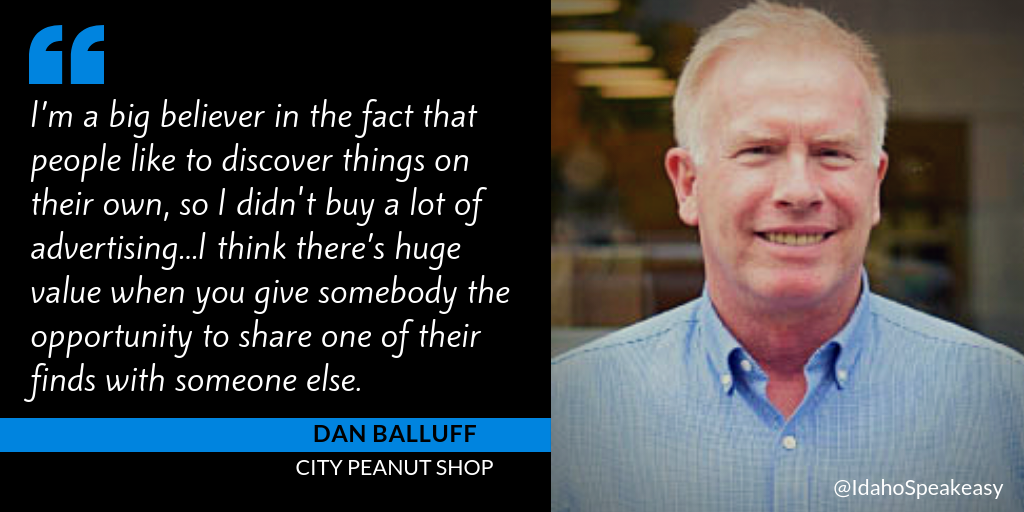 Exploring Entrepreneurship
For more than 20 years whenever Dan Balluff's parents and siblings heard him complaining about his corporate job at HP, they teased him that he should open up a peanut shop in Boise like the one he loved during his childhood days in Lansing, Michigan. After exploring the reality and implications of opening a nut shop, Balluff chose to go for it: "I saw some trends coming…this return to old-fashion business practices with community and relationships inside of communities and [realized] that there's a whole birth of foodies [on the rise], both on the boomer end and on the millennial end."
Dan Balluff is by no means a culinary person. "Most people probably have cooked way more meals than I ever have that were edible," he shares. Although he lacked the culinary experience others might assume would be necessary, he felt his appreciation of craft products would suffice: "It's a simple product. It's a durable product. You don't have a lot of spoilage. You don't have a lot of waste. It's a healthy product. It kind of fit a lot of the trends that were starting to come in, and I just thought it should work."
Creating an Experience
Since peanut shops are uncommon in this part of the country, "people just were really confused about [a peanut shop] when [he] started talking about it, and very skeptical, and very dubious." He knew that for his business to succeed he would need to provide his customers with an "experience to enjoy": "I wanted people to have a good experience and talk about it with their friends and family, and that's exactly what happened."
Believing that not being marketed to would be an experience of itself, Balluff chose not to spend money on marketing: "I'm a big believer in the fact that people like to discover things on their own." He's passionate about his job and particularly enjoys meeting all of the "really cool people who come into [his] shop" throughout the day: "Everybody's got a story; everybody wants to tell you their story."
When customers enter City Peanut Shop, they notice the aroma of roasting nuts before being welcomed by staff who offer them samples of anything that they might want to try: "There's an odor when you walk in that's really nice, usually; …we try to do all of the good, nicely odiferous things during the day."
Wholesale and Collaborations
Since choosing growing slowly for the long-term benefits to his business, Balluff has spent the last 9 years growing City Peanut Shop at a sustainable pace by expanding his wholesale commitments without ever doing a sales motion: "we don't go out and ask people for business, but we've had 52 businesses come to us and ask us to be part of their [business]."
Selling wholesale to restaurants has "helped sustain the business because retail won't necessarily do it. When you're in a downtown, it helps to have some other revenue coming in," says Balluff.
Whether or not a collaboration is considered a "success," Balluff believes that businesses always benefit from collaborating, and he is "always interested" in collaborating with other local businesses. For example, City Peanut Shop collaborates with local breweries by roasting new nut products with a craft brewery's own hops or beer.
Business Challenges
Balluff advises other individuals who may be interested in entrepreneurship to "make sure that you ask a lot of questions and hire experts in that area that you're weak in."
He also warns of the difficulty of finding appropriate sourcing and procurement as a small business. While the volume of options may appear immense, it takes time to determine which corporations are actually interested in working with small businesses: "When you're small, people don't really want to do business with you –which I always found to be a little funny—, and it's changed the way I do business: I don't hold people to minimums."
The lack of health benefits also deters many people from starting their own business: "Thankfully my wife subsidized me in the early days and had the health benefits that allowed me to be an entrepreneur."
The Downtown Boise Location
When Balluff signed the lease on his Bannock Street location nine years ago, Boise was experiencing the height of the recession, and the street was nearly empty: "there were big gaps in Bannock street; there wasn't much there that was flourishing." Bannock Street has since become an ideal location for his shop, and he's benefitted from the city's collaborative business environment.
To help insure that Boise remains a flourishing and collaborative place, Balluff sits on the board of the Downtown Business Association (DBA). Balluff agrees with the DBA's stance that "you've got to make it so that people want to come [downtown]. It's got to be event-driven, and have an environment, and it's got to have this [indescribable] vibe." The board of the DBA is composed of more than 30 board members who represent different businesses and agencies including Boise State University, St. Luke's, and the police department to name a few.
Taste for Yourself
Visit the shop at 803 West Bannock Street or online at https://www.citypeanut.com/.