Podcast: Play in new window | Download
Subscribe: Apple Podcasts | Android | Google Podcasts | Stitcher | RSS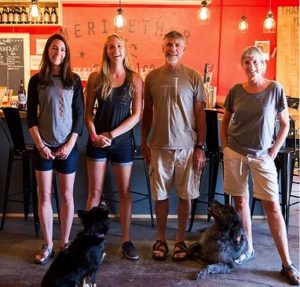 Molly Leadbetter
Co-owner of the Meriwether Cider Company. Leadbetter runs the company with her family in Garden City. She stops by the Idaho Speakeasy to talk about adventure in cider.
What's in a Name?
The Leadbetter roots run deep in Idaho. The family is descended from Meriwether Lewis, the first explorer to cross the continental divide into Idaho. He put the "Lewis" in the famous Lewis and Clark Expedition. "Our motto is 'To Adventure, Big and Small,' so we're trying to keep that adventure spirit that our ancestor had," says Leadbetter. That adventurous ancestor also inspired the name for their cider company.    
The adventurous spirit is strong in Leadbetter and her sister, both of whom were seasonal wildland firefighters for the Forest Service and BLM. Her parents, too, have a sense of adventure. Instead of taking it easy when the time came for them to retire from their jobs as professors, the family decided to go into the cider brewing business together.
Starting the Cider Adventure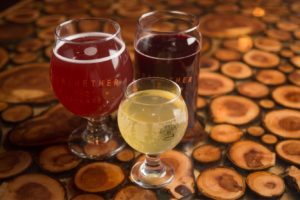 Leadbetter and her sister knew they needed more than seasonal work, and their parents were ready to leave their careers as professors. All four of them wound up at a crossroads at the same time, ready to transition into something new.
The senior Leadbetters had taken a semester teaching in Australia, where they started drinking, and appreciating cider. The family knew the cider revolution was coming, and Molly's father already had homebrew experience. "He brewed beer. Then he made wine, then he grew his own grapes and made wine, and then he started making ciders. He's very scientific and he's very into the homebrewing thing," says Leadbetter. Her mother had the idea to make it a business. So Molly and her sister took beginning classes in cider-making, while their father took advanced classes and their mother took cider business classes.
They were officially licensed in August of 2015, and their tap room opened in February of 2016.
Cider Misconceptions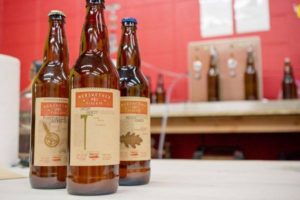 "Cider education is half of what I do… at our tap room and at the Farmers Market and just in general. It's a huge part of it," Leadbetter says. No one drinks one type of beer and decides they don't like beer, because there's a huge range. An imperial porter, for example, will be completely different from a light domestic. However, people may try cider once, call it too sweet or sugary, and move on.
Cider is not sweet at all in itself. It actually has fewer residual sugars than beer, because the yeast is able to eat all of the sugars in apple juice but not all of the sugars from the malts used to make beer. "If we don't add anything into it after we ferment it, it actually has zero sugar. So it's what you do after that that really matters, and people just don't realize that." One example is Meriwether Cider's Blackberry Boom cider. After the base cider is completely fermented, they add real blackberry juice and a little apple juice for balance. "It's sweet in a fruity way, but not sweet in this very sugary way that people expect cider to be," Leadbetter explains.
The American Beverage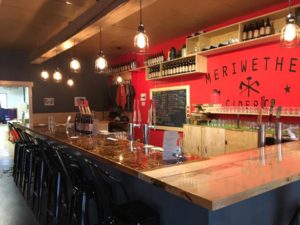 Cider was basically the only thing people drank before prohibition. Then prohibition hit. All the immigrants coming from Europe brought pilsners, lagers, and ales, which became a fad. When prohibition broke, everyone had forgotten about cider, and cider apple trees had been cut down. Now it's having its renaissance. "This is the new thing, this is the renaissance of cider coming back to the US, because it truly is the American beverage," says Leadbetter.
The renaissance is starting in the Pacific Northwest, with help from Vermont. It's growing everywhere, but faster in some places than others. Boise was especially ready for cider. "To me, that support that Boise provides to its local scene is incredible. We've been doing really well with where we are," says Leadbetter. "We love Boise. We love Idaho. This is where we want to be. This is where we opened our business for a reason."
Visit the Tap Room
Wednesday -Thursday 4-8
Friday 4-9
Saturday 12-9
Sunday 2-6