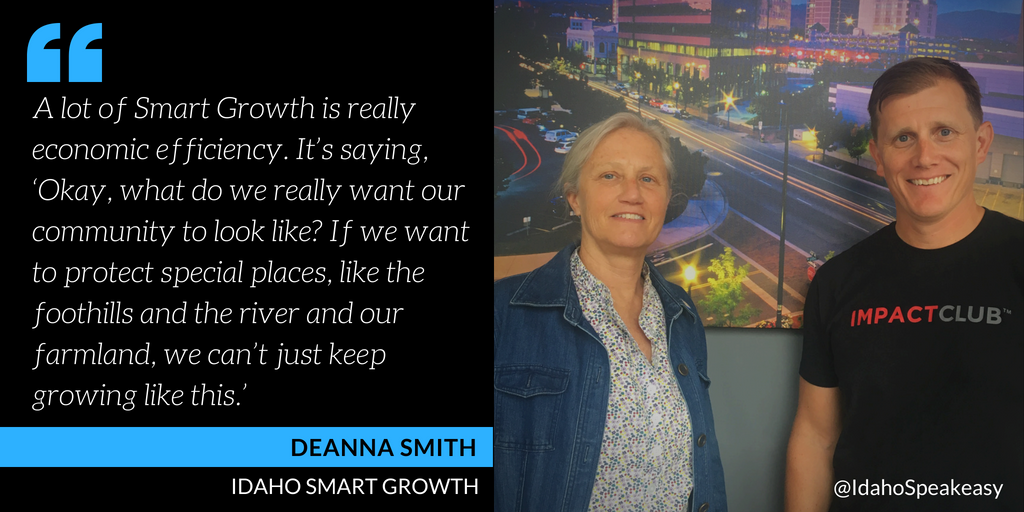 Deanna Smith is a program coordinator at Idaho Smart Growth, a statewide nonprofit with a mission to create great places to live. Established in 1998, ISG focuses on community planning as well as public engagement and education. "We really work at the intersection of land use and transportation," Deanna explains.
Deanna began the first ten years of her career working at the federal and state level, but has since shifted to a more local level. She finds that she is able to make a much bigger difference in the growth of the communities around her by helping make local changes and tackling issues at their foundations. "I think of politics more broadly, as a community, as a democracy," Deanna says. "You need to be involved if you want to impact change and have the community go the direction you want it to go." 
Idaho Smart Growth Community Projects
Idaho Smart Growth has several standing programs. One program, the Grow Smart Awards, honors and recognizes Smart Growth examples throughout the state. Deanna's favorite winner, the Beardmore, was a project that rehabilitated the only multistory building in the tiny downtown of Priest River, Idaho, and helped to spark the creation of a flourishing downtown.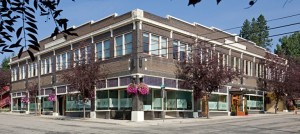 The Beardmore – Grow Smart Award Winner in Priest River, Idaho

ISG also focuses on public engagement and education. Citizen Planning Academy, for example, is a monthly program that offers individual citizens access to education and tools to advocate for sustainable planning. 
Idaho Smart Growth also partners to support local advocacy groups and citizens. Recently, ISG has been working to support the Boise Bike Boulevard Coalition. The BBBC is a grassroots citizen group advocating for a network of bike boulevards & low-stress bike routes connecting schools, parks, & neighborhoods in Boise. When Idaho Smart Growth became involved with the group, "they didn't know a lot about how to work in the system" says Deanna. "I just kind of work behind the scenes with groups like that a lot and kind of guild them and help them and participate with them. So that's another side of how we advocate and try and influence policy. We find people who are already doing it and just see if we can help them." 
Transportation Beyond the Car
A huge element of Idaho Smart Growth is their involvement in the evolution of transportation. Specifically, the "idea of needing to grow the transportation system beyond the car," according to Deanna. Before the car came into the picture and monopolized transportation, we followed more of a multimodal system that allowed for more choices and less consequences. Relying on cars has been proven to cause more deaths and be destructive to the environment for example, whereas commuting via bike has many health benefits and saves on money and fumes.
One of the primary issues with expanding the use of alternative forms of transportation comes down to land usage. Everything is so spread out in different sectors that driving has almost become a requirement. Deanna remarks that the "freedom to be mobile impacts choices and opportunities in your life," but freedom to choose your method of mobility encourages health and well-being in addition to the growth of local economy and tightly knit communities.
Building a Better Way to Live
Smart Growth is about being creative, considering new options, and leveraging space to implement those new options. Take parking for example, one of Deanna's favorite subjects. "You want your parking space today, but if we provide the parking spaces today, then we're probably not moving in the right direction." She strongly believes in opening up opportunities for the future and planning to maximize resourcefulness.  
"A lot of Smart Growth is really economic efficiency," Smith confirms. "It's saying, 'Okay, what do we really want our community to look like? If we want to protect special places, like the foothills and the river and our farmland, we can't just keep growing like this.' So there's this huge land use component that transportation can support either one of those paradigms and you have to try to figure out which paradigm you want and figure out how transportation can support the right one."
According to Deanna, one of the biggest challenges that Idaho Smart Growth currently faces is bringing land uses back together to give people more transportation options. There is a lot of urban sprawl that really creates congestion, and streets and transportation are very expensive. Less than a third of our streets are paid through taxes. Smart Growth questions what we will need in the future. It looks at creating a more even spread of land uses throughout the community.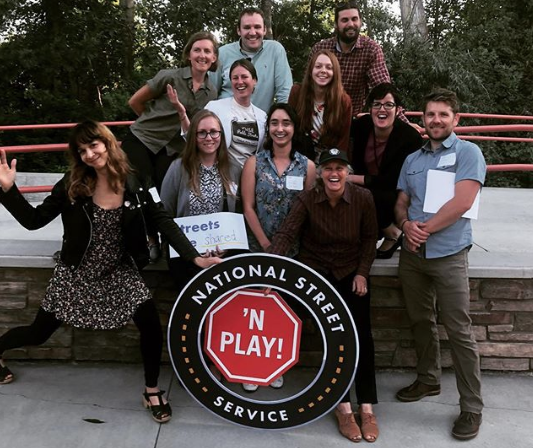 A Partnership for our Streets
With this critical look at streets, it's no wonder Deanna joined the National Street Service as City Lead for Boise. Though separate from Idaho Smart Growth, National Street Service shares this outside-the-box way of thinking when it comes street design and the use of our streets. The National Street Service exists to evoke a national conversation about streets being a place where commerce and social connection happen. Cars pushed those traditional uses out of the way and took over roads for commuting purposes, so this project advocates that we ask, "how do we get our streets back to where they're more about people?"
Get Involved
Idaho Smart Growth wants you to get involved so that the future of the community you live in is one that works well for you. They offer several programs that encourage public education and engagement, visit idahosmartgrowth.org for more information.
Listen to the full Idaho Speakeasy interview: idahospeakeasy.com/deanna-smith