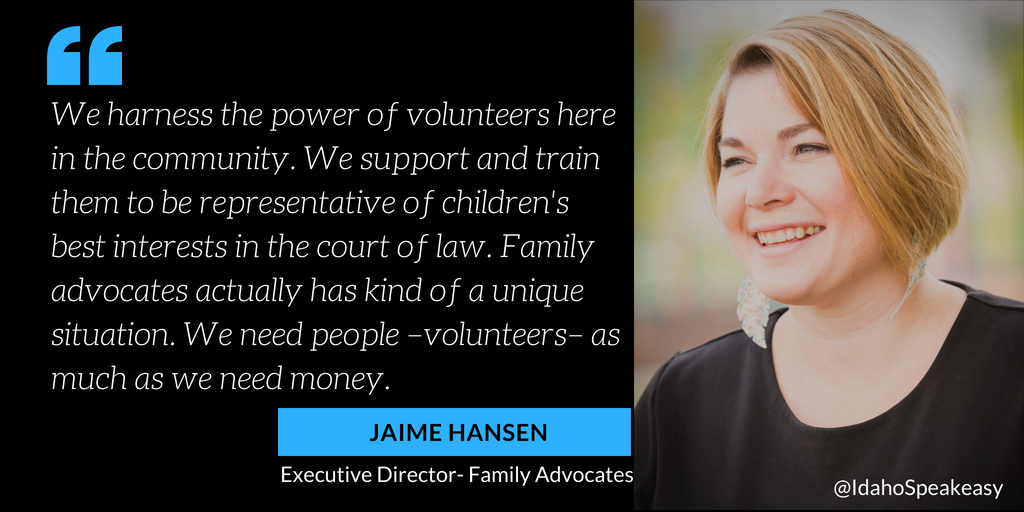 A self-professed "non-profit nerd," Jaime Hansen earned both her undergraduate degree in psychological sciences and master's in public administration from Boise State University. Hansen has been working in Idaho's community benefit sector for the last twenty years. In 2015, she became the executive director of Family Advocates where she has led the organization in its mission of preventing children from experiencing the trauma of the foster care system.
Idaho's Need
Last year alone, Idaho's Department of Health and Human Welfare received more than 30,000 calls reporting cases of neglect and abuse. As a result, roughly 3,200 children were removed from their homes and entered the foster care system. Although Idaho requires children to be represented in court, the expenses required to meet the mandate are only partially funded. "The state requires children of abuse and neglect and abandonment to have a guardian ad litem, a pro bono attorney, and a volunteer interpreter. They don't fully fund that so we have this burden to recruit this huge amount of people to do the actual work." Due to this gap in funding and the necessity for trained volunteers, "Family advocates actually has kind of a unique situation. We need people –volunteers– as much as we need money."
While the legal scope of neglect is broad, "the average neglect case is 'dirty home'…These dirty homes are: you walk in, the child is crawling around on the floor, and you're not sure if it's linoleum, carpet, [or] tile underneath the trash and fecal matter; and this is what children are putting in their mouths. This is what they're crawling around in. We often see diapers fused to the baby's skin."

Family Advocates
The mission of Family Advocates can be summed up in six words: "Safe kids. Strong families. Brave volunteers." The non-profit serves the fourth judicial district of Idaho –the counties of Valley, Boise Ada, and Elmore– and works toward preventing cases of neglect, abuse, and abandonment through its Family Strengthening program. The opportunity for individuals to receive free household necessities such as wipes, diapers, and food incentivizes struggling parents to attend this 20-session course. A separate, age-appropriate program taught entirely by volunteers is offered for children who accompany their parents.
While the non-profit was originally founded for preventative purposes, Family Advocates also serves the community in a reactive capacity through its CASA (Court-Appointed Special Advocates) program. These court-appointed special advocates are legally specified as layman volunteers who are specifically trained for this service.
CASA volunteers have the responsibility of conducting an independent investigation in addition to the investigations being done by the prosecution and defense attorneys. Through the course of the independent investigation, the special advocate determines what is in the best interest of the child which is "different than expressed interest, as you can imagine all of these children just want to go home even if home is not safe. So best interest is [whatever] permanent placement and safety look like."
Volunteering
Family Advocates will train any interested individual who is over the age of twenty-one, has his or her own transportation, and can pass a federal background check. "We've got tow truck drivers and chemists and physicists and retired teachers and nurses and stay-at-home moms and dads and retired military; just everybody in between."
Volunteers must complete more than forty hours of pre-service training which includes discussions, online activities, in-class time, courtroom shadowing, and report writing. Hansen considers report writing to be the most difficult part of the training since you must "remove all bias from your report. You have to report just the facts, the observations, and the info provided through your investigation." In addition to the pre-service training, volunteers must also complete two hours of continued education a year.
Serving the community by volunteering as a special advocate for the CASA program may require "year-long commitments or longer." Volunteers are warned that although this service is desperately needed, "this is not warm, fuzzy volunteering." Hansen describes volunteers at Family Advocates as "planting the seed, hopefully, for a future of success, but [they] may never see it."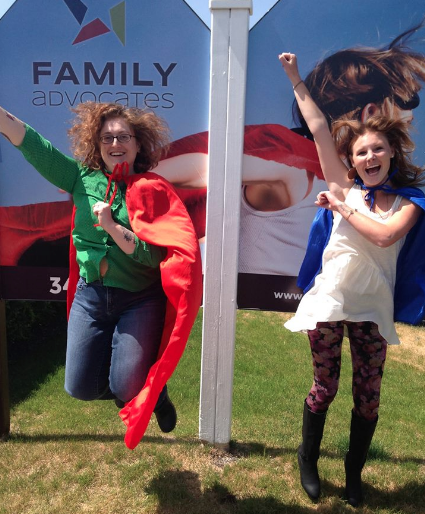 Get Involved
Those living in the Boise area with an interest in volunteering at Family Advocates can take the first step by attending one of their monthly, hour-long Story Tours https://www.familyadvocates.org/event/family-advocates-story-tour-2/. Volunteer orientation will later elaborate on "hundreds of ways you can contribute your time and talents to these children and families" through Family Advocates.
For more information, visit the Family Advocates website at https://www.familyadvocates.org/ or their Facebook page at https://www.facebook.com/familyadvocate/.