Podcast: Play in new window | Download
Subscribe: Apple Podcasts | Android | Google Podcasts | Stitcher | RSS
Jodi Peterson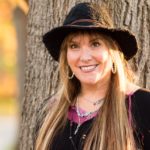 Jodi Peterson's journey to the Interfaith Sanctuary came from a deeply personal place. When her father's health failed and his psychological well-being deteriorated, she and her sisters quickly learned about the lack of resources available to people struggling with mental health and homelessness.
Resources for the homeless were not equipped with the support networks to make a real, impactful, lasting difference for people dealing with mental health issues. The homeless community work together and care for each other. Watching the people in the community, Peterson saw reflections of what her father went through, and felt a drive to try and help others in the way that her father could not be helped.
Interfaith Sanctuary, Shelter and Supportive Services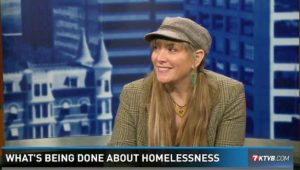 Interfaith Sanctuary began in 2005 when the Boise homeless shelter had to close. For the next three years the Interfaith Sanctuary was a mobile shelter, rotating through different host churches and buildings.
After three years, the community gathered their resources to purchase a building to create more stability. "The reason why the 'Interfaith' part of the name is so important, it's because all faiths helped to found it, any faith is welcome, or no faith at all," Peterson explains. "We're a very low barrier. All we ask for is good behaviour, and nothing else. Even if you're drunk, or under the influence of drugs or alcohol, you actually can come and get shelter with us." Everyone is welcome, regardless of family, marital status, or sexual orientation.
The current Interfaith Sanctuary is an emergency shelter with beds for 164 people. Every night at 6:00 PM people line up outside the gates to come in for an intake where they are given beds, hygiene basics, and food. Due to compliance issues with fair housing, beds cannot be reserved for anyone. Each individual must sign in every night.
Support and Moving Forward
Interfaith Sanctuary makes a very distinct point that it's not just about beds for the night. Peterson calls it Solution-Based Training. "We work with Boise State University now," she explains. "Every case manager has about 15 cases. So they're managing each person's care, each person's story."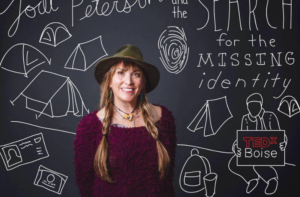 Homelessness is a vicious cycle, and combatting homelessness isn't just about getting people off the streets. "Treatment is prescribed before job training is prescribed. We get [people] healthy before we put them back to work," says Peterson. People can't work if they don't have the resources and support for their mental health needs.
Job opportunities aren't always easy to find with limited resources, especially in regards to a lack of legal identification. "There are thousands of people who are out on the street who don't have identification. It's one of the number one reasons they're out on the street," Peterson explains. "We do not send you out on your own. If you need an I.D., we take every step with you. We know how hard it is."
Interfaith Sanctuary has put a program in place working to employ its patrons with Boise Parks & Recreation. "It's not just about helping people reach employment," Peterson says. "For them to be in the program they had to get their I.D., they had to get their social security card, they had to open up a checking account. They had to take steps to actually start moving forward."
Here is Jodi Peterson, speaking at TEDx about how difficult it is for the homeless to get an I.D.
Employment isn't the only hurdle for the homeless community in Boise. A lack of affordable housing also has a huge impact. She explains that there are people who have full-time jobs, but still can't afford housing and return to the shelter.
Transportation is another issue faced by the community at Interfaith Sanctuary. Even if there is work available, they often don't have the resources to make the journey. Just a few miles can be an insurmountable distance to someone without access to reliable transportation.
Get Involved
Interfaith Sanctuary always welcomes monetary donations, but also donations of clothing, hygiene products, and food. Ways to help are listed on their website.
Aside from donations, Peterson says that a good way to get involved is to come to the shelter. "Just say hi," she says. "See where you fit." Join them for the community sing-along at the shelter every Wednesday at 7:00 P.M.