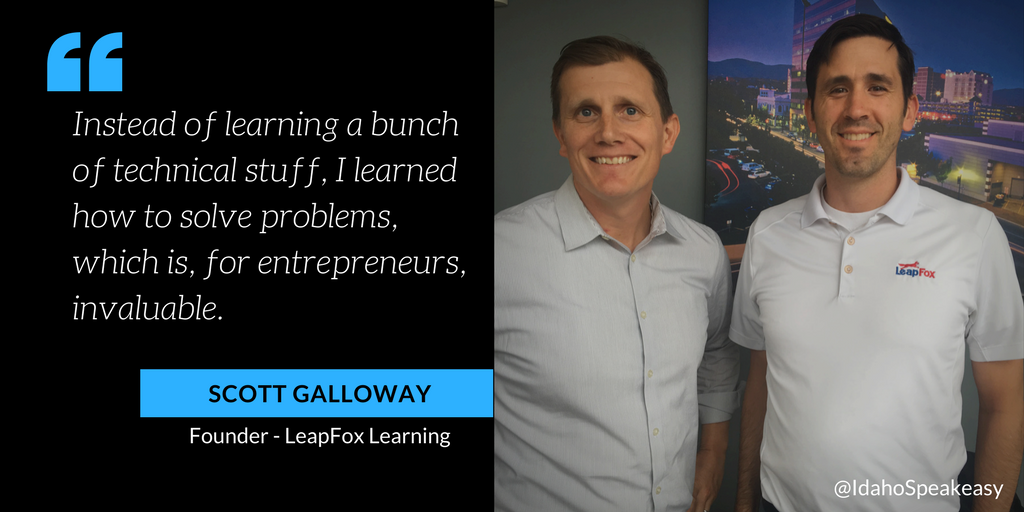 After returning from a mission trip to France, Scott Galloway was looking for a part-time job. He heard about a company hiring French speakers and remembers, "I didn't know anything about the job, I just heard about hiring French speakers." The job, as it turns out, was doing technical support for gateway computers in French.
Though he didn't know what a modem was or how to install a driver, he was a good problem-solver. "Thankfully, I was a quick learner and learned how to actually solve problems," he says. "Instead of learning a bunch of technical stuff, I learned how to solve problems, which is, for entrepreneurs, invaluable." Scott eventually turned his skill at computer repair into a little side business while he was in school, and after graduating, he moved to Boise to start a computer repair company.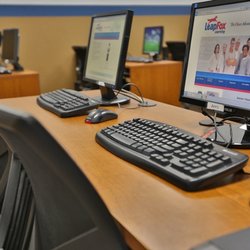 In a happy accident, the space he bought for his business was too large so his wife suggested using the extra space for a computer school. "So we went and bought a whole room full of Dell computers, got furniture, put together a training center on a budget, and then started offering classes, and were surprised that no one signed up," says Scott. Feeling like it was a failure, they decided to close the school before it even started and called their Yellow Pages representative to cancel their ad. However, the phone book had already gone out to print and the computer school advertisement couldn't be cancelled. 
After beginning to receive phone calls about the school, they quickly learned their target audience. "While residential folks won't pay for computer classes, we did found out who does," Scott says. "Businesses will pay for their employees to get trained." The school went from zero dollars in revenue to over a million. "It's been fun," Scott says. It's also common for veterans using their GI Bill funds to come to a vocational school such as LeapFox, since LeapFox has been approved by Veterans Affairs to accept GI Bill funds.
Vocational Versus Traditional School
While someone going to a traditional school can expect to take classes in English, humanities, and math, vocational schools, on the other hand, focus on training employees. You will skip the base education and focus only on hands-on, practical skills and experience rather than book knowledge. In fact, at LeapFox Learning, you will build a computer your very first week. "We order all the parts, you learn all the components that go together, and you get to build a computer," Scott says. "Then you get to use that computer to do software troubleshooting over the next couple weeks."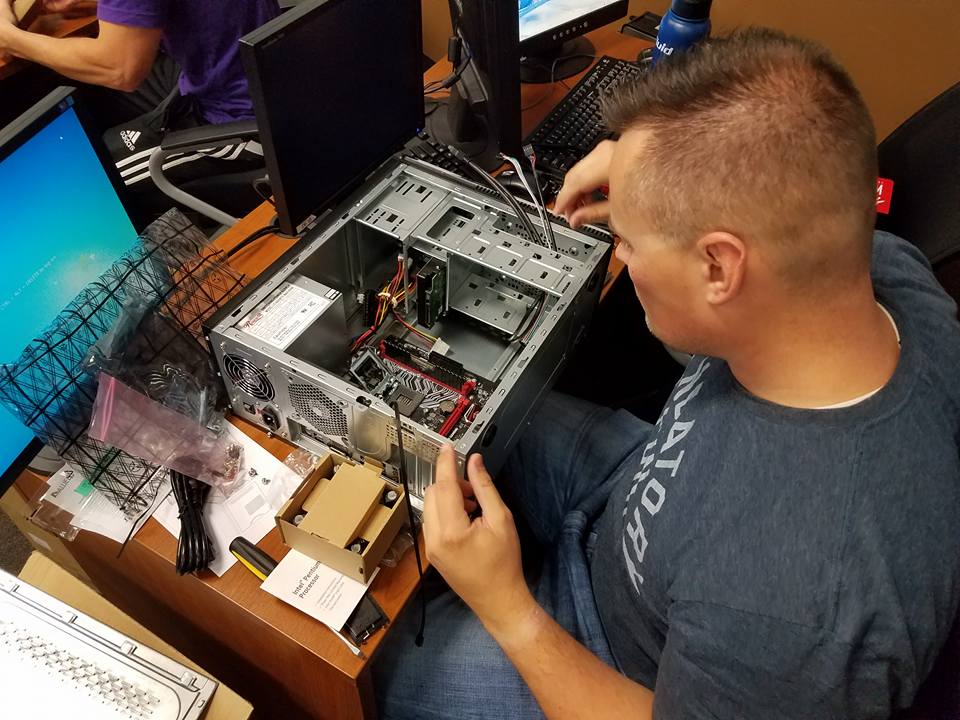 When students leave LeapFox, they are ready to be hired, with hands-on experience and a practical skill set for their field. "After six months, they're ready to hire," Scott says. "They don't need any additional schooling." There are companies that will hire students who only do his two or four month programs, as well. HP, for example, hires quite a number of LeapFox graduates with just one certification to get them in the door. Then the graduates can do things such as support for the Navy.
It's Not Just for Bad Kids
It can be tough for parents to warm up to vocational schools because it's been deeply ingrained that kids need to go to college to get a real job. "In the olden days, it was just the bad kids who went to trade school, the ones that couldn't [go to] university," says Scott. "But there's a shift now where maybe it's not such a bad thing anymore for us to be training the next generation of skilled workers.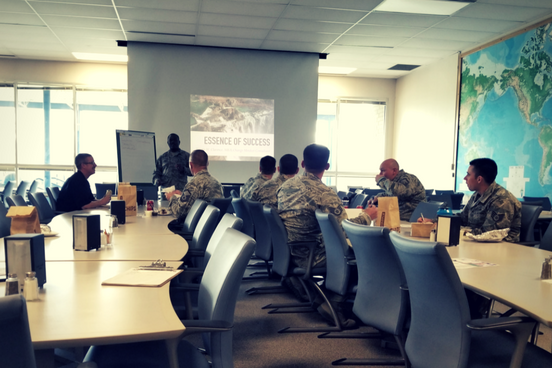 "What's interesting is we're actually going back in time a little bit," Scott says. "Idaho received a huge grant recently to help foster apprenticeships in STEM-related jobs." When the word 'apprentice' gets thrown around, people tend to think of the olden days where the blacksmith or shoe cobbler would take an apprentice to learn their skill directly from a master. "We're actually finding that that's a really good business model," Scott says.
It's not just a trend for poor or rural communities, either. "It's being done a lot in Amazon and Microsoft, where they hire thousands of IT professionals." Those places hire apprentices as fast as they can get them, teaming up with trade schools to put students through the specific curriculum that the business needs and then hiring the graduates on the back end of school. Idaho is trying to reproduce that. "I think we're going to see a lot more trade schools, apprenticeships, than the focus on the four-year [degree]," he says.
Check Out LeapFox Learning
You can find out more about Scott and LeapFox Learning at their website.
Listen to the full story:
Podcast: Play in new window | Download
Subscribe: Apple Podcasts | Android | Google Podcasts | Stitcher | RSS