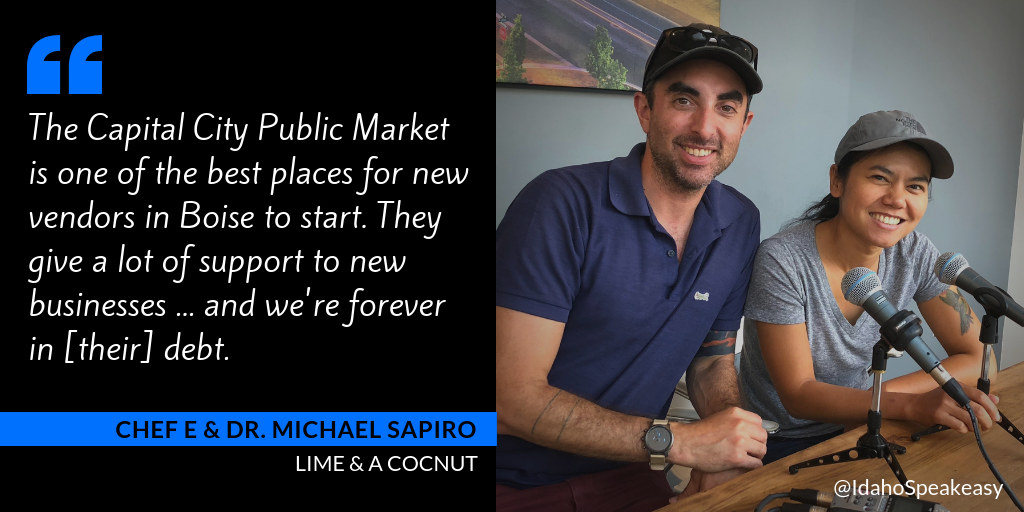 Lime and a Coconut is a food stand that offers traditional dishes from various regions in Thailand. They host monthly pop-up dinners in downtown Boise, cooking workshops, and catering. You can find them at the Capital City Public Market and traveling to all sorts of festivals throughout Idaho. The business was started and is operated by Chef E and Dr. Michael Sapiro.
Chef E grew up in Thailand, surrounded by tropical fruits and vegetables and accustomed to living off the land and making her own meals from scratch. She has always had a passion for cooking and was granted the opportunity to run her business at the first food market she applied to, one that happened to be full of traffic and helpful, friendly vendors.
Chef E runs her business with her partner, Dr. Michael Sapiro, who she met in the Peace Corps. Dr. Sapiro is a psychologist, meditation teacher, and former Buddhist monk. He is the founding director of Maitri House Yoga and teaches Buddhist Dharma at Maitri Sangha in Boise. They have been living in the states for 11 years now. His role in Lime and a Coconut is as a liaison between Chef E and her customers, helping with English and freeing her up to focus on her passion in the art of cooking.
The Goods
Lime and a Coconut is most known for their pad Thai classic, papaya and fruit salad, and chicken satay dishes. "The best selling stuff is like pad Thai," says Chef E. "I call pad Thai classic because it's got…it's no meat in there. It's egg and tofu and some fresh bean sprouts and fresh chive. And we have changed some of the other dishes around like papaya salad, chicken dishes…" The menu also includes some specialties such as spicy basil beef and vegetable green curry.
Chef E is from Northeastern Thailand, also known as Issan, and loves to make food from that region because it reminds her of home. Some of these dishes include spicy duck salad, fried frog with garlic, and sticky rice with fresh herbs and veggies.
Interacting with the Community
Dr. Sapiro connects the community with Chef E's legendary cooking in a way she never could have imagined. Together, the pair has started hosting pop-up dinners made up of four courses that round up the community together in a monthly event that includes elements of meditation and Thai culture. "The concept is a community gathering place with her food being the focal point," explains Dr. Sapiro. "It feels like 60 people as a family eating together." Past events have been incredibly successful and so immersive that hardly anyone picks up their phone because they are having such a good time. "This is really about learning to be with other people and sharing an experience," Dr. Sapiro continues.
The pop-up dinners have been incredibly helpful to Chef E and her ability to immerse herself into the culture of her new home. She can be a bit shy at times, but the warmth and support radiating from the community during her popup dinners allows her to connect with people in a whole new way. "I usually don't like to talk in front of people," admits Chef E. "But those nights can [be] very special nights for me, and when I come out, people just start cheering, you know, clapping hands for me, and it feels…I feel the warmth from community, from everyone there, and it['s] been great support, and I think it's amazing."
On the Horizon
Dr. Sapiro and Chef E also host meditation and yoga trips to encourage cultural immersion. "We have an idea for next year of doing a culinary kind of tour of Thailand," Dr. Sapiro shares excitedly. "So a trip we would like to do, besides just the yoga/meditation portion is actually to learn how to cook various foods from the different regions of Thailand."
Thanks to the help of various businesses around town, Lime and a Coconut has been able to experience ample success early on. "That's where we got our start, and it's really trained us to build to this point where we can open a restaurant to go with our food truck," says Dr. Sapiro. That's right ladies and gentlemen, you heard it here first: Lime and a Coconut has plans to go brick & mortar. Until then, stay tuned for all the culturally immersive events and traveling festivals that the crew has planned by following them on their Facebook page, https://www.facebook.com/limeandacoconut/.
Listen to the full Idaho Speakeasy story: idahospeakeasy.com/lime-and-coconut