A Life on Air with Ken Bass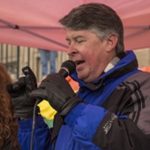 You may not know his name, but you're sure to recognize his voice. Ken Bass has been a fixture of Idaho radio for more than 30 years. He's currently the afternoon deejay on 94.9 FM The River. In addition to radio, Bass is a community theater actor, a passion he shares with his wife and children.
It's hard to detect in his "local" voice, but Bass grew up in the South. "I was born and raised in Nashville, Tennessee, and I definitely had a southern accent," he says. "When I first got into theater I wanted to lose the accent so I could do stage roles. My college roommate was half British — sometimes he'd talk with a Cockney accent and sometimes in flat tones. The difference was in the vowels. In the southern accent we say ahm instead of I'm. So I focused on that and other vowel sounds, and I got rid of my southern accent — unless I have several glasses of wine."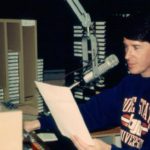 Bass originally attended college to be a musician, but he changed schools when the program turned out to be more about creating music teachers than performers. At the next school, he changed his major to broadcasting — but he found he didn't like that much, either. "The broadcasting major was guiding students into management, and I didn't want to do that," he says. He started acting, and graduated with a degree in speech and theater. But he didn't want to move to New York and wait tables until he landed an onstage role — if he ever did.
He ended up working at an upscale restaurant in Nashville where the service staff performed character roles. Bass played Jerry Lewis and Groucho Marx, and also deejayed in the restaurant lounge. A few of the regulars who worked in local radio told Bass he should be on air. "Back then you had to get a license to be on air, so I got that and started working weekends and overnights," Bass says. He wanted a morning show, so he applied to other markets. He moved to Virginia, then on to West Virginia, Ohio, Arizona, and Michigan before settling in Boise in 1985. "The guy who owned the station — it was K106 at the time — he flew me out for an interview, and I got off the plane and thought, This is beautiful country. I want to be here."
Getting Started in Radio
Careers in radio still exist, though Bass points out that the professional path has changed. "When I got into it, I had to take a four-hour exam, and they weren't even giving the exam in Nashville — I had to drive to Atlanta, Georgia," he says. "Nowadays, there is no exam. You apply and get in the door, work doing tech stuff, and volunteer to learn anything you can. The problem now, especially if you're young and new to the business, is the fact that they don't have extra shifts for you to train on. That was an advantage I had — I trained from midnight to 6 a.m. and learned how everything worked. They don't have those shifts now. It's all voice-tracked by somebody else; they don't have anybody live."
Bass recommends those interested in radio get in part-time and learn tech work: setting up the tents and equipment for remote broadcasts and learning the studio equipment. "Then maybe one day you can sit in the studio and say a couple of lines," he says. "It's not as easy a business as it used to be. Opportunities are a lot more limited. Hopefully the trend will come back around for more local personality on the air."
On-Air Personality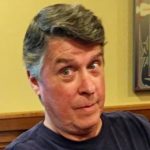 "I originally wanted to do a morning show because of all the fun I had with the morning guy at my first station," Bass says. "There were a lot of funny bits and character voices. I did voices and wrote scripts for him, and I thought, I can do this for myself." At K106, Bass performed comedy bits and character voices on air, until the market shifted away from personality and toward an increase in music. He notes that today, with the prevalence of internet music services such as Pandora, radio stations are shifting back toward local personalities.
According to Bass, a great on-air personality is "somebody who relates, somebody who talks right to you — not down to you, but somebody who comes across as a friend. Somebody who knows the community and loves the area like you do."
The part of the job Bass treasures most is the variety of celebrities and musicians he's been able to interview over the years. "That's been a total treat," he says. "I've interviewed people from Adam West, the original Batman, to [actors] Leslie Nielsen and George Peppard. Those people are quite funny. With Adam West, I'd turn on the mic and screw the time limit — he had all sorts of stories to tell."
Ken Bass | Local Icon | Radio