Podcast: Play in new window | Download
Subscribe: Apple Podcasts | Android | Google Podcasts | Stitcher | RSS
Bea Black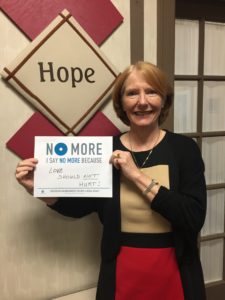 Bea Black, executive director of the Women's and Children's Alliance, has lived all over the world, but fell in love with Boise and its community. She studied economics and accounting, and worked in consulting and translating small business systems into accounting systems that would help the owners manage their businesses.
All that experience helped when she became the executive director of the WCA. "I'm one of those blessed individuals that spent thirty-three years training for this job, I just didn't know this was the job I was training for," she says. Her primary role at the WCA is to ensure that they have funding to deliver their mission, but she also has relationships with board members and a wide variety of staff. Her translatable skills in accounting, systems, and communication allow her to do it all.
Fostering Community
The vision at the WCA is to foster a community in which individuals can thrive in safe and healthy relationships. "Every day, our mission is safety, healing, and freedom from domestic abuse and sexual assault," says Black.
For safety, the WCA has a safe shelter in an undisclosed but convenient location. They also have court advocates at the Ada County Courthouse every morning, so anyone who comes to file a civil protection order will be assisted with paperwork and understanding what to expect by a WCA volunteer or staff member. Court is a scary place, and those filing such orders are already frightened coming in. "It's a really emotional situation, and scary," Black says. "We're the guide on the side, if nothing else, just to provide a supportive presence."
If the order is granted, it's still just a piece of paper, so the WCA staff also lets anyone filing the order know about Safety Planning from the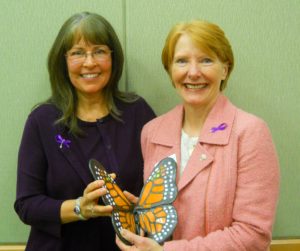 WCA. "They're able to then go and have an individualized safety planning session with one of our victim advocates," says Black. "It gets right down into the nuts and bolts of an individual's situation."
After the individual is safe, they can begin the healing process. "We have six master-level clinicians, and they serve men, women, and children," says Black. "We have two therapists that specialize in working with children." Many of the children are under the age of five, and the therapists have learned techniques to help children explore their feelings and work through some of the issues and trauma.
Freedom is also important. "It's helping an individual develop an individual plan for how they are going to move forward and take care of themselves and their kids," Black says. They offer nurturing parenting courses, financial education, and job skills training to help people help themselves. "It's working to help them tap themselves into the community in a way that is appropriate and that is good for them."
Despite their name, the WCA also serves to help men of the community.
Educating the Community
 "I'm a big believer that until we really recognize that there is a problem, we really aren't going to take the steps necessary to make sure we can overcome them," Black says. National studies have shown that one in three women and one in four men will be in a physically violent relationship with a domestic partner at some point in their lives.
One of the WCA's partnerships is with the Ada County Paramedics. The paramedics don't have a single shift that doesn't have at least one domestic violence call. They also respond to suicide calls, two of which have recently been from homes with domestic violence in their history. Although not all suicides are related to domestic violence, it can be a contributing factor. "These are the types of statistics that we don't see," says Black. However, we do see that the Idaho community is fifth in the nation for suicides.
When the community knows what's going on, they fix it. "That's the reason I want people to understand the magnitude of the issue we deal with, because I think if people truly understood it, then maybe we can all work together to make a change," says Black.
The Community Gives Back
About half of the funding for the WCA comes from the community, including from individuals who want to give back and organizations that want to help make Boise a better community.
The other half of their funding comes from federal grants that are specifically set aside for victims of domestic violence and sexual assault.
They also hold two signature events for outreach and fundraising. One is the Tribute to Women and Industry. "It was actually the first event recognizing women in leadership roles in companies," Black says. It's one way that the corporate community helps the WCA.
The other is the Healing Begins With Hope Breakfast, where people are invited to a free breakfast and to hear the stories of people who have gone through the WCA program.
"For us, it's a patchwork of different funding streams, and I think that's a good thing," says Black. "We have so many individuals and organizations that want to help with the mission, and they do it in many different ways. We're very fortunate in that way. Community really allows us to do the work we do."
To learn more about the WCA, its events, and how it helps foster a community in which individuals can thrive in safe and healthy relationships, visit the website.