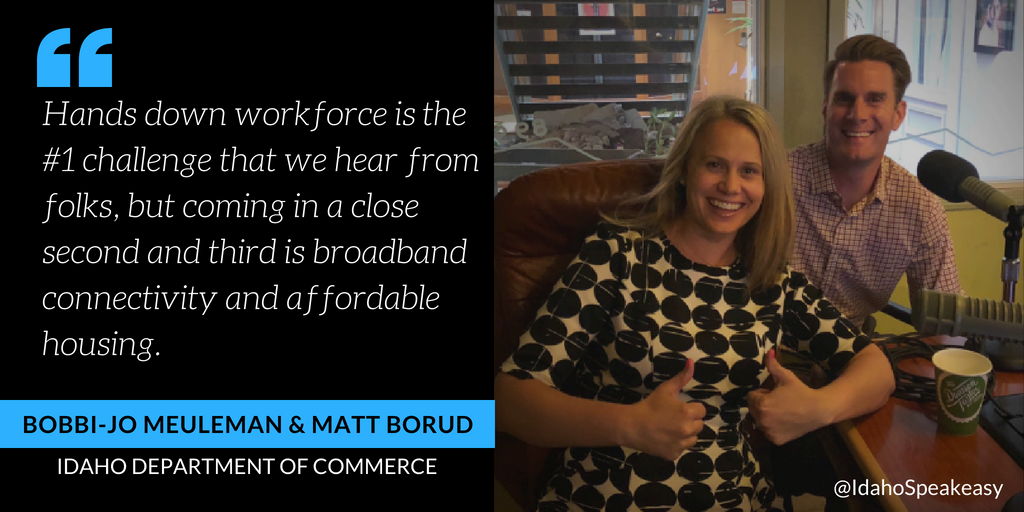 Department of Commerce (DOC) Director Bobbi-Jo Meuleman describes developing new jobs in the state as a "lot of relationship building and due diligence." Not all of their projects materialize into new jobs. "We probably have 15-20 projects we're working on that are all in the pipeline from throughout the state, and some of them will come to fruition and some of them won't."
She describes the department's work as "[moving] at the speed of business. We make it seamless and fast for these companies." The DOC partners with businesses throughout Idaho by "[promoting] the state and [supporting] our existing businesses." To do this, the DOC is divided into different divisions such as business attraction, business retention and expansion, international business, tourism and community development.
Gross Domestic Product
"In a healthy economy, in a normal economy, [Agriculture's] going to be our leading contributor to GDP." Chief Marketing & Innovation Officer Matt Borud adds the caveat that "much of what is grown here" is not included in the calculation of Idaho's Gross Domestic Product because it is "not a finished good." "Getting the Chobanis, getting those businesses that can take our raw dairy assets, for example, [and] turn it into a yogurt product, that's great for our GDP."
Director Mueleman adds, "That's one thing that makes Idaho so unique and really cool frankly is we add value. We grow the product, be it potatoes, wheat, dairy. We grow it, and then we process it. You add value by doing that. The supply chain and the jobs that you bring in because that material that we have, it's amazing." Given the available infrastructure and raw material, many companies chose Idaho for the simplicity it provides their supply chain.

Attracting New Business
Workforce is a huge determining factor for businesses considering relocating to Idaho, but it's a challenge that everyone is facing. Idaho is working to meet this need by partnering with local community colleges and universities. "Our universities are great to put in front of businesses. They are great partners." Borud explains that these partnerships are crucial with the unemployment rate at 3%, "we have to have pro-active training."
Companies looking to relocate also look favorably at local collaboration. The Magic Valley area has collectively profited from recognizing that "a win for Burley is a win for Twin Falls is a win for Jerome" says Borud. If "cities are in-fighting or not supporting one another, that's not an environment that a business is going to want to come to, but when all those communities can be there together and say… 'we're kind of impartial to where you land here' [it] makes a huge difference in terms of just a positive impression."
The geography and natural beauty of the state also appeal to specific industries. For example, sports equipment manufacturers are drawn to Idaho. "It's the perfect place to test those products. It's the perfect place to put them to use and find skilled employees that have a passion for that product, a passion for what the business is ultimately doing. It aligns perfectly with our economy and our state" says Borud.
Exceptional Leadership
Speaking of the efficiency with which the mayor's office was able to handle the closure of the Heinz facility in Pocatello, Borud says, "It's a real credit to Mayor Blad and his team at that time. They developed a list of about 200 companies that made sense and they got on the phone. They worked and they birddogged that thing. Some of the folks were unfortunately laid off in July and August, and Amy's hired them back before Christmas. It was amazing."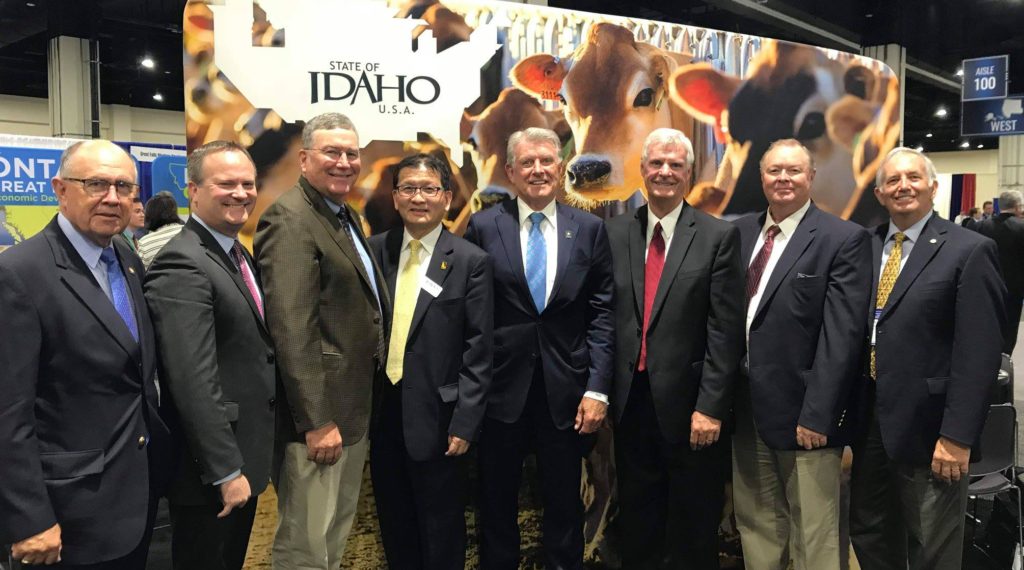 A photo from the Department of Commerce facebook page shows the "team Idaho" difference.
Idaho offers businesses access to influential leaders such as to Director Mueleman and "to folks that you just wouldn't get that sort of access to in other states" says Borud. Director Mueleman goes as far as to mention that Governor Otter's phone number is listed in the phone book. "One of our strongest resources is our ability to bring people together…We get all the state agencies together, we get the utilities together…We get the universities together, so it's kind of a one stop shop" says Director Mueleman. 
Challenges
"​Hands down workforce is the #1 challenge that we hear from folks, but coming in a close second and third is broadband connectivity and affordable housing" Director Mueleman explains. Although buyers are interested in purchasing land in less developed areas of the state, the lack of broadband accessibility in these areas often deters sales. Surprisingly enough, rural housing prices are often more expensive than urban and suburban housing when you factor in the cost of building necessary infrastructure –access to water, sewer, power etc. Building and improving infrastructure is one of the best ways communities can invest in their future.
While issues of workforce, broadband connectivity, and affordable housing are major challenges for Idaho, the DOC must also determine their responsibility by asking, "what is the proper role of government" and "what [can be done] on the state level… to help our communities?"
Learn More
To learn more about the services offered at the Department of Commerce, visit https://commerce.idaho.gov/.
Listen to the full Idaho Speakeasy interview: idahospeakeasy.com/idaho-dept-of-commerce