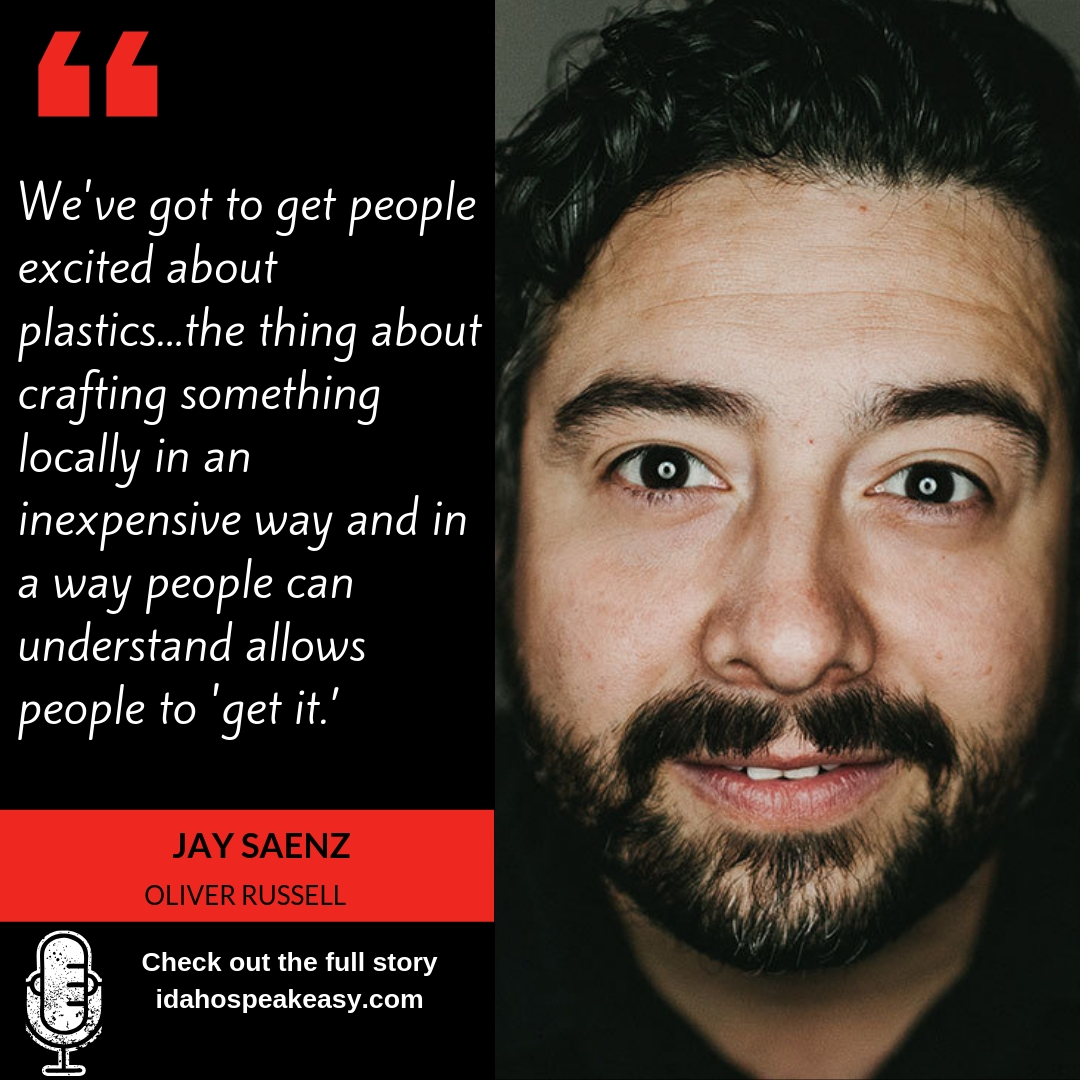 Jay Saenz holds two titles at Oliver Russell in Boise—Digital Marketing Manager and Helmsman for Good. His latest project is taking plastic that would typically end up in the waste stream and making it into durable, usable products at the new company PlasticWorks. Since its inception just seven short weeks ago, the company has built the machinery necessary to create real products from our un-recyclable waste. He showed up to the studio with a compelling tile that was surprisingly attractive and sat down with us to talk shop and the philosophy of socially conscious entrepreneurship that drives him to do good work.
Jay got into digital marketing by accident and landed his job at Oliver Russell by way of an art installation. He serendipitously met Russ Stoddard while working on a large scale black and white portrait project years ago. He says that he spent 40 minutes with every person he photographed for the endeavor and Russ inspired him with his vision of using capitalism as a force for good. Ultimately, Jay says the company fit perfectly with his personal ethos and he felt like it was the right opportunity to scale up his beliefs.
PlasticWorks is just one of the many projects currently underway at Oliver Russell and Jay tells us that the company is a driving force in promoting future fitness for businesses of all sizes. Jay's position at the company requires that he constantly stay up to date on the latest trends in progressive business ideas. He helps ensure the company is continually living up to its values of creative collaboration and socially responsible, progressive business policies.
To find out more about PlasticWorks, you can visit their website:
plasticworkslab.com
and sign up for their newsletter for ongoing updates.