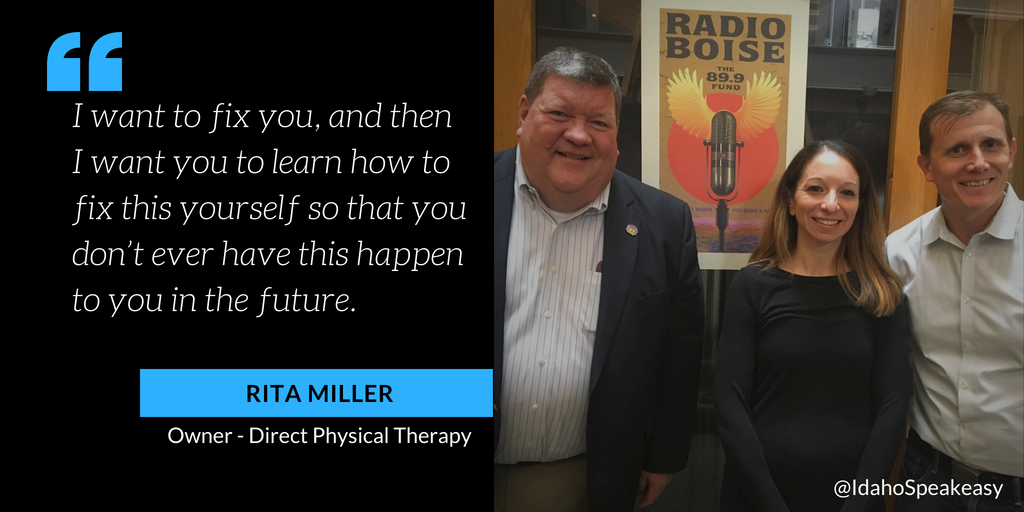 Rita Miller is the owner and sole operator of Direct Physical Therapy in Boise, a mobile physical therapy clinic that delivers on-demand relief. Rita was born and raised in Connecticut, where she attended high school. She has nearly two decades of experience as a physical therapist and a genuine desire to set her clients up for success.

She decided after moving to Boise to make the plunge and start her own clinic. "I just fell in love," Rita says of Boise. She developed the idea for her business after hearing about physical therapists all over the country taking a non-traditional approach. "It was more just delivering care that was outside of the typical system," she explains.
Direct Care vs. Traditional
When asked what exactly Direct Physical Therapy is, Rita answers, "It's a mobile or concierge kind of physical therapy practice." She sees patients in their homes, or their offices, or anywhere and anytime that is convenient for the patient. "I basically bring my portable treatment table, any tools I need, my hands, and my brain," she adds.
Traditionally, when most patients experience pain, they go to a doctor first and are then typically referred to a clinic. Once a patient reaches the point where they need physical therapy, new obstacles start to arise. Many patients find that they don't have the time needed to travel to and from a clinic, or they have a hard time scheduling around work. Many patients give up on therapy after only a few visits. "They would ask me sometimes, 'I wish you could come to me, I wish I could have you come visit me at my house, or my workplace," Rita explains.
Insurance and Educating Clients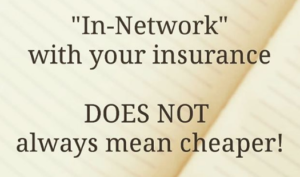 Rita says her biggest challenge so far has been the marketing side; "Having people know that this is a service that's available," she adds. She spends a lot of her time on direct marketing and educating patients, oftentimes about insurance. "That's always the patient's first question 'Do you take my insurance?'" says Rita. According to Rita, the short answer is yes. "A lot of patients automatically ask that, because what they are really asking is "what is this going to cost me?"
Her company isn't contracted with any insurance companies and she is considered out of network. Most patients have out of network benefits and are unaware of exactly what their insurance covers. "What I do for patients is I check what their out of network PT benefits are, and tell them exactly what it's going to cost them." In fact, not being contracted with insurance allows Rita to set flat rates for her services and tell patients exactly what future visits will cost.
Direct Care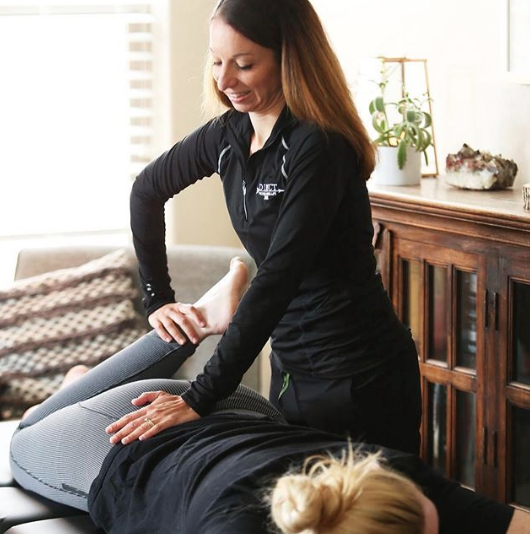 Direct care is only increasing in popularity, and it's no surprise why. Patients are getting more time with their physicians. We are starting to see "mobile everything" pop up, including everything from chiropractors to mobile x-ray labs. "It's great because it can be that way also in healthcare, we can make it more convenient and easier for patients to access this kind of care now," Rita happily states.
As patients are made more aware, direct care could gain tremendous popularity. "I'm hoping more therapists go down this route, and start their own mobile practices, I think there's strength in numbers," claims Rita. Direct care services still have a few obstacles before they see mainstream success, though. They are in direct competition with brick-and-mortar clinics as well as hospitals, and they lack the connectivity and referral systems that those institutions rely heavily upon.
Prescriptions and Solutions
When patients develop pain, their first instinct is to go to their primary doctor. By the time the patient is able to get a referral and get something scheduled, they can be waiting up to two weeks to follow up. Many times patients cover that gap by getting prescriptions for their pain. Considering how addictive opioids have proven to be, it's no surprise Rita wants patients to call her first.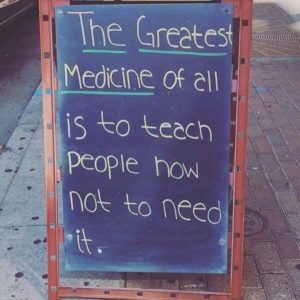 "When patients call me directly, I can get them in that week," states Rita. "What I'm hoping is that this gives patients a different solution, that I can see them that week, give them a probable diagnosis and start treatment right away, that day." In fact, she gives patients her number and encourages them to call or text her the next day. If they aren't feeling relief she refers them to someone qualified that she knows will get them on the right path to recovery.
Rita often jokes that she doesn't want to see her patients again after they finish treatment. In fact she heavily emphasizes giving patients the tools to take care of their problems. "I want to fix you, and then I want you to learn how to fix this yourself so that you don't ever have this happen to you in the future," states Rita.

Find out More

If you'd like more information about Rita Miller and Direct Physical Therapy, be sure to check out her website here.
Listen to the Interview:
Podcast: Play in new window | Download
Subscribe: Apple Podcasts | Android | Google Podcasts | Stitcher | RSS