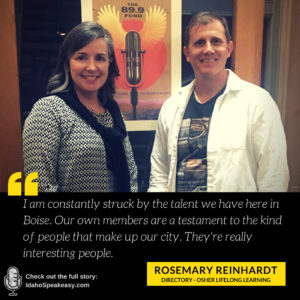 Rosemary Reinhardt is the Executive Director of the Osher Lifelong Learning Institute at Boise State University, which was previously known as the Boise State Renaissance Institute.
The goal of the institution is to encourage successful aging by providing social engagement for those of retirement age within the community.
Become a Member
Volunteer Opportunities
Want to learn more? Check out the full Idaho Speakeasy article.
Podcast: Play in new window | Download
Subscribe: Apple Podcasts | Android | Google Podcasts | Stitcher | RSS