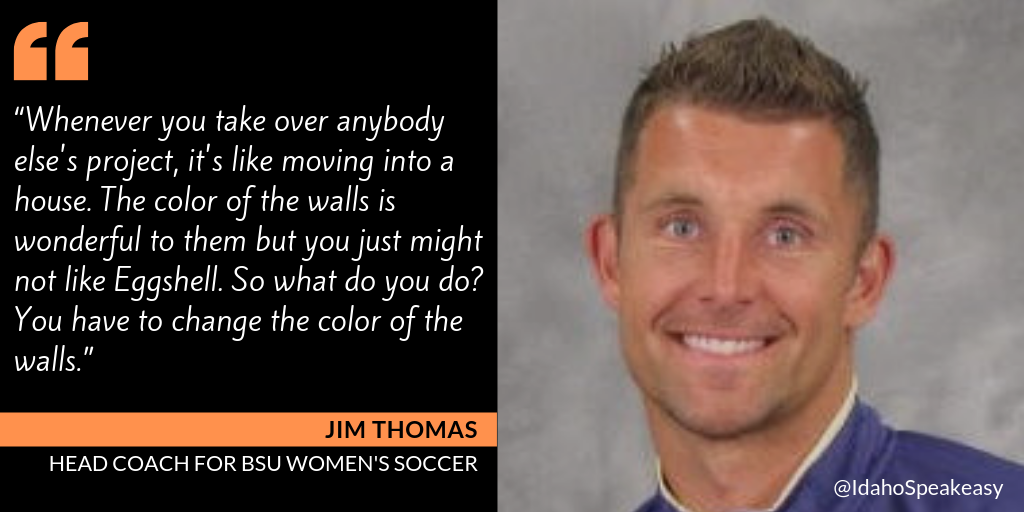 About Jim
Born in Wales and raised in the South of England, Jim Thomas was immersed in the world of soccer growing up. After a brief professional career in the sport, he transitioned into teaching in order to hone his passion for helping people grow holistically through physical exertion and discipline. Jim's mother was an educator which he says influenced his appreciation and love for teaching others. In the early days of his teaching career, the opportunity to do some coaching at a camp in the States came up.  Unsure whether to blame fate or his love for American movies, Jim jumped at the opportunity and ended up loving it. He says he was always drawn to America and its ethos of 'work hard and be rewarded in kind.' His mother single-handedly raised 4 boys on her teacher's salary and always went the extra mile–something Jim says she was never totally rewarded for.
Luckily for Boise State, Jim's temporary travel plans turned permanent in the perfect boy meets girl story. Jim ended up falling head over heels for his now-wife in the first week of being stationed in the Midwest. The couple grew their careers in Washington state and relocated to Boise when they had children. Jim's been at Boise State for several seasons now and he says that while it's been a great journey there have been some serious changes and restructuring necessary to get the team where they are today.
Recruitment Ethos
You can't turn a  person into someone that they don't want to be. For Jim, recruiting and building a team that shares a set of common core values is one of the most important parts of his job. When Jim is considering a player, he says they go through the physical checklist very quickly, but the ethos part of recruitment can take longer—from six to eighteen months. Jim says that it's an athlete's moral character that is of primary importance. They look for people who are invested not only in athletics but in academics and community outreach as well.
Transforming a Program
When Jim took the helm, he says the team wasn't making the best social and academic decisions. His goal—of course—was to build an excellent and competitive soccer team, but just as important was ensuring players fit into the social fabric of the community. He recognizes that each of his players will have a life beyond college soccer and works to support the right opportunities for their futures. The cultural overhaul that he orchestrated took between three and four years and today, the whole problem of what was being labeled 'entitlement' is gone. The women's soccer team now holds a GPA average above 3.5, volunteer in their community and many of them hold down part-time jobs.
The Bronco Steps
Part of the philosophy of working on the whole person, not just the athlete, is being articulated in a program called the Bronco Steps. Working with people on upper campus, Jim has developed a framework that enables students to bounce through the college athletic experience in their own way, but with intention and control. By giving freedoms within a structure and recruiting individuals with the right ethos, Jim says the entire field is broader and there is greater diversity within the team to represent the college.
Engaging Social Skills
We've all heard people talking about the entitlement issues of younger generations and the players on Bronco soccer were perceived no differently. But, Jim says, it's not entitlement, it's miscommunication and rather than tow the social line, he had the girls deal with it straight on. Each player was asked to call an older person like a grandparent to ask what they knew about social media. The girls talked with their grandparents about Facebook, Instagram, and other social media platforms. They were shocked to find that their grandparents were actually pretty savvy and aware of social media. In order to balance the books, Jim took it upon himself to educate his team about the importance of manners and expectations that older generations are familiar with. Surprising, simply communicating these things was a breath of fresh air to the players.
Another layer of this social training was requiring the players to take part in community service and exposing them to less privileged segments of the population. Lastly, Jim wanted the girls to see another culture and so they became involved with some of the Basque community in Boise that culminated in a 10 day trip to the Basque country.
Wolf Pack
It might seem like a lot of effort outside of athletics, but Jim's approach is what he calls a whole person approach—and it didn't come out of nowhere. There was a time when the team wasn't doing that well based on just physical coaching and Jim was forced to do a lot of self-reflection. Along with the team, he started really looking at what wasn't working and then began investing and experimenting on many pivots. Traditionally known as a bit of a control freak, he says that growing older, becoming a father and dealing with failure allowed him to realize that the only way to move the team forward was to empower the individuals themselves. His mindset changed from that as a 'tugboat' dragging everyone behind him, to that of a counselor empowering his team. From this ethos, the team began to organize themselves using a devolved 'wolf pack' leadership style and have been doing great with it since.
If you want to learn more about Bronco Soccer, check out their webpage,  https://broncosports.com/index.aspx?path=wsoc
 Listen to the full Idaho Speakeasy interview: idahospeakeasy.com/jim-thomas