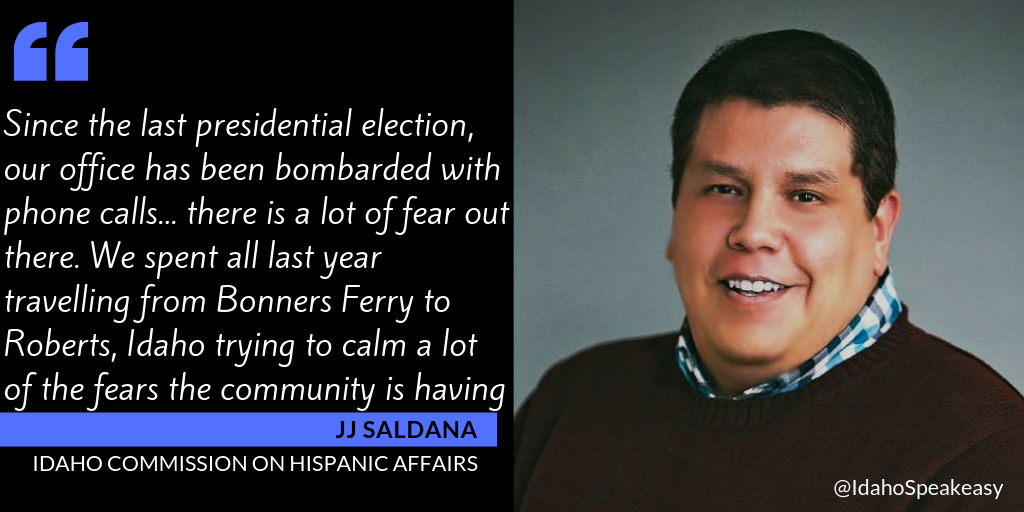 Originally from Elko, Nevada, JJ Saldana told us that he was always planning on attending BSU and moving back home, but ended up loving Boise so much, he never left. Even though JJ was planning to be a teacher, he ended up landing an Idaho Commission on Hispanic Affairs job right out of college and grew along with the position, from a part-time, temporary gig, to a full blown career. JJ describes ICHA as an organization that "tries to be everywhere, all the time, helping people."
While there are many issues that come across the ICHA's table, JJ is focused on Education, substance abuse prevention, PR and Communications.
Data Collection and Liaison:
For an organization comprised of a mere 3 people–one of whom is administrative–ICHA manages to get a lot done. JJ explains to us that much of his time is spent with boots on the ground, traveling to communities all across Idaho to directly engage with the Hispanic communities there. He meets with educators, local leaders and law enforcement to get a sense of what's working and what needs improvement. In each community he visits, he and his colleague host a town hall meeting that everyone is invited to participate in. From the data collected on these extensive travels, the team wraps it into a report that is then issued to the Governor and Lieutenant Governor in an effort to help them make better informed decision regarding the Hispanic Community in Idaho.
Demographics
There are about 200,000 recorded Hispanics in Idaho–around 12% of the population with the majority comprised of young people under the age of 19. JJ and his team at ICHA think the community is much larger than that and points out that census forms don't show the whole picture.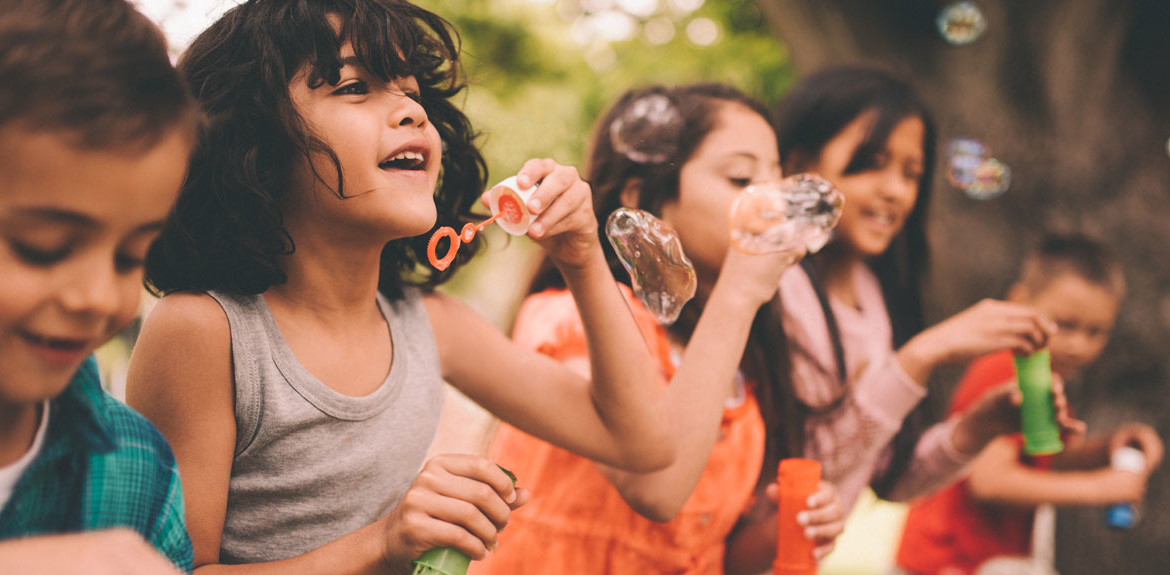 Regardless of hard numbers, we do know that the Hispanic community is the fastest growing in the state. Some towns like Aberdeen and Glenns Ferry have been kept alive by Hispanics after major industry left and jobs dried up. JJ tells us that a lot of Hispanic people live in rural areas and commute to work in larger towns. Towns like Wilder which are over 80% Hispanic have taken decades to begin electing Hispanic politicians and voicing their concerns in the public forum.
Education in the Hispanic Community
JJ's focus with the ICHA is education. He says "education has always been a priority for us because there is an education gap and we are trying to close that gap." While more Hispanics are graduating from high school, many are still dropping out of college before they finish and Saldana wants to get to the bottom of it. He says that it's not a language barrier and points out that their numbers are similar to the Native American community. In an effort to find out why so many students are dropping out of college, JJ has been partnering with Department of Education Coordinators to travel the state and visit schools that have a high Native American and Hispanic population to talk with students and staff.
The ICHA pushes parental involvement, starting early on, as a key to keeping kids in school and making sure they are eligible for college. Saldana runs another partnership that collects information in an effort to educate Hispanic parents about their rights and responsibilities as parents in the Idaho school system. He says that Hispanics have a lot of respect for educators and sometimes see them as golden figures who shouldn't be questioned. He encourages parents to look at their children's school records at least twice a year to ensure their isn't anything detrimental. He also tells them that if there is a negative mark on their student's record, that it is possible–and encouraged–to investigate further.
While much of the ICHA's work is focused on college prep, they also ensure that those students wanting to pursue a vocational education have support. He says, "We see a lot of our young boys wanting to become auto mechanics. We support those passions. vocational school is a good fit for a lot of people."
Youth Summit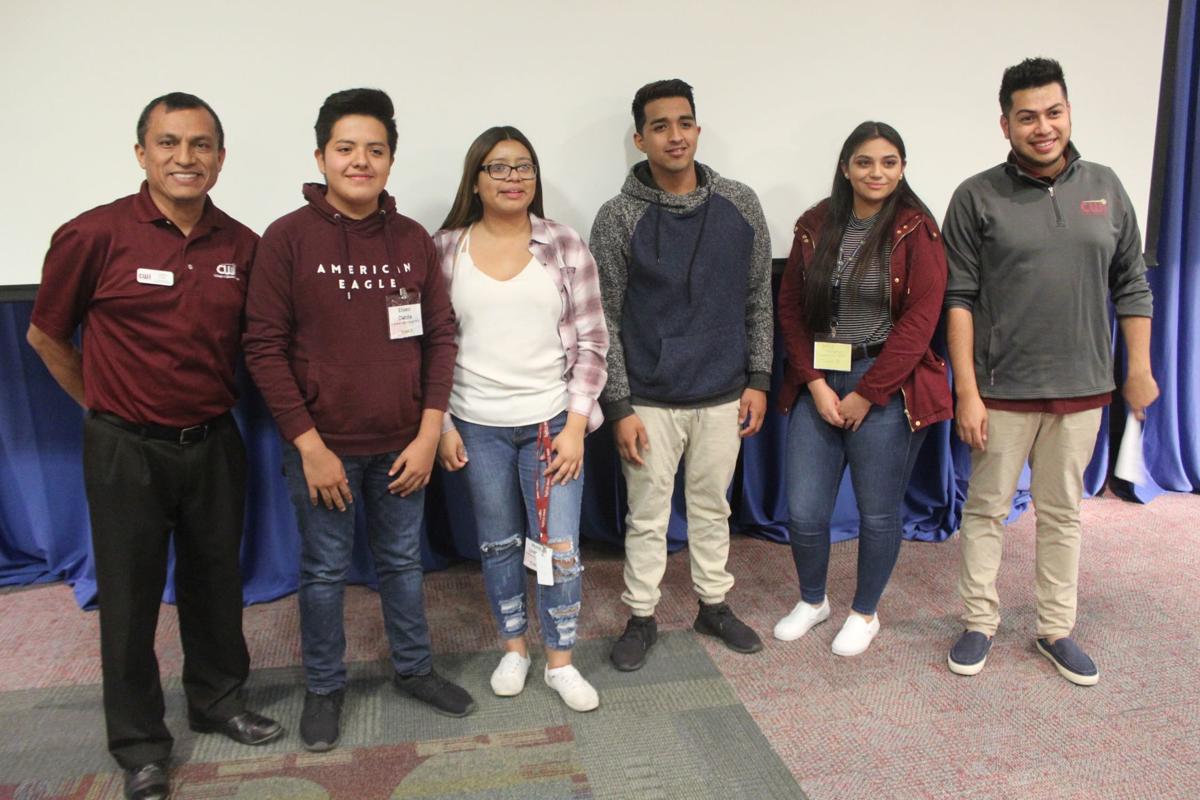 Besides this intensive travel and hands on data collection, ICHA hosts an annual Youth Summit which is the largest gathering of Hispanics in the state every year. At the summit, young people get to hear from inspiring speakers and engage with a variety of post-secondary education opportunities. Every 12th grade student who registers for, and attends the summit is automatically entered for scholarships which are offered by all of Idaho's Universities as well as Portland State. JJ tells us that he still separates the seniors from the pile of attendees by hand so that no one is missed. It's one of the many illustrations of his passion for driving education forward in the Hispanic Community.
While the annual Youth Summit has similar goals and structure every year, there is always a different focus. For 2018, it's mental health, and this year the Summit is proud to have champion boxer and speaker Mia St. John deliver the keynote address in which she talks about her personal loss of her son to suicide.
JJ also tells us there will be a focus on the health industry this year because 45% of students polled told organizers they want to get into the health field. He's tapped St. Al's to be there to answer question and help guide students toward the right path for their ambition.
New Challenges
The new President and White House policies have brought a lot of tumult to the Hispanic Community locally and nationally. JJ says that there has been a mounting fear, from undocumented and legal citizens of Hispanic heritage about their position and rights in America. In an effort to address these concerns, JJ and his team, along with the ACLU of Idaho, the Mexican Consulate, and Catholic Charities have been traveling across the state again to help answer questions, town by town.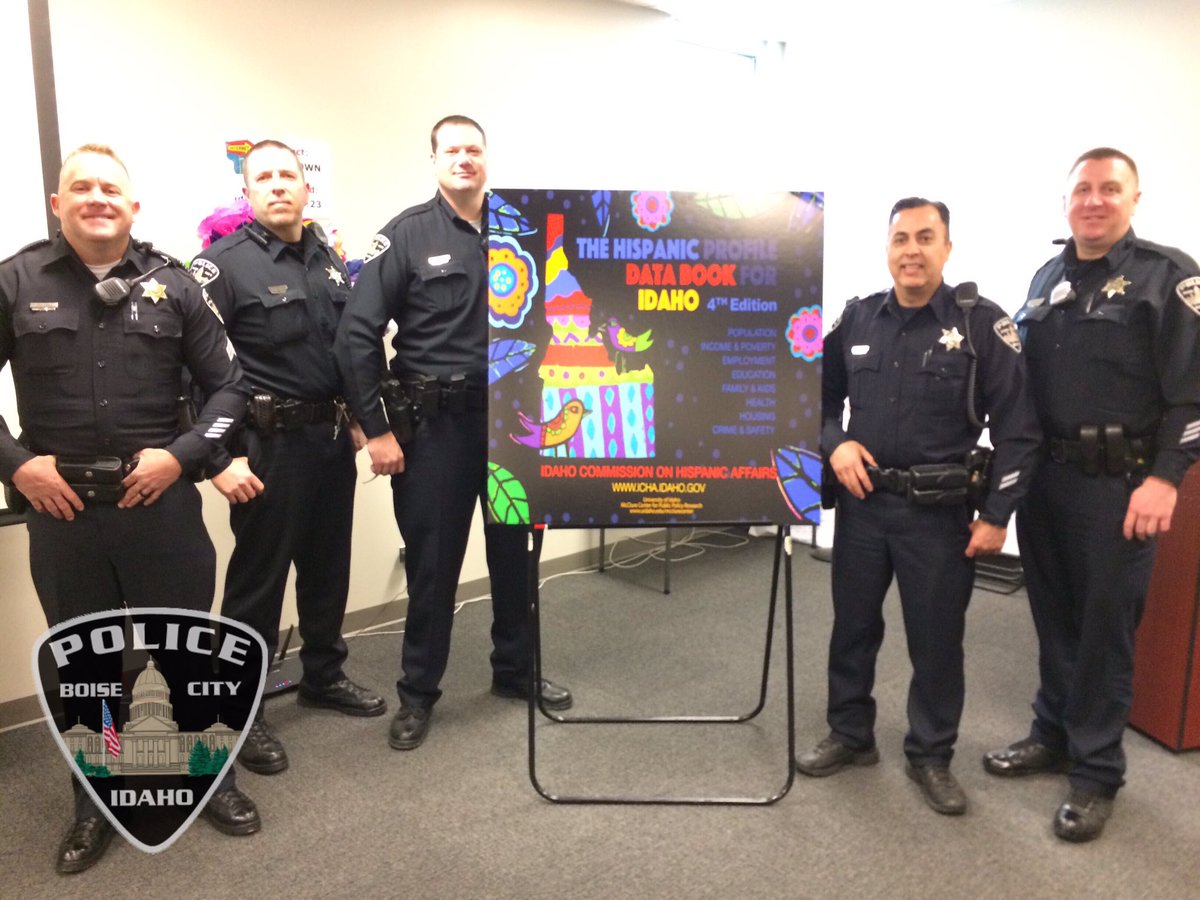 JJ is a major supporter of law enforcement and engages with local police departments across the state. He says that Boise PD is one of the best examples of a great department and often tells people that they can learn from their policies and practices. He points out that the Boise PD is engaged and actively involved with the Hispanic community that offers free Spanish classes to all their officers through BSU. They also have a Hispanic Community Liaison, who helps bridge the gap between the Hispanic Community and law enforcement. He actively encourages Hispanics to apply for positions in law enforcement in a general push to make the department more diverse, a move that JJ thinks will begin to help Idaho communities in general.
JJ tells us that the fear in the Hispanic community towards law enforcement isn't just coming from undocumented people. He says, "There is a lot more fear that there is going to be racial profiling. In schools across the board, we are seeing more absenteeism because of this fear." He also says that the bullying of Hispanic students is on the rise and often parents are backing up their kids, leaving teachers in a difficult situation.
What's next?
A self described "Boise nosy busybody," JJ is incredibly engaged with the community and has been noted especially for his prowess on the social media platform Twitter. Saldana was voted one of Boise Weekly's Best Boise Twitter Accounts to follow. JJ's Twitter following, which he has gradually built over the years, includes local reporters and politicians as well as community members, making it a great platform to share news and rally supporters to events. Right now, JJ tells us he's been tweeting a lot about Hispanic Heritage Month, which runs from September 15 through October 15th, as well as engaging with his followers. JJ tells us that once they are through with the Summit and Heritage Month, they can all look forward to a little rest over the Holidays after which the ICHA begins preparing for the upcoming legislative sessions.
If you want to learn more about the ICHA or get involved with the Hispanic community in your region, visit icha.idaho.gov or follow JJ on Twitter.
Listen to the full Idaho Speakeasy interview: idahospeakeasy.com/jj-saldana