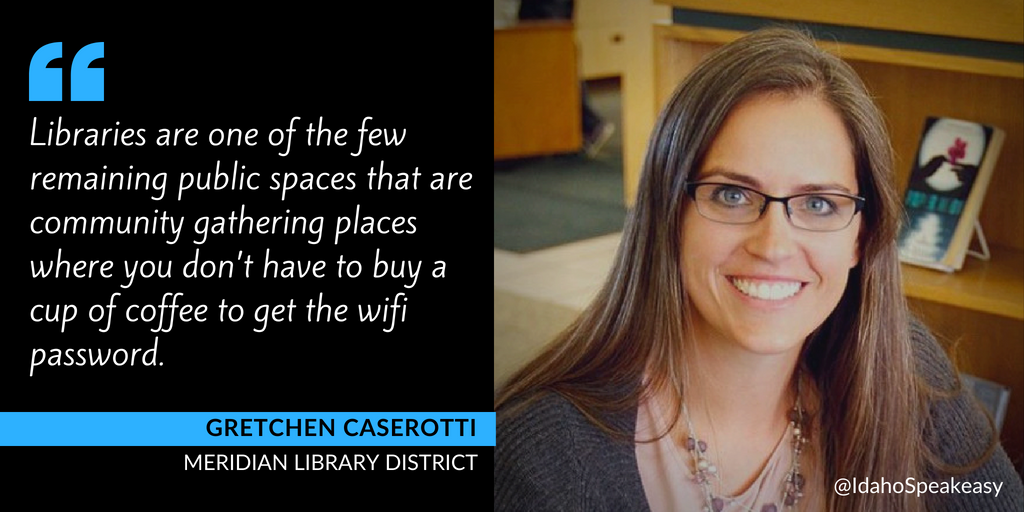 Although she "grew up in a house of music and arts," it wasn't until she found herself waiting tables in New York City that she had her "ah-ha" moment, realizing that she "loved helping people, and [she] loved stories and technology." Caserotti says, "I found storytelling as a children's librarian in a public library setting was a wonderful path for me; and I followed it, and it's led me on a whole new adventure."
After working as a children's librarian in Chelsea, Caserotti left New York to accept a position at the Darien library in Connecticut. While working at the Darien library, she used a process called mind-mapping to better understand "how [individuals] ask their questions to get help in… a children's library specifically." As a result of her analysis, Caserotti reorganized the children's books by topic rather than by author. She also had the books color-coordinated by topic so that pre-readers could more easily find books that interested them. As a result, the Darien library experienced a "500% increase in circulation," and "browsers and seekers were able to get what they needed," says Caserotti.
Moving to Idaho
Before learning of the open position of Library Director for the Meridian Library District, Caserotti and her husband had not considered moving to Idaho —although they had been considering other states. "We started doing a lot of research online," says Caserotti. "There's a lot of information that's out there whether that's photo sets on Flickr of people's hiking adventures, as well as blogs and social media."
"I don't like things that are easy," says Caserotti. Her new job didn't disappoint. Meridian has been experiencing tremendous growth, but the library's physical footprint has not grown with the population. As a result, Caserotti and her staff have had to find creative solutions to better serve their community. "It's 5 years now officially, the longest I've ever had the same job as an adult," says Caserotti, "[and] we've got a lot of challenges still that we're working on."
Librarians in the Community
Meridian library is far from a traditional library. "We believe that we should be out in the community and meet people where they are; we don't believe in the old library model of we wait for them to come to us with their questions and then someone sits behind a fortress reference desk and looks down their glasses at you," says Caserotti.
Caserotti built an outreach department staffed by full-time employees "whose job it is to go and be in the community, whether they're at juvenile county correctional facilities, or they're at the Boys and Girls Club, or they are attending free meals at a church, to go and be with folks at the food bank; to be where people are and to offer library services where they are."
As a result of this embedded librarianship, "[they're] reaching a lot more people despite the fact that [they] don't have more branches."
Unbound
Taking another untraditional approach, the Meridian Library District opened Unbound, a hardware and software library "designed around economic development, and serving a downtown revitalization effort, and being very specific to elevating the opportunities for citizens to grow their technology skills." The mission behind Unbound is to "cultivate a space and tools to help people build that business opportunity or skill."
Previously a vacant bank, the library was designed around what existed –for example the bank vault was turned into a sound studio which offers podcasting classes to the community. Classes and meetings are often held in the space, including meetings for the Meridian Downtown Business Association and the Small Business Association. Some of the classes offered include learning how build a website or a social media presence in addition to producing business paraphernalia on Adobe Cloud software.
The prototyping cove allows business-minded individuals to develop their concepts: "an entrepreneur could prototype an idea; a small business owner could come and build something that they might want." Little Kitchen Pastries, a bakery in downtown Meridian, took advantage of the 3D printing which Unbound offers. "We helped them learn how to design custom cookie cutters that they could use for their business to do custom cookies," says Caserotti.
Recycled Libraries for Early Education
"Creativity and innovation come when there are constraints. And for us, capital funding is a constraint." One such creative solution which Caserotti and her staff developed is the concept of a tiny library held within a remodeled shipping container: "The idea is, this is not just a box full of books for kids; this is an early-literacy learning program."
If the tiny library concept is a success, it could be used as a pilot program across the state. Overall, Idaho has low kindergarten readiness. Even in Ada county, "30% of 3- and 4-year-olds are not in preschool, and 55% of those kids coming into school are not at reading level with kindergarten." Caserotti continues, "Read. Talk. Sing. Write. Play. If you do those things every day, your kid will be ready for kindergarten, but a lot of families don't know that and don't have access in some ways."
Tiny libraries from converted shipping containers could prove to be a "lighter, quicker, cheaper model" which could be particularly beneficial to more rural areas of Idaho. "Our vision for the tiny library is using what we have and thinking a little differently about how we deliver that."
Learn More
For more information regarding Meridian Library District programming, visit their website at https://www.mld.org/. Or check out their social media pages on Twitter, Instagram, and Facebook.
Listen to the full Idaho Speakeasy story: http://idahospeakeasy.com/gretchen-caserotti