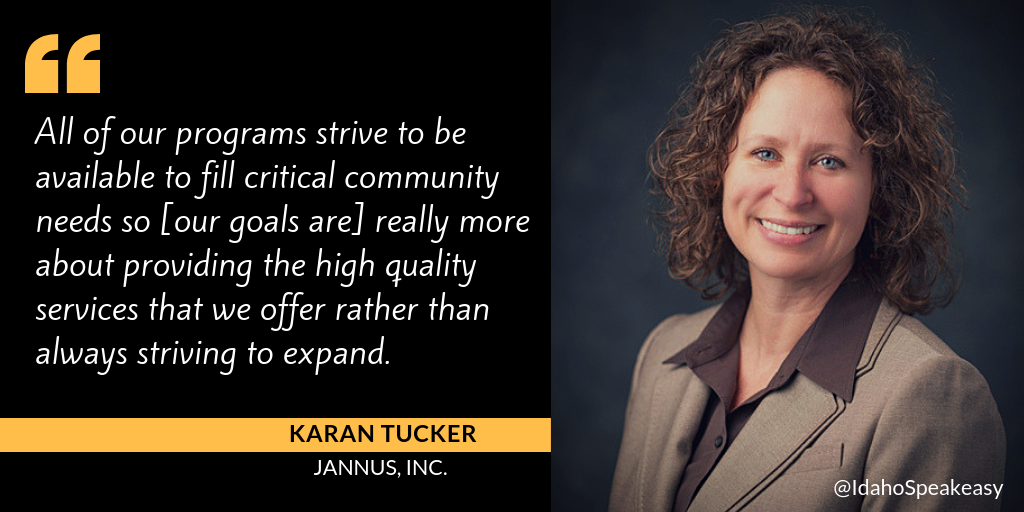 Karan began her career as a certified public account for one of the "Big 5" accounting firms, but grew tired of the lifestyle it created. "After working for almost 8 years at a pace that everyone who's been in that kind of career can appreciate, [my mom's death] was an eye-opener of 'life is pretty short, and do I really want to put that much time and energy, really 100% of my life, into work?'"
Karan quit her job and took a year off, during which time she bought a dog, started running, and volunteered in her community. When she began job hunting again, she noticed an accounting position open at Jannus –what was formerly called Mountain States Group—and thought, "Cool, I could be an accountant for good and actually make a difference." She decided not to apply for it the first time it was posted, but when it came open again 3 months later, she took it as a sign that it was meant for her. After interviewing and accepting the role, she worked as the CFO for 11 years. She has now worked as the Executive Director of Jannus for 6 years.
The Founding of Jannus, Inc.
The name of this "large, complex, statewide" organization comes from the name of the Roman God of transitions: "All of our services are working with people in some sort of life transition so whether that's a new parent, a new refugee coming to make a new home in Idaho, a son or daughter becoming a family caregiver or maybe making an advanced care decision for end-of-life, so every stage of life in transition, we have programming that supports people, really changing lives."
The non-profit was founded in 1965 when Nurse Louise Haney was asked by multiple corporations, which had previously supported her work through grants, to use her experience on a regional health planning board to create a health care delivery system capable of improving community health. By working under such a broad mission statement, the non-profit was able to determine where there were gaps in community services and discover needs which weren't being addressed by any other organization.
The Evolution of Jannus, Inc.
Due in part to the organization's unusually broad mission statement, Jannus has grown to support more than 20 programs including Idaho's Suicide Prevention Hotline, the Agency for New Americans, and Idaho Voices for Children.
After working for Jannus for more than 17 years, Tucker has yet to find an organization working under a similar model. The uniqueness of the organization comes from the way it pools resources and manages "all the behind the scenes stuff [necessary] to run a business; the experts and the people who are passionate about doing the work, get to focus on doing the work."
While some of their programs have been operating for 25 years, others have become part of Jannus more recently. The Suicide Prevention Hotline was founded as recently as 2012. "Idaho was the last state in the country not to have a [suicide] hotline," says Tucker. Saying "yes" to operating a critical 24/7 service statewide wasn't an easy decision, but Tucker shares although it was "not an easy thing to say yes to, … we're grateful that we did."
After refugee resettlement services in Idaho became privatized, it became necessary for "an organization outside of the state government to operate it." Jannus applied for the role and has been operating the service ever since.
For the last 6 years, Jannus has also been involved in advocacy and lobbying, an unusual choice in the non-profit sector. This was an intentional decision made from the perspective that "you can do direct service all day long, but if clients are experiencing barriers with policy, they're going to keep running into that same challenge until you change policy."
The Cost-Effective Use of Funds
"From the funding perspective, it's really an exciting model to invest in because the majority of the program dollars go directly to programming, and it's a really cost-effective way to do services," says Tucker. Grants are typically awarded to an individual Jannus program.
Donors can allocate each dollar to a specific program, but if a donor decides not to specify a program, it falls to the discretion of Jannus as to how the money is spent. In total, the non-profit operates their programming from an annual budget of approximately 15 million dollars. With this funding, Jannus provides programming services to more than 35,000 Idahoans a year.
Learn More
To learn more about the services Jannus provides and volunteer opportunities in the Treasure Valley, visit their website at http://www.jannus.org/. Or check out this informational brochure.
Listen to the full Idaho Speakeasy story: idahospeakeasy.com/karan-tucker