Podcast: Play in new window | Download
Subscribe: Apple Podcasts | Android | Google Podcasts | Stitcher | RSS
Kelly McMurry, Finding Her Heart
Kelly McMurry had been volunteering all around the Treasure Valley in everything from PTA to Love INC. "I had already had my hands in many things, but none of them were really sticking with me, none of them were really speaking to my heart," she says. During a lull in her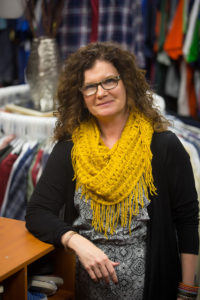 volunteering, a coffee date with a casual acquaintance set McMurry on a path of helping 3,500 Ada County teens and counting. After her friend mentioned that McMurry could be volunteering to help youth in the community, perhaps with clothing, McMurry set about looking for reassurance that this was the right path. She tried to call her mentor, but instead contacted her mentor's receptionist, who told McMurry out of the blue that she had three boxes of hangers in storage that McMurry might be able to make use of. "I really, really felt that that was my confirmation that I was to move forward," said McMurry.
She asked her mentor if she could use space in her church, and within 24 hours McMurry had a room to get started. After seven and a half years, McMurry has already helped 3,500 teens.
The Closet
McMurry set up The Closet, a volunteer charitable organization that helps Ada County teens between 6th and 12th grades who need clothing. Most teens are referred to McMurry by school counselors, juvenile corrections, homeless shelters, mental health agencies, the Women's and Children's Alliance, the rescue mission, and case workers who bring children to The Closet during their sessions. McMurry then meets with the teens for a private one-on-one shopping session in which the teen can shop for clothes in a safe, loving environment. All the clothing is given to the teens free of charge.
[Watch Kelly McMurry's Impact Club Talk about THE CLOSET – 5mins]
"Most every teen that comes through my door has a story. And often a broken story, a difficult one, and I don't know that we unveil all of that in the one hour that they're there, but it's an opportunity for me to just love on some difficult situations that they have in their life," McMurry says. She has found the volunteering that speaks to her heart. "You have an appointment with a teen and you see the joy that's brought to them and you forget about those little challenges you had a few weeks ago or you forget about how tired you are and how much you need to do at home but you're here doing this. It's just so rewarding to me," she says.
Finding Clothes and Customers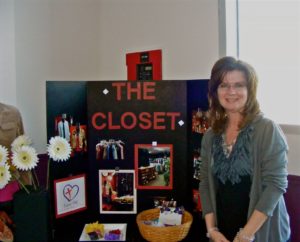 When she started The Closet in 2010, McMurry went to the youth group of her church and asked the teens for help. They brought her bags of clothes to get started. She set up a Facebook page that had about 150 followers, and she told everyone she met what she was doing. "I was quick to talk about it," says McMurry. "I was passionate about what I was doing." Clothing donations come to her from multiple directions. McMurry doesn't resell the clothes, she gives them away for free, and so many people in the community believe in that and respect that, so they bring donations directly to her. She also has a donations bin in the parking lot, and every Wednesday from 9:30 am to 12:30 pm she accepts donations in-store, where she can personally meet her donors, thank them, and give them tax receipts.
Customers, too, come to her through referrals from many sources. Since she had volunteered with the schools and knew the school counselors, she started going to them to find teens in need. Counselors see it when a child doesn't have a coat in the winter, when they have holes in their shoes, when they are getting bullied because they only have four shirts to wear to school. From schools, McMurry branched out to multiple sources, and now it takes up to a two-week wait to get a teen in for a shopping appointment.
Of course, in an emergency situation, McMurry won't wait two weeks. "If we've got an emergency situation that you just left a domestic violence situation in the middle of the night last night, you have nothing to wear, you know I'm going to meet you down there in an hour and we're going to take care of it," she says. Recently, she went in after-hours on an emergency situation for a girl who was being bullied over her limited wardrobe in school. "When I went home that night after 2 hours of realizing 'I shouldn't have been here tonight, this was my night to be at home,' it was still so rewarding to me. I'd do it all over again to just bring that kind of joy to a student," McMurry says.
"I love that I can partner with them and bring those kids in and just kind of love on them and give them just a basic need of clothing," says McMurry. "[It's] something we all need." The transformation of joy and self-confidence when a teen finds great clothes is rewarding to her.
Even after helping 3,500 teens, McMurry says there's much more to be done. "I'm not even helping," she says. "There's so many more kids here that need help that I haven't even touched. I haven't heard about them, they haven't heard about me, there's still a lot more that could be done here."
Get Involved with The Closet or the Volunteering of Your Own Heart
"I think everyone should explore those ideas that come to them. If it's something to better our community and you can see the rewards in what you're doing when you fulfil this need, it's pretty hard to walk away from it once you start seeing how beautiful your ideas are when they come to fruition and help people," says McMurry. "So dream and do it."
You can donate clothes, finances, or your time as a volunteer by contacting McMurry on her Facebook page or her website. You can also call McMurry directly at (208)-409-0204. "We're 7 ½ years into this, and I feel like we're just getting started," McMurry says. "This has been a big year, and I think bigger things are still to come."