Podcast: Play in new window | Download
Subscribe: Apple Podcasts | Android | Google Podcasts | Stitcher | RSS
Tracy Hitchcock, a Fresh Start
 Tracy Hitchcock had a 17-year long career with Simplot in food, including being a food scientist, supporting the McDonald's global business unit, global innovation, and running a customer marketing group for all food service. During her last four years at Simplot, she began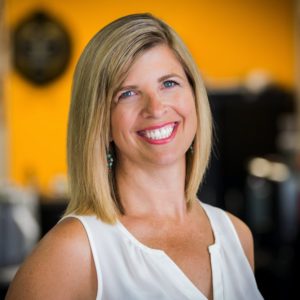 volunteering for Create Common Good, a nonprofit organization that helps people in need in the Boise community get jobs in the food service industry. "We are technically a non-profit social enterprise, but what we really talk about is creating a place of empowerment for people that are seeking a fresh start," says Hitchcock.
When the founder of Create Common Good decided to start a new social enterprise, she invited Hitchcock for a glass of wine, and Hitchcock quickly realized it was more than just two friends having a drink. She proposed that Hitchcock could take over the role of CEO at Create Common Good. "It was going to represent a huge change for me, but I knew that if I didn't take advantage of the opportunity at that time, that I probably wouldn't try something beyond what I was already doing," says Hitchcock. "And I really wanted to make sure that I did that."
A Fresh Start for the Trainees
Create Common Good works with people who have barriers to employment. They can be refugees new to the country, women from the Women and Children's Alliance, folks out of rehab, people leaving the department of corrections, those overcoming addiction, or those battling non-chronic homelessness. "[They're] folks that are really ready to choose something different as they go forward and really want to get into the workforce so they can get to that place of self-sufficiency and independence," says Hitchcock. The trainees have to want that fresh start. "It takes guts to choose something different, and it also takes guts to be plopped down in a new community where you don't know the language and you don't know how to navigate the non-existent transportation system or how to get childcare or schooling for your child." To see people who have the hutzpah to do job training and seek a job on top of all that is inspiring.
Create Common Good requires honesty from all its potential trainees. If someone is medicated, under medical supervision, or has a mental illness, the trainers must know so they can keep that person and others safe. The trainees must disclose why they've had trouble finding a job. They must complete a multi-page application, have an interview with the trainers, and come to orientation before beginning the program. "There's accountability, there's responsibility, [and] we expect you to show up," says Hitchcock. They must want a fresh start.
A Fresh Start Post-Graduation
In order to graduate, the trainee must complete four weeks of food safety and classroom learning, then four weeks of in-the-kitchen experience training. They must pass a Servsafe Food Handler's exam. They have mock interviews with volunteers, they must have an email address and the knowledge of how to look for a job online and fill out online applications. When the trainees complete their eight weeks in the program, they'll leave with a portfolio containing their resume, certificate of graduation, Servsafe certification, two letters of recommendation from the trainers, and possibly pictures of dishes they've made that they're particularly proud of. They also continue their training once they get into a job. Create Common Good has a target of 80% job placement post-graduation. They finished up 2016 at 86% and are expecting to finish 2017 at 88%.
Many Americans believe that food service is a minimum-wage, dead-end job. "That's absolutely so untrue," says Hitchcock. "The average wage that we get for our folks so far in 2017 is $9.89 an hour." While still hard to live on, many of the employers also offer benefits. At the airport, for example, they consider 26 hours a week to be full time. After 60 days working for the airport food service, benefits including medical, dental, and vision kick in. After 90 days, 401k retirement kicks in. Since nearly everyone in the Create Common Good program is the head of their household and most have children, non-minimum wage jobs with benefits are the focus of their employment efforts.
Challenges for Create Common Good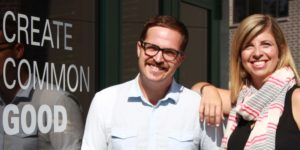 "Funding is always a challenge," says Hitchcock. It's not for profit, but that doesn't mean it's not for money. They have to have margins in order to keep their programs healthy and in order to pay the talents that run the programs. Nonprofits are held to a standard of 20% or less in overhead, which is different than the standard for any other business model.
Their kitchen also has a business-to-business portion, which broke even last year and will be slightly profitable this year. "We're trying to model self-sufficiency as we're teaching it to the people coming through our program," Hitchcock says. "We won't ever be completely self-sufficient because we are a nonprofit, however, we want to know that we're doing our part for sustainability and growth going forward."
Another challenge is finding people to train in the program. The new administration at the national level has further restricted the number of refugees allowed into the country. Last year Create Common Good had 60% refugees, while this year it was only about 37%. The refugees being refused entry into America coupled with the very low unemployment rate in Boise has put a dent in the ability to get people into the Create Common Good program. However, that also means that the hourly wages for their existing folks increases.
Get Involved
"Boise is an amazing community," says Hitchcock. "I love Boise so much. They make the time to really understand what it is that we're trying to do. And they are very intentionally supporting us, and it's really a magical thing. It's really cool."
You can support Create Common Good as well, or find out more, at their website