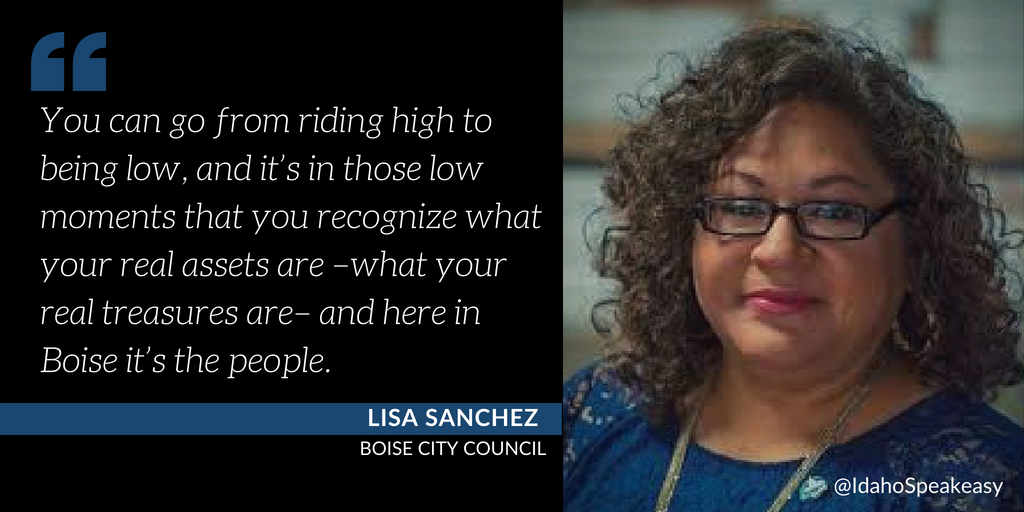 Although city councilwoman Lisa Sánchez is new to the sphere of politics, her story of hard-work and perseverance resonates with her fellow constituents. Sánchez is proud to represent many of those who are currently underrepresented. She is grateful for the crash course in politics and "[feels] like the good people of Boise, Idaho have given [her] a four-year fellowship to earn [her] Master's in Public Administration."
Entering Politics
After the most recent presidential election, Sánchez was heartbroken by the sentiments being shared on social media. "It wasn't anger that I felt, it was heartbreak. And it made me question what I knew. I thought I knew people." She confesses to having argued with people on Facebook and to getting so worked up that she couldn't sleep at night. Sánchez simply had to find a healthy outlet for her frustrations. Although she had no experience running for a political office, she decided to run for city council.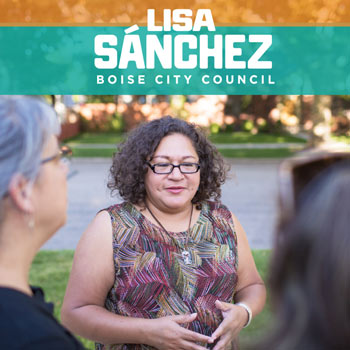 Having been sworn into office this past January, Sánchez considers it a "real honor to be able to sit at the dais with my fellow brothers and sisters –mostly sisters." She continues to walk into the office feeling like a constituent rather than a member of city council. "I feel a little bit like Forrest Gump. You know, somebody left a door open, and I walked in, and there I am."
A Childhood in Poverty
Until she was 11 years old, Sánchez lived in Arizona. Her mom worked for a federally-funded community action program which lost funding during President Reagan's term. Her job loss instigated a move to Idaho.
Although her mother looked for work for months, she eventually had to go to the unemployment office to put her family on food stamps. Sánchez mentions how this was the first time she ever saw her mother cry. Her mother had been working in the fields since she was 7 years old and was horribly embarrassed to not be able to support her children. The social worker was kind to her mother, reminding her that she had been paying into the system for a long time: "This is your money that you need back. "
Being on food stamps allowed her mother to rest, think, and teach her children. She decided that if the town wasn't willing to hire her, she would hire herself. She opened a Mexican restaurant to support her family. "To this day, that was the best experience of my life, to see my mom take on a challenge like that and be creative and innovative and shameless and fearless and bold."
College Years
After being awarded a scholarship which supports children of field laborers, Sánchez began attending Boise State University where she majored in communications. She was shocked that tuition for her first year would be covered because of the essay she submitted to be considered for the scholarship. "That made a huge impression on me. Like you're telling me that language, writing – I get money for this?!"
Like her mother, she had started working at a young age and was used to giving a portion of her earnings to help pay for her family's bills. For the first time, she was being told, "Your job is to learn, that is your job." Having the opportunity to focus on her education without any distractions was a completely new experience for her.
Political Ambitions
"I was not raised to be a politician," Sánchez comments. She only decided to run because she "sensed we were going through some changes in our city and [she] realized, 'you know, I'd like to…have a voice in the direction that our city takes." She describes the state as on the verge of many changes: "Our state is going through something. The soil is being turned…it's a very exciting time to be sitting at that dais."
Sánchez sees the differences between herself and the other members of the city council as an opportunity to represent those like herself in the community who are generally underrepresented. "I'm very different from the rest of city council. I'm a renter. I don't own a home. I'm single. I don't have children. I don't have a partner to lean on during the hard times. You know who my partner is? Boise."
Boise City Council
Members of city council typically still have day jobs, and Sánchez is no exception. She works for the Idaho Volunteer Lawyers Program as paralegal and case coordinator. She works primarily with victims of domestic abuse and was impressed with Scot Ludwig, a city councilman who holds a very different worldview than hers, when he accepted her request to work pro bono. He promptly told her, "You pick [the case], and I'll do it."
City council continues to address issues of density and affordability. Sánchez argues, "We have to take a longer view and to be inclusive in our thinking and generous in our thinking." Having been both the encroacher and the encroached upon, she recognizes the possibility of lost views and perks of particular properties, but believes that "the reality is that we've got to make room for each other."
Get Involved

To learn more about her passion for Boise and the interests she supports, visit her campaign website. To read more about Boise city council and opportunities to get involved, visit https://citycouncil.cityofboise.org/.
Listen to the full Idaho Speakeasy interview: idahospeakeasy.com/lisa-sanchez