Channel 7's news story on

IMPACT

CLUB BOISE
IMPACT

CLUB™ BOISE – JOIN THE MOVEMENT

STEP 1 – Watch This Video
STEP 2 – See Links / Info Below
STEP 3 – Join Our Movement of Impact

WHAT IS IMPACT CLUB?

Impact Club Boise is made up of people like you, who care about their local community, who meet 4 times a year for 1 hour, (typically at a brewery, winery, or some fun venue in town). We all bring a check for $100. We gather, get a drink, and then we hear from 3 non-profit organizations doing work in our community. These 3 charities get 5 minutes and a microphone (that's it) to tell us their story.

Then we all vote for the best story of the 3. The organization with the most votes wins the pot. That's when we hand over our $100 checks. This allows us to take our small donations and make a HUGE IMPACT in one night. It's kind of like crowdfunding for good local causes, but we make it extra cool and fun and since every member donates the same amount, we are all equally responsible for the impact we make.

Impact Club Boise started in May of 2017 and we've already grown to 200+ members and have donated over $100,000 and we are just getting started.

However we need more members to grow our Impact in Boise.
More Members = More Impact
Can we count on you?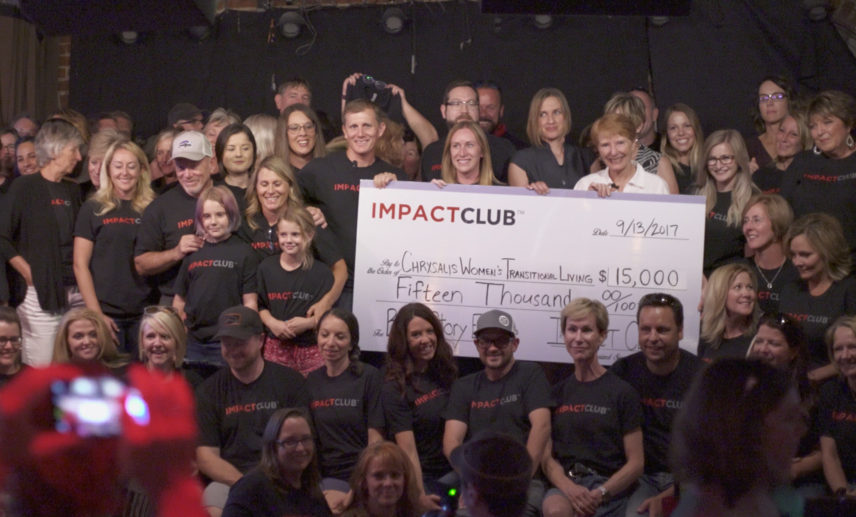 ---
---
Winner Update: The Wyakin Foundation
Winner Update – Interfaith Sanctuary
Winner Update: Create A Common Good