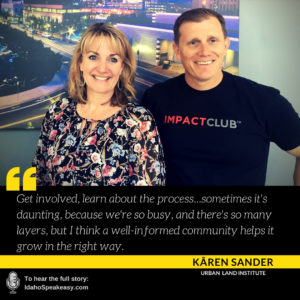 Kâren Sander is the executive director* of Idaho's Urban Land Institute (ULI), an international non-profit organization dedicated to building great cities.
While Boise's growth and development benefits nearly everyone, it does present challenges with regards to affordable housing and public transportation. ULI Idaho seeks to educate the community, provide networking opportunities, and foster collaboration between agencies involved in urban development.
Find out more about ULI – Idaho by visiting their website: idaho.uli.org
Read the full Idaho Speakeasy story: idahospeakeasy.com/karen-sander-story
*UPDATE! Since recording this show, Kâren has since transitioned to a new position with HDR. Congratulations Kâren!
Podcast: Play in new window | Download
Subscribe: Apple Podcasts | Android | Google Podcasts | Stitcher | RSS