Podcast: Play in new window | Download
Subscribe: Apple Podcasts | Android | Google Podcasts | Stitcher | RSS
Kelly Zimmerman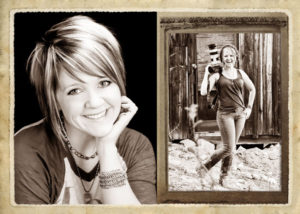 National award-winning photographer and artist Kelly Zimmerman is the owner of Cherished Images and runs CsiPhotoDesign in downtown Boise. Zimmerman has been an artist from a young age, and after moving to Idaho, began work in the photography business. Now Cherished Images is known for its custom design, high-quality decorative wall art of newborn children, and family portraits.
Capturing Memories
Kelly Zimmerman found her niche in photographing newborns. "The first years, I actually became known as the Anne Geddes of Boise because I photographed newborns," she says. "I was good at it, detailed at it, and I just had a little bit of a knack." She progressed from there to capturing memories for all stages of life. "We want to create relationships with people, we want to get to know them," says Zimmerman. In getting to know her clients, she determines what it is that they want to document with their photographs.
Then she goes through the full service process with them, from planning to printing. Cherished Images can even hang prints on clients' walls, if need be. "We help people make sure that they take their memories and they actually remember them by printing the images," she says. "That print, something you can touch, hold, and feel, is so important."
Gaining Experience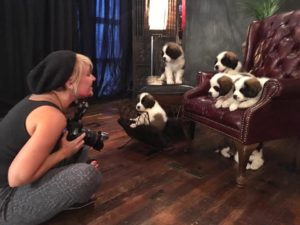 When Zimmerman first landed in Boise, she began working at a photography studio doing hair and makeup. "It was really fun, but I wasn't doing the actual pictures," she says. When that studio shut down for awhile, she began working at a studio in Boise Town Square photographing children. At the time, they were using film, so the photographers were only allowed four clicks of the camera, and they were expected to get four saleable shots. "I ended up finding out that I was pretty decent at working with the kids and getting the shots," she says.
When that job ended, she knew she'd miss it. There were only a handful of photography studios open at the time, so she opened her own place in downtown Boise on a wing and a prayer. It worked.
Experience Matters
The film days of photography required a skill set. "You couldn't look down at the camera and see your image, so you had to know in your head, 'hey, this was a good shot,'" says Zimmerman. She would take twelve to twenty clicks, and had to present saleable images from that. Her experience taught her what makes kids smile, and helped hone her instincts on when to click. She also learned about sales, the technical aspects, technique, and lighting.
You cannot teach experience. Every time Zimmerman goes to a location to shoot, things such as lighting conditions, wind variables, group size, and age group changes. "Because I've had to deal with so many different circumstances, I can pull from all that experience, so it's not like I'm dealing with it for the first time," she says.
All that experience helps make clients feel comfortable and tell their story. "We want to make sure that anybody who walks through our door feels great by the time they leave," says Zimmerman. "I've got to make sure that people feel good and are happy with the experience. I need people to come back to me. I want to watch those kids grow, I want to see all that happen and life happen right in front of me, and help build upon that story."
Precious Memories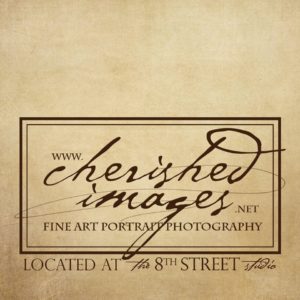 Cherished Images is passionate about a movement through PPA to educate people on the importance of printing their photographs. Many people leave them on their phones, hard drives, or thumb drives. "They're not safe there," says Zimmerman. "Those are your memories. They're precious." Feel free to back them up on such devices, but be aware that technology changes quickly, and if all your photos are on a system that cannot be accessed in a few years, they will be lost.
Zimmerman and Cherished Images is also involved in a program that educates parents on the need to photograph children between the ages of about six to fourteen. "It's really easy to take their pictures when they're cute and baby-like, and then most people get high school senior photos," says Zimmerman. "But what happened to those middle years?"
Children in the middle years are changing, losing teeth, and discovering who they are. It's important for their self-esteem to make sure that they feel important, loved, and beautiful, and that they learn to love who they are. "So we actually have a program that we've started that is embracing that age group, celebrating who they are without the need to doll up. They're a unique person. Let's find out about them and really encourage the self-esteem thing," says Zimmerman. "It's all about a moment in time. What are they into in this moment? It's going to change, so why not capture it while they're in it?"
To learn more about Cherished Images, visit their website.