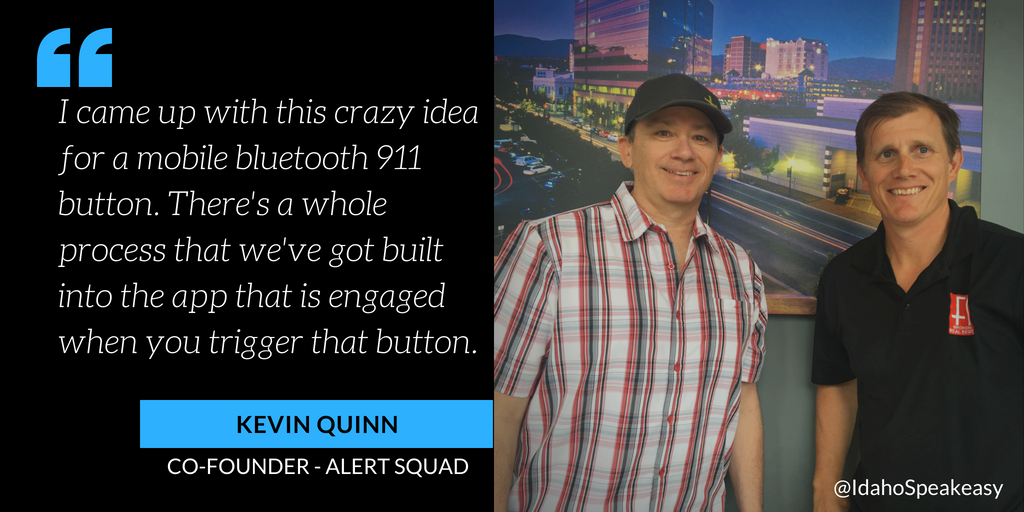 Considering himself "just a local guy with a lot of crazy ideas," Kevin Quinn has developed two apps which are currently available in the Apple and Android app stores: ExactPlus and AlertSquad. ExactPlus saves high-risk companies money on insurance by simplifying the job coding process for worker's compensation. AlertSquad discreetly alerts police and emergency contacts by the use of a fob which is paired with a cell phone via Bluetooth. Both of theses apps were developed in response to problems which Quinn noticed in his local community. He also has seven addition apps in development which will address needs he sees in the music, real estate, and health and fitness industries. 
At the age of seven, Quinn and his family moved from London, England to Elmore, Idaho where his father was stationed at Mountain Home Air Force Base. Quinn has spent the majority of his adult life in Idaho except for four years when he was stationed at Quantico and served in the Marine Corp's prestigious HMX1 unit, the helicopter unit that serves the President of the United States. After the Gulf War, Quinn returned to Idaho and began working in corporate marketing. Although he knew nothing about computer technology, Quinn later changed jobs and began working in sales for a tech company.
After working in the technology industry for over twenty years, the company where Quinn was director of sales filed for bankruptcy. Quinn again changed jobs and began selling commercial insurance to local companies. After listening to his clients' insurance needs, Quinn developed an app which enabled his clients to save money by increasing the accuracy of their liability coding.
He wasn't done there. After hearing of a local sexual assault and the miniscule chance of a victim having access to their phone during an assault, Quinn began developing an app which allows individuals to use a fob to both record audio for evidence and to alert nearby police.
ExactPlus App 
Quinn got the idea for his first app by listening to his customers' needs. "They felt they were getting screwed over on work comp insurance." Quinn credits his success to the specificity of his product. "I found a niche. I found a way to help them save money with an app versus having to handwrite or maintain hand notes of their work days."
Dangerous work sites have higher job codes than more routine, safe locations. For example, time spent on a rooftop is insured at a higher rate than the time spent shopping for the necessary roofing supplies. Rather than defaulting to coding an entire work week at the most dangerous job code as many companies do, ExactPlus simplifies the process of breaking down the work week into multiple job codes. By accounting for the time spent at less risky locations, Quinn's app saves high-risk companies money on their worker's compensation expenses.
Alert Squad Safety App
Quinn's second app allows individuals to notify police and four other contacts by fob in the event of an emergency. As long as the fob is within half the distance of a football field from the associated cell phone and has wifi or cell service, an individual is able to alert emergency personnel without reaching for their phone. In cases of sexual assault, the goal of the app is to alert the police without the offender being aware. In the event of a health emergency such as a heart attack, the app works as a mobile life alert system.

After installing the app, an individual enters his or her known medical conditions and allergies, vehicle information, and emergency contacts. This information is stored on the cell phone and only accessed and shared if the alert function is triggered. To record audio if a situation begins turning potentially dangerous, the individual can double-click the fob prompting audio which cannot be erased to be recorded. To notify police and contacts, the individual presses the fob for two to four seconds depending on whether the app is installed on an Apple or Android phone. The data previously stored on the phone is then shared with the police and a text message is sent to the emergency contacts with a map of the individual's GPS location.
Lessons Learned
ExactPlus took two years to grow from an idea to a live app. Quinn used seed money from seven investors to raise funds for the development of his app. "I learned to raise all the money up front. Get it all up front. Go find an investor. Have all the money. A lot less heartache. You'll get your product out quicker." For AlertSquad, he partnered with a single investor who had a personal connection to the cause and was able to go from concept to a live app within seven months.
Quinn continued to learn about successfully launching apps during the development of AlertSquad. "We learned a couple lessons along the way. Apple's a little more difficult to work with than Android. Android loves to have your apps in the App store. Apple really likes to make sure that they want you in the App store…so we were 90 days delayed on our launch on the Apple platform."
Quinn found that creating a team to handle operations, project management, finances, and marketing was critical to his success. "If I were to give advice to anybody about startups, surround yourself with people who are smarter than you are. I've done a lot of that."
Download the Apps
For more information, visit https://exactplus.com/ and https://www.alertsquad.net/. Both apps are available in Google Play and the app stores on both Android and Apple platforms.
To listen to the full interview with Kevin Quinn on Idaho Speakeasy, click here.